The evaluation of companies could change depending on whether they have mapped out a long-term vision for contributing to the Paris Agreement. Aeon Co. Ltd. has unveiled the target of reducing CO2 emissions from stores to virtually zero by 2050.
Under "Decarbonization Vision for 2050," which was announced by Aeon on March 28, 2018, the company will strive to reduce greenhouse gas emissions based on three pillars. Aeon aims to realize a decarbonized society by coopering with customers through activities such as selling environment-conscious products and promoting energy conservation by households in addition to reducing CO2 emissions from its own stores and from the processes of manufacturing and distribution of products.
Tapping outside knowledge
What is notable is the planned reduction of CO2 emissions from the Aeon group's more than 21,000 stores. The target is reducing CO2 emissions to zero by 2050. As an interim target, Aeon will seek to lower emissions by 35% by 2030 compared with 2010. Around 90% of the emissions from stores is attributable to the use of electricity. It is essential to use renewable energy on a large scale while promoting energy conservation.
In addition to installing solar power generation systems at its stores and other facilities, Aeon will purchase electricity directly from renewable energy power generation companies. Moreover, it will select renewable energy-focused electricity usage plans and acquire the certificate of usage of renewable energy.
Making active use of renewable energy at stores and office buildings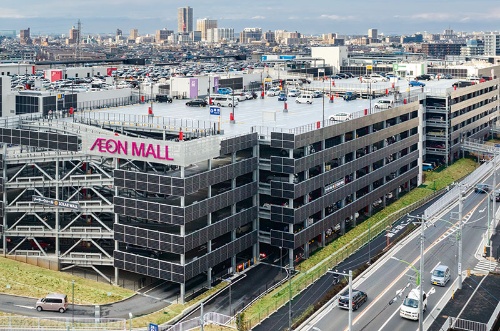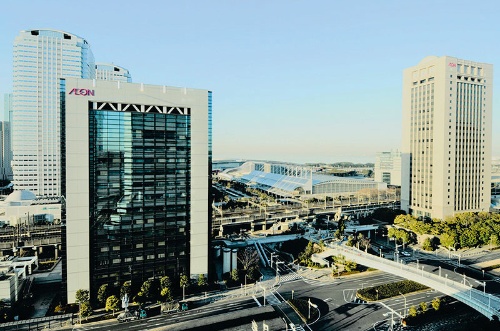 In addition, Aeon has joined RE100, an international initiative that aims for 100% usage of renewable energy in business operations, becoming the first major Japanese retail company to do so. By publicly making clear its commitment to active introduction of renewable energy, Aeon aims to attract proposals concerning new technology, for example, from companies and local governments. As the cost of introducing renewable energy remains still high, Aeon will curb it by tapping outside knowledge.
Aeon has disclosed that its group's annual electricity usage amounts to 7.4 billion kWh, or 0.9% of the overall energy consumption in Japan. If it becomes clear that a corporate group consuming electricity on such a large scale is trying to introduce renewable energy group in earnest, equipment makers and electric power companies are likely to be strongly interested. Aeon is hoping to find ways of introducing renewable energy at lower cost from among proposals from interested companies.
Why is Aeon aiming to realize a decarbonized society by introducing renewable energy even at an additional cost? The company's decarbonization initiative comes against the backdrop of the effectuation of the Paris Agreement, under which the international community has committed itself to the target of reducing CO2 emissions to virtually zero by the end of this century. "Introduction of renewable energy requires substantial investments, but achieving business growth and development will be impossible unless the global environment is preserved," Haruko Kanamaru, General CSR Division Manager, Corporate Citizenship Dept., AEON Co., Ltd., said firmly.
Taking advantage of the "2019 Problem" as a business opportunity
Aeon not only regards use of renewable energy as a way to avoid risks but also takes advantage of it as an opportunity to achieve growth. For example, a group company Aeon Delight Co. Ltd. stengthen the electric power business in anticipation of growth in demand for renewable energy. The company plans to procure renewable energy from households installed with solar power panels and renewable energy-derived electricity generation companies for sale to corporate customers.
For some solar-powered households, the period of guaranteed purchase of renewable energy-derived electricity by electric companies under the feed-in-tariff system will expire starting in 2019. This is known as the "2019 problem." Viewing this situation as a business opportunity, Aeon Delight will purchase renewable energy-derived electricity from households which will lose the ability to sell surplus electricity due to the expiry of the guaranteed purchase period.
Another objective of Aeon's long-term vision is meeting investors' needs.
For example, CDP, an organization that examines and scores companies' environmental initiatives and publishes the results, pays attention to whether companies identify risks and opportunities from the medium- to long-term perspective. CDP's activities are supported by more than 650 institutional investors with combined investment assets of 87 trillion dollars, and its evaluations are used for making investment decisions. CDP's evaluation of Aeon in 2017 was adversely affected by the absence of a long-term vision at that time, according to Aeon officials.
CDP's evaluation is also based on whether companies have set SBTs (Science-Based Targets). Aeon's interim target of reducing emissions by 35% by 2030 has been set through backcasting from the target of reducing emissions to zero by 2050. Currently, in order to acquire the SBT certification, Aeon is applying for an international initiative launched by CDP and the United Nations Global Compact.
"Now that we have set a long-term target, it is essential to acquire the SBT certification, which is an internationally recognized standard," Kanamaru said.
Going forward, Aeon will have to disclose progress in the achievement of the target set under the long-term vision. Stakeholders' evaluation of Aeon is likely to depend on how much the company can procure renewable energy-derived electricity and whether it can expand such group business operations as sales of renewable energy-derived electricity.