Asahi Group Holdings Ltd announced the target for the reduction of greenhouse gas emissions in 2050. Asahi Group will step up emission reduction efforts throughout the whole of the value chain, from bottle production to product delivery.
Under the Asahi Carbon Zero initiative, announced by Asahi Group Holdings in April 2018, the company has set the target of reducing greenhouse gas emissions from its business activities to virtually zero by 2050. As an interim target, emissions will be lowered by 30% compared with 2015. To comply with the reduction target under the Paris Agreement, which represents a commitment required by the international community, the company has also applied for Science Based Target (SBT) certification.
The Asahi Carbon Zero initiative is distinctive in that it not only seeks to reduce emissions from Asahi Group's factories and office buildings but also applies the zero-emission approach to the whole of the value chain, from production of raw materials and containers to product delivery.
For Asahi Group, climate change has a significant impact on stable procurement of raw materials. The quality and production volume of raw materials of beer and soft drinks, including water and agricultural products, could decline steeply because of the effects of droughts and typhoons. "We will take on the challenge of realizing a sustainable society at the same time as achieving business growth," said Takeshi Kurashige, a deputy general manager Corporate Social Responsibility (CSR) Department, Asahi Professional Management Co., Ltd.'
Embarking on the "Label-less" initiative
Of the greenhouse gas emissions from Asahi Group's value chain that are attributable to external sources, production of containers, including cans and plastic bottles, accounts for the largest portion, around 40%. Asahi Group cannot directly control those emissions, which depends on suppliers' business activities, but it can indirectly contribute to the reduction of emissions, for example by decreasing the use of raw materials through the use of containers with thinner walls or by shifting to biomass materials.
"Asahi Oisi Mizu Natural Water in unlabeled bottles," a mineral water product launched by Asahi Soft Drinks in May 2018, represents a bold attempt to cut back on CO2 emissions from container production. This is the company's first unlabeled product: the bottle does not carry any brand or product label. Nothing is on the bottle surface other than the mandatory recycling mark label attached to the area just below the cap. As a result, the use of plastics for labeling has been reduced by 90%.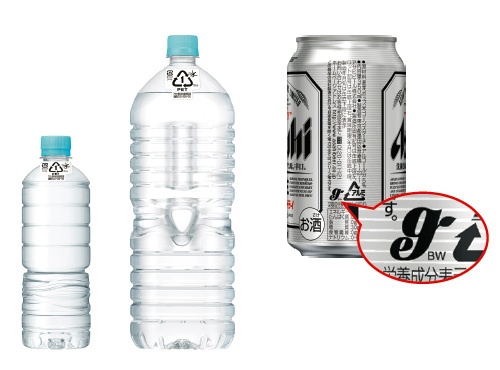 The transparent plastic bottle with almost nothing on the surface may appear to be a novel design to consumers accustomed to labeled bottles. At the moment, this product is available only via an online shopping site at Amazon. If this product becomes available through other sales channels as well, its contribution to the reduction of CO2 emissions will grow.
As there are growing calls from CDP and other entities, including suppliers, for cutting back on CO2 emissions, emission reduction initiatives like Asahi Group's may spread.