The Marui Group, operating a network of department stores, has issued a 10-billion yen green bond specifically to achieve RE100. The entrance of retailers into the field is likely to accelerate market growth, but problems remain.
In October 2018, the Marui Group issued a green bond for 10 billion yen (approx. US$88 million), earmarked for the group's commitment to achieve 100% renewable energy in its operations (RE100). The move marks the first time a Japanese retailer has issued a green bond. Seven to eight billion yen will be applied to purchasing renewable energy electricity, with the remainder going toward energy-efficient LED lighting, air conditioning, and elevators in retail operations, along with management and maintenance of existing renewable energy generation facilities.
Green bonds issued in Japan until now have been limited to companies constructing wind power generation facilities, financial institutions and the like, and now that a retailer has taken the plunge the green bond market is showing signs of expansion.
In March 2018, Marui Co., Ltd. was certified for a science-based target (SBT) to reduce greenhouse gas emissions. It joined RE100 that July, and announced plans to switch to 100% renewable energy by 2030. The Government Pension Investment Fund (GPIF) has also selected Marui for inclusion in its four ESG indexes. Ryosuke Murai, general manager, finance department at Marui comments "We recognized that green bonds could be the answer as we were researching our financial options as a pioneer in ESG."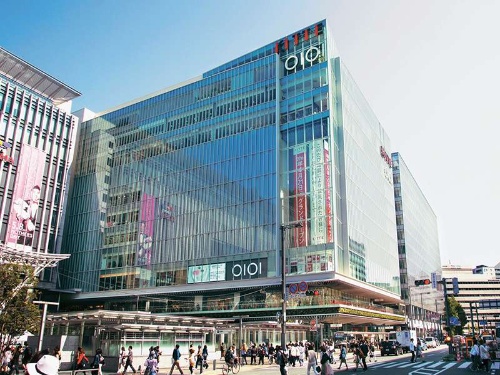 Direct power generation considered
The redemption period of the green bond is five years, and the rate of 0.19% is about the same as regular corporate bond. The second opinion was provided by Sustainalytics, as a third-party certification organization. Marui made the decision to issue the green bond even though a second opinion costs a fair amount, justifying the move by saying it would open channels to new investors. In fact, entirely new investors like Fukui Bank and Kansai University announced investment in the green bond. Demand for most corporate bonds is generally just under double, but for this bond hit two and a half times the issue.
There are still some clouds on the horizon, though. The target date for RE100 is 2030, which means they will not be able to hit 100% renewable energy by the bond redemption date of 2023. Marui plans to boost its renewable energy ratio by purchasing renewable energy, and not by direct generation, so there will be additional expenditures in the future.
"Sustainalytics asked us if we were planning to start direct generation. We considered it, but we decided to stick with what we knew we could do and not add new—and ambitious—activities, explains Yuko Shiota, chief manager, ESG promotion department at Marui. "We want other firms to issue green bonds, and expect them to use renewable energy."
It is likely that other firms will also issue green bonds to achieve RE100, but there are some pretty high hurdles left to clear before they can achieve their goals.