Many firms are unsure of what media to use for TCFD-related information. We spoke with the FSA person in charge of promoting disclosure of climate-related risk information affecting investment decisions.
Mr. Ikeda, you've handled projects for the Financial Services Agency (FSA) including G20 meetings and Financial Stability Board (FSB) matters, and were in charge of the domestic roll-out for the official recommendations announced in 2017 by the Task Force on Climate-related Financial Disclosures (TCFD). How is corporate Japan reacting?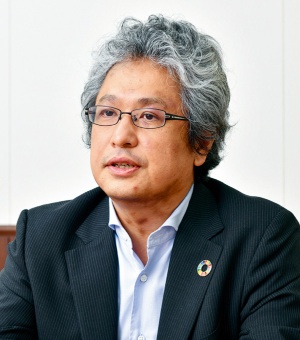 Mr. Satoshi Ikeda
Ikeda: The Agency has developed the Corporate Governance Code and Stewardship Code to guide implementation by domestic corporations and financial institutions. The initiative is driving an increase in ESG-related investment as a means of improving corporate value over the medium and long terms, further accelerated by synergy with enhanced dialog between investors and the Ministry of Economy, Trade and Industry (METI), and the Ministry of the Environment (MOE).
It is crucial that the entire government work together as an "investment chain," providing the driving force to enhance medium- and long-term corporate value and investment returns to investors providing operating capital, based on these two codes. The disclosure of non-financial information, including ESG-related material such as the climate-related risk and opportunity information covered in the TCFD recommendations, will be essential.
For example, more and more companies are mentioning climate risk as a factor in the section on business risk in their annual securities report. An increasing number of firms and financial institutions have backed the recommendations, and there is an accelerating trend toward disclosure of these risk and opportunity statements.
Many companies are still unsure of whether they should disclose climate-related risks and opportunities in their annual securities reports, or anywhere else. The TCFD recommends that corporations and financial institutions disclose that information in their annual financial reports.
Ikeda: In general, listed domestic corporations are required to disclose important information—materiality—for investors in the annual securities report. The CGC calls for clear disclosure of non-financial information, under law, such as management strategies and issues, risk, and corporate governance, in addition to the standard information on financial health, management performance, and the like. And it goes further than that, by requesting that companies proactively disclose additional information that isn't required by law.
Some corporations in the US and Europe disclose detailed information in comprehensive reports above and beyond the level required under law. We hope that Japanese corporations will follow suit, developing their own approaches to disclosing non-financial information, including ESG, in the future.
The government stresses that disclosures based on the TCFD recommendations are strictly voluntary, but some European nations press for corporate disclosure much more strongly.
Ikeda: None of the European nations make full disclosure mandatory, but France, for example, has a "comply or explain" directive that requires companies to disclose information including climate risk or explain why not. The Japanese CGC also has a "comply or explain" clause, requesting companies to provide non-financial information with materiality, such as climate risk and opportunity.
We hope that information disclosure based on the TCFD guidelines will take hold in Japan, contributing to enhanced corporate value over the medium and long terms, and higher returns for investors.
Photo: Masayuki Nakajima