Imagine transforming all the refuse of a metropolis into resources... and now this "urban mining" is on the verge of implementation. Sekisui Chemical Co., Ltd. has developed a technology to convert household and industrial refuse into ethanol, a key plastics material.
The new development combines gasification technology to gasify refuse and collect the resulting ethanol, and a microbiological catalytic technology to control the microbes that generate the ethanol. A pilot plant has been constructed at an existing refuse processing facility in Yorii Town, Saitama Prefecture, and is in operation now generating ethanol from collected household and industrial refuse.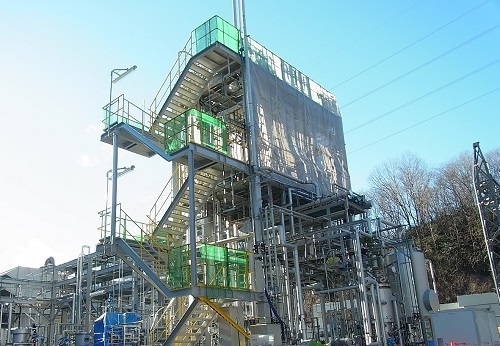 A total of about 60 million tons of combustible refuse is collected annually in Japan, equivalent to about 200 trillion kilocalories of energy. At the same time, about 30 million tons of fossil fuels (about 150 trillion kilocalories) are consumed as plastic. If plastic can be produced from refuse, it would be possible to fulfill the demand for plastic without any fossil fuel imports.
The feed refuse can include plastic shopping bags, disposable drink bottles and other plastics. By making it possible to process refuse without the need for sorting, the technology could possibly resolve the global plastics crisis.
A one-tenth scale demonstration plant will begin operation in 2019, with plans to shift to full-scale commercial operation in 2020. Satoshi Koma, general manager of the BR Project at the firm's Corporate R&D Center explains "We hope to contribute to a range of fields covered by SDGs: energy, responsible production, and sustainable community development."
Huge markets in energy, materials, and urban sectors
Technologies to achieve Sustainable Development Goals (SDGs) represent significant opportunities for business. A Business & Sustainable Development Commission survey estimates the achievement of SDGs would generate a global 132 trillion-yen (approx. US$1.18 trillion) annual market, creating employment for 380 million people by 2030.
The sector with the highest potential is energy and materials, which estimates suggest could see new markets worth 473 trillion yen (US$4.22 trillion) created. According the United Nations the global population is currently 7.6 billion, rising to 8.6 billion by 2030 and 9.8 billion by 2050. It is clear that ensuring a supply of energy and other resources will be a critical issue.
Cities are also high-growth markets, as urban populations are expected to swell to 1.6 times their present size by 2050. As citified areas continue to grow in scale, problems with maintaining order and infrastructure will be exacerbated.
Health and Social Welfare is another growth market, as current trends of dropping birth rate and rising average age accelerate in Japan. Technologies are needed to cope with labor shortages and help maintain health.
All of these sectors will become problems for emerging economies, too, in the not-too-distant future. If Japan can develop as a showcase for proven social solutions, it would mean significant global business opportunity for Japanese technology.
SDGs indicate the issue-resolution goals for social issues, and if utilized effectively can make it possible to identify the technologies lacking in a corporation, and guide the way to people and other companies for collaborative success. The result would be even more extensive opportunity for Japanese firms with superlative technology.
Technology alone, however, is not enough: some Japanese corporations have been unable to achieve success even with outstanding technology. Unless developers consider what value can be created by new technologies to resolve social issues, no business plan can succeed.
Hiro Nishiguchi, executive managing director of the Japan Innovation Network, comments "Innovation is simply creating new value, and to do that you have to develop human resources." He explains that there innovative personnel require three strengths: creative design, to identify problems and brainstorm ideas to resolve them; business model development, to set pricing that reflects real-world criteria including customers, sales channels, and cost; and lean start-up drive, to grow the business through trial and error.
The key to winning in business is not merely technology development, but discerning the true value of the technology, and getting it to the market first. And to do that, we need the right people and the right organization.