The mobile office concept for rental vehicles now implemented by ORIX Auto is proving popular. By making it easier for sales staff and other employees to skip coming to the office, going directly to field sites in the morning, and directly home from there in the evening, the new policy is slashing overtime work.
ORIX Auto Corp. of Japan began increasing its range of "Mobile Office Vans" in September 2018, and now operates a fleet of 215 vehicles nationwide, about double the level of the prior year.
Mobile Office Vans have been modified commercial vans to facilitate personal computer use. They are becoming more widely used recently among, for example, construction site supervisors who need to prepare daily reports at the end of the day. One company find them so useful that it currently rents 50 of the vehicles.
Air conditioning usable with engine off
Sumiken Mitsui Road Co., Ltd. has been using them since 2015, making it possible for site supervisors to take care of e-mails, writing daily reports, and other tasks on-site, without having to visit the office. By promoting direct-to-site and home-from-site workstyles, the approach is improving efficiency, and also cut overtime by 35 percent from 2014 to 2017.
The rear of the van is set up with an office-type desk and chair, and LED cabin light above (photo). An inverter is provided for supply AC power from the van's DC source, powering the computer. The van also has a simple air conditioner that can be used even with the engine off, for a spartan but highly mobile office.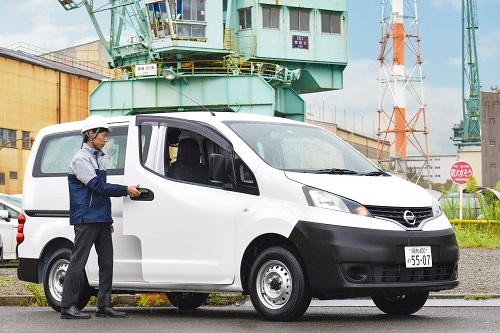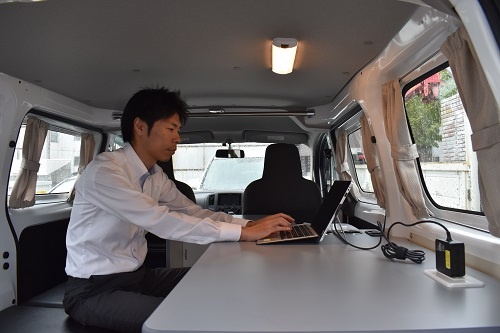 These mobile offices were originally custom-built for civil engineering and construction firm on-site use, but now they are being eyed for use in a wide range of fields, such as new store development by retailing and distribution companies.
The basic fee is 13,500 (US$ 123.85) yen per 12 hours, slightly higher than standard rentals, but demand is strong due to labor shortages in industries. Buoyed by the work-style reforms championed by the Shinzo Abe administration, production has been unable to keep pace with demand for some time. Even better, the time utilization ratio is "far higher than is possible with ordinary car rentals," says Yoshimi Hatayama, Area Sales Team Leader, Sales Promotion Division, Truck Rental HQ at ORIX Auto.
Stimulated by the growth in mobile office van rentals, there is also growth in demand for construction site dump trucks and related vehicles, a major category for the Truck Rental HQ. Customers are now asking for portable toilets and solar panels to be added, and the firm plans to continue to improve its offerings.
The work-style reforms being pushed under Abenomics represent major business opportunities that many businesses are actively developing.