Major overseas natural resources companies are utilizing Scenario Analysis in management. We spoke with the person in charge at BHP, which has also influenced on TCFD, about the background to their decision.
In 2015, Anglo-Australian BHP analyzed the possible effect of the 2°C scenario on their operations, and disclosed the results. This was well in advance of the recommendations issued by the FSB Task Force on Climate-related Financial Disclosures (TCFD) in 2017. We spoke with Graham Winkelman, Practice Lead Climate Change at BHP, about it.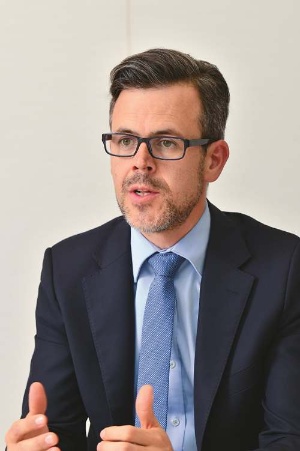 Graham Winkelman, Practice Lead Climate Change at BHP
Why did you decide to disclose your climate risk analysis and the possible effects on your business?
Winkelman: We had already verified the resilience of our business portfolio prior to that, but individual and corporate investors were demanding more information on climate-related risk. The success of the business depends on the trust and cooperation of our partners, clients, suppliers, and local society. By disclosing the risks and opportunities of climate change, and the financial effects, we believed to gain trust and support from stakeholders.
What was the reaction of investors to the disclosure of BHP?
Winkelman: When we issued the portfolio analysis in 2015, we were asked how we monitor external environmental change and trends. To answer that, we issued our outlook for the post-Paris portfolio in 2016, describing our strategic policy. We predicted external change in the form of growth in renewable energy and electric vehicles following the adoption of the Paris Agreement the previous year, explained the effects on related facilities and equipment used in resource enterprises, and generally provided more information.
The scenario analysis claimed that our management strategy was resilient, based on a diverse business portfolio and low manufacturing costs stemming from the use of quality resources. Our investors rated the information quite highly.
The information disclosed made it possible to engage our stakeholders in a discourse based on facts, and they were able to draw on more information than ever in making investment decisions.
We believed that the more information we disclosed, the more our investors would become aware of climate change issues. We were trying to find a significant way of conveying that information, including direct discussions.
Since we released our scenario analysis there has been an increase in investor requests for more climate-related information, and those requests finally resulted in the recommendations issued by the TCFD.
The scenario analysis explained the growth strategy for a low-carbon society capable of attaining the 2°C target. It predicted that the economic benefits of Carbon Capture and Storage (CCS) technology would improve, providing a positive benefit for fossil fuel businesses.
Winkelman: We are working with a large number of partners, including in China and Canada, for example, to accelerate the development and adoption of CCS technology. In China, debate is active involving the steel industry, academia, and government.
Japanese energy and steelmaking industries are also eager to adopt ambitious low-carbon technologies, but to make a meaningful contribution to attaining the 2°C target they are being asked to significantly cut CO2 emissions. I think our firm has a considerable role to play in Japan as well.