Over 140 firms around the world have received high CDP rankings for climate change measures and activities in responsibly utilizing water and forest resources. Globally, more and more investors are focusing on companies that proactively disclose ESG information.
CDP of the UK announced its global ranking for corporations emphasizing climate change measures, water security, and responsible forest use. Over 140 firms received an "A" score marking the highest performance.
Swiss fragrance and flavor major Firmenich SA and French cosmetics manufacturer L'Oréal were rated "A" in all three categories, while Asahi Group Holdings, Ltd. of Japan, Toyota Industries Corp. of Japan received A's in climate change and water categories. Fuji Oil Holdings Inc. of Japan became the first Japanese corporation to be A-listed for forestry, one of seven companies in that category.
CDP asks leading corporations around the world to disclose information on climate change and other initiatives every year, providing the collected information to 650 investment organizations globally.
The 2018 survey received responses to climate change questions from 6,937 companies, an 11% increase over the 6,251 received the prior year. The water resources category also improved, by 6%, while the forest resource category showed an increase of 72%. Of the 500 Japanese firms sent the questionnaire on climate change request, 14 more than previous year responded, rising to 297.
In 2016 CDP began requesting American and European companies to pay administrative expenses, and Japanese firms were requested to pay 97,500 yen (US$881) from 2018. The number of responses received rose in spite of the fee, indicating increased recognition by Japanese companies of the importance of ESG information disclosure to investors.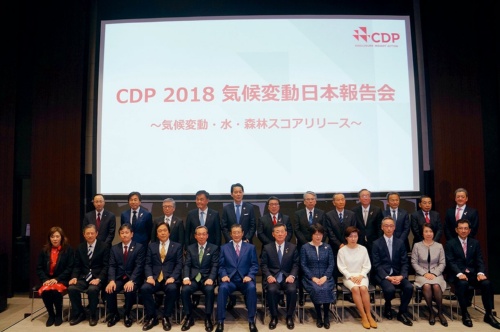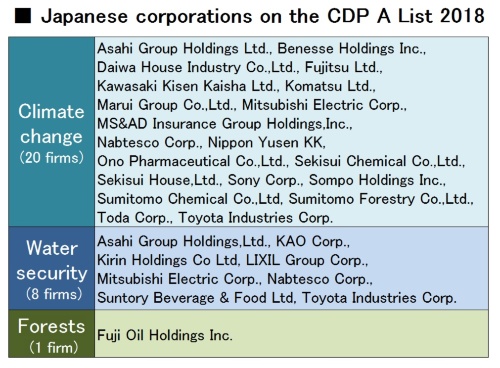 Japanese corporations on the CDP A List 2018
Some RE100 firms failed to make the A List
Toyota Motor Corp., Ricoh Co., Ltd. and some other firms which have made the climate change A List in the past failed to make it this time. According to CDP Worldwide-Japan Director Michiyo Morisawa, "More corporations in primarily the US and Europe are meeting new electricity demand with renewables, and establishing Science-Based Targets (SBTs) for greenhouse gas reduction." In Japan, however, although there is a rise in the number of companies joining the RE100 renewable energy initiative, the high cost of renewable energy in Japan keeps large-scale adoption low. Many firms which announce SBTs have yet to begin work toward attaining them. It is thought that this accounts for some of the corporations which didn't make the A List.
This time, CDP revisited questions based on "Recommendations" of the Task Force on Climate-related Financial Disclosures (TCFD). CDP-Japan's Morisawa says the responses to the new questions clarified TCFD initiative results, and no doubt had a major effect on each firm's score.
Programs evaluated highly in prior years do not match the criteria of the new approach, and it is essential that corporations evolve to match the times, thereby boosting their own corporate value.
Related link: https://www.cdp.net/en/scores