There has been a marked increase in comprehensive partnership agreements between corporations and the regions around them in recent years, as companies work to help resolve local problems instead of just contributing to society as a whole. SDGs provide major impetus for the trend.
Since 2015, Ricoh Japan Co., Ltd. has entered into 27 comprehensive partnership agreements with prefectures, cities, and other local governments, universities. Other firms are taking note, and launching their own similar initiatives: Yamato Transport Co., Ltd. has entered into at least 30, and Aeon Co., Ltd. into 60 or more.
One feature of the accelerating trend is that companies are cooperating in resolving regional problems instead of working for society at large. The formulation of Sustainable Development Goals (SDG) by the United Nations is driving the change.
SDGs have been defined for 17 themes such as the environment, welfare, and labor, all of which apply directly to the local region. By applying corporate technology and expertise to local issues, companies hope to create new markets, refine their technical prowess, and discover new global opportunities.
One representative agreement is the tie-up between Kirin Brewery Co., Ltd. and Tono City, in Iwate, Japan. Kirin had already entered into a 55-year contract with farmers in Tono to ensure a stable supply of domestic hop, but production dropped from 500 tons in 2005 to only 270 tons in 2017, due to a drop in producing farms caused by aging farmers with no successors. Many other beer manufacturers already depended on imported hop, and Kirin certainly had the option of following suit.
Instead, Kirin elected to use the available hop in craft beer, creating a new craft beer market and simultaneously launching an active program to develop the Tono community.
The individual creativity of each region was spotlighted to emphasize the flavor and fragrance of domestic hop, making it easier to charge more than for standard beers. Craft beer accounts for 15% of the beer market in Europe and America, but only 0.9% in Japan. It is gaining rapidly in popularity, however, including among younger generations, and the share is expected to reach 4% in 2025–29.
Kirin is actively supporting the trend, such as by opening pubs offering craft beer. Pubs offering foods and four types of craft beer are popping up, growing from 1,000 locations in 2017 to 7,000 in 2018, and an expected 13,000 in 2019.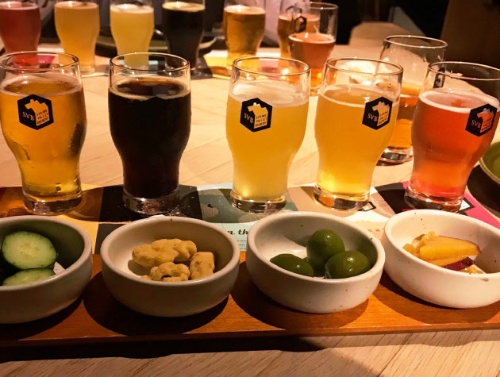 Other regional vitalization activities under way in the Tono area including introduction of new technologies to boost hop farm productivity, production of vegetables for pub snacks, beer-related events, and tours of hop farms, usually as cooperative efforts involving the city, farmers, and social entrepreneurs. Kirin also invested 150 million yen (1.3 million US dollars) into an agricultural support firm named Beer Experience, in 2018.
Kirin has positioned the initiative as a corporate activity contributing to SDG No.2—sustainable agriculture—and set targets and KPIs. The firm ties corporate growth to the future of domestic hop and regional revitalization when providing information to ESG-sensitive investors interested in corporate contribution to the environment and society.
Rakuten has also launched a business effort to resolve regional problems. In November 2018 it established "EARTH MALL with Rakuten," a virtual shop on the Rakuten electronic commerce site featuring sustainable products contributing to SDG No. 12, sustainable consumption and production patterns. Some 7,000 products are listed, including many primary natural resource products from the region. Many have been audited as contributing to a sustainable natural environment or ecology, or certified under Forest Stewardship Council (FSC) or Marine Stewardship Council (MSC) guidelines.
Takayuki Mamabe, manager, Planning Group, Sustainability Promotion Dept. at Rakuten explains "We want to offer electronic commerce services connecting consumers to rural regions of Japan with relatively few stores or primary-industry workers." The goal, he says, is to have customers visit the Earth Mall at least one in every ten visits to the site.
Rakuten has entered into comprehensive partnership agreements with 30 regions. In Hida city, Gifu prefecture, for example, it has launched a business based on Rakuten Edy electronic payment cards. A Hida City Fan Club program was developed, and the company donates a portion of the Edy transaction amount of consumers among the Club to Hida under the Japanese "Furusato Donation" plan. The initiative has proven successful, with Furusato donations to the city doubling.
The Japanese Cabinet Office has selected 29 jurisdictions as "SDGs Future Cities," promoting revitalization through collaborative efforts between corporations and the regions. A variety of projects are under way, leveraging corporate marketing prowess, technical expertise for smart agriculture or energy management, financing, and more. SDGs are expected to nurture a growing range of businesses based on resolving regional problems.