The FIT system setting purchase prices for electricity generated by private solar power generation systems will expire this year, and some 530,000 homes will enter the post-FIT era. Sekisui Chemical is pushing ahead with plans to utilize post-FIT electricity both in-house and as a commodity for resale.
In September, Sekisui Chemical Co., Ltd. of Japan will launch its SMARTHEIM Denki service to buy and sell excess electric power generated by home solar systems. The initiative is designed to utilize electricity in the new marketplace developing after the Feed-In Tariff (FIT) fixing purchase price ends.
The firm proposes to purchase electricity generated by Sekisui HEIM homes equipped with solar power generating systems and storage batteries for 12 yen/kWh. The purchase price drops to 9 yen/kWh for homes not equipped with storage batteries.
Purchased electricity will be sold to customers including other Sekisui HEIM homes not equipped with generation equipment, Sekisui Chemical offices and plants, and other consumers. While sale prices have not been disclosed, they will be below prices offered by the major electric power utilities.
The company's proposal for a Science Based Target (SBT) was accepted in June 2018, and it hopes to meet its goals by utilizing purchased solar power in housing manufacture. The new service is expected to contribute significantly to helping the firm slash greenhouse gas emissions from its offices and plants 26% from fiscal 2013 levels by fiscal 2030.
As the 10-year FIT term expires, some 530,000 homes in Japan equipped with solar power generation systems will be looking for buyers in November and December 2019 alone, rising to an expected 1.65 million homes representing 6.70 million kW by 2023.
According to Masao Ogasa, executive officer and head of the company's R&D Center, "Even for only our own Sekisui HEIM customer-built homes, about 60,000 units will be able to utilize this service this year. We're offering customers a way to utilize storage batteries to ensure they generate as much of their own consumption as possible, with Sekisui buying the excess."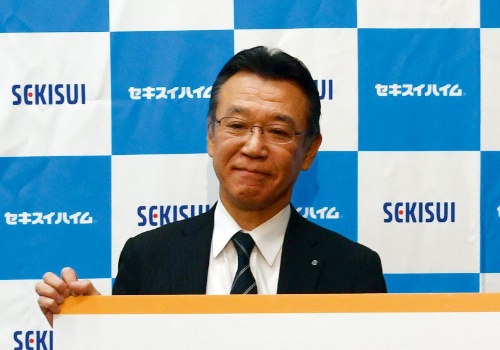 Emerging competition to sign new customers
The competition to sign up new customers is already under way, as electricity retailers supplying power from renewable sources and major consumers of recyclable energy both hunt homes that can supply excess power. Last November, Aeon and Chubu Electric Power announced a joint service whereby homes in the Chubu region would receive reward points for selling excess electricity to Aeon. In the housing industry, Sekisui House announced a plan in January to purchase excess electricity from post-FIT customers at 11 yen/kWh.
In the future, Sekisui Chemical plans to extend service into a virtual power plant (VPP), utilizing storage batteries and remote system control to share electricity between homes, and adjust commercial supplies.