The TCFD Consortium has been established in Japan by a group of over 160 corporations and organizations, applying enormous scale in an effort to guide future climate risk measures.
On May 27, another 62 Japanese corporations and organizations announced support for the guidelines issued by the Task Force on Climate-related Financial Disclosures (TCFD), including a number of firms especially susceptible to climate change risk such as Nippon Steel Corp., JFE Holdings, Inc., Kansai Electric Power Co., Inc., and Electric Power Development Co., Ltd. This brings the number of supporters in Japan to 162, passing the 107 of the UK to give Japan the top rank, and boosting the total number of supporters worldwide to 744.
TCFD was established by the Financial Stability Board (FSB), which monitors the global financial system. To minimize climate change risk on the world economy and financial system, the FSB asks institutional investors and financial institutions to take factors such as climate change risk and strategies to mitigate it into account in making financing decisions. Companies are requested to analyze the potential effects of future climate change on their financial health, and disclose the results.
TCFD goes further than merely announcing support and disclosing information, however, and in addition to analyzing the potential risks and business opportunities posed by climate change, integrates the results into management strategies and operations.
For firms evaluated as being acceptably susceptible to climate risk, institutional investors are requesting disclosure of management strategies under TCFD guidelines, seeking greater engagement. Seiji Moriya, executive vice president and chief financial officer of Tokyo Electric Power Company Holdings, Inc. comments "We are taking the increase in requests for ESG-related information very seriously, and are preparing for disclosure through scenario analysis."
High-risk firms announce support
On the same day that the formation of the TCFD Consortium was announced, 150 people from management attended the first general meeting. Hiroshige Seko, the Minister of Economy, Trade and Industry (METI), explained that "Dialog is growing between companies innovating new solutions to global warming, and institutional investors and financial institutions. I am confident that investment and financing will be increasingly linked to information disclosure."
The Consortium will soon establish working groups, including one for companies working on information disclosure under TCFD guidelines, and another for investors working on ESG-weighted investment referencing the disclosed information. The group has already released official "TCFD Guidance" (produced by METI) to explain the unique strengths of Japanese corporations to investors, and the "TCFD Scenario Analysis Guidance" (Ministry of Environment) introducing analysis methodology. A "Green Investment Guidance" publication for investors on utilizing TCFD standard disclosures is planned.
Plans call for an international TCFD summit to be held in Tokyo in early October 2019, allowing the Consortium to introduce the three Guidance publications to the global community, and try to establish itself as the leader in TCFD development.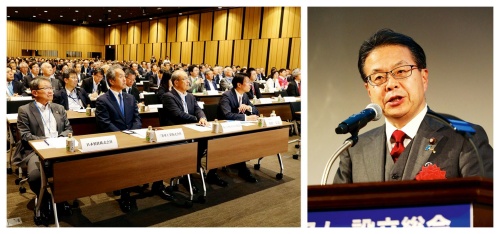 The general meeting was attended by Hiroshige Seko, Minister of Economy, Trade and Industry (right). He was joined by top management from supporting firms including Nippon Steel and Mitsubishi Heavy Industries.