A major retail distributor, Aeon is offering the roofs of its large-scale shopping complexes to solar power generation firms, and purchasing the generated electricity. Is this a new option for the carbon issue, cutting store CO2 emission to effectively zero?
"This is currently the most promising method of acquiring renewable energy," said Takahiro Suzuki, general manager, CSR Department at Aeon Co., Ltd. In an effort to boost renewable energy utilization, the firm will enter into a full-scale power purchase agreement (PPA) this year.
Aeon will make the rooftops of its stores available to power generation firms for solar panel installation, and purchase the generated power. The generation company will handle panel procurement, installation, operation, and maintenance, so from Aeon's point of view there is zero initial investment, and zero running cost. They merely pay about the same rate as they do now for grid power. Suzuki stated that "It will cost about the same as conventional, non-renewable commercial electricity."
Coexistence with Post-FIT Electricity
The Aeon Decarbonization Vision 2050 plan announced by Aeon in March 2018 calls for all stores to achieve zero effective CO2 output by 2050. At present, about 90% of store CO2 emissions originate in electricity use, and since there is not much leeway to reduce power consumption, the large-scale adoption of renewable energy is essential.
PPA could be a trump card. Aeon is engaged in discussions with four generation firms now, and has made the decision to begin generation using the roof of its Aeon Town Konan complex (Konan city, Shiga pref.) in December this year. Suzuki added that the firm plans to enter into PPAs for at least 200 locations.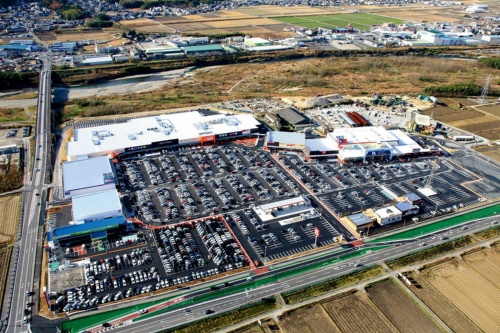 The Aeon Town Konan complex encompasses 41 separate stores under its 100,000-square meter land. Solar panels generating up to about 1200 kW will be installed, entering service before the end of the year.
The other, parallel initiative is post-FIT procurement, buying electricity from private homes. Since November 2018, Aeon has been buying electricity generated by homes equipped with solar power generation systems, through Chubu Electric Power Co., Inc. As homes leave the Feed-in Tariffs (FIT) program controlling electricity purchase price, they enjoy greater freedom in selecting where to sell it, which does present a degree of uncertainty when it comes to predicting how much electricity might be available for Aeon.
Aeon is hoping to attract more providers by offering generating homeowners loyalty points, in the form of WAON points that can be used at Aeon group stores and cooperating retailers. In addition to boosting its electricity supply, the idea is to also draw more customers and increase sales.
The expanded use of renewable energy will also have an effect on how Aeon is evaluated by investors and partners concerned with environmental, social and governance (ESG) issues. More and more companies are participating in the RE100 global initiative to switch all electricity demand to renewable sources, responding to an increase in requests from investors and partners. Renewable power is somewhat more expensive in Japan than elsewhere in the world, forcing corporations to find innovative ways to slash cost.