"All of a sudden there is enormous social pressure to curb global warming and help achieve the 1.5°C target. I can't find a good way to convince our business arm that they have to do even more than they have been," complains one environmental issues staffer at a major corporation.
The Paris Agreement, an international framework to address global warming, requests signatories to hold the increase in the global average temperature to "well below 2.0°C" above pre-industrial levels, and work toward holding it down to only 1.5°C. Japanese corporations are now struggling with how to cut greenhouse gas emissions under Science-Based Target (SBT) initiatives.
SBTs are targets set autonomously by corporations. Based on scientific findings from the Intergovernmental Panel on Climate Change (IPCC), they are designed to significantly reduce greenhouse gases over the medium and long term. The UN and involved non-governmental organizations (NGO) evaluate corporate SBT initiatives, certifying them if they are found in accordance with global temperature reduction objectives.
According to senior manager Kae Takase, working on the SBT Initiative at CDP Japan, "Determination to make the utmost effort to achieve the 1.5°C target is getting stronger on the global level."
Already 215 corporations around the world have received SBT certification, and another 339 firms have promised to set SBTs. While corporations are under no legal obligation to set SBTs, many companies are choosing to do so to clarify their interest in addressing climate change issues.
Lately, however, business is facing surging pressure to accelerate climate change response, because the SBT initiative will move its targets up in October.
The SBT Initiative has been seeking a year-on-year reduction in greenhouse gases of only 1.23% or better, a tad under the 2°C sought by the Paris Agreement. In October, however, this will be changed to a 2.5% minimum year-on-year reduction for the "well below 2°C rise", with a target of 4.2% year-on-year reduction for the "1.5°C rise."
From September, the target levels set for certified individual SBTs will be disclosed on the SBT Initiative website, and anyone will be able to see at a glance which firms are aiming for 1.5°C, and which for the "well below 2.0°C" target.
Consultant Fumiya Mori at the Mizuho Information & Research Institute comments "Even companies which have not had their SBTs certified yet will instead have them evaluated by institutional investors or ESG evaluation agencies. It is quite possible that the specific targets set by a firm will sway investor decisions."
The SBT Initiative also plans to begin offering certification for financial institutions, promoting engagement by pushing them to request clients to set SBTs or SBT-equivalent objectives. It seems likely that whether or not corporations can set targets in line with the new numbers may have a major effect on how global corporations are evaluated.
SBT greenhouse gas reduction standards
| Temperature rise | Year-on-year reduction rate |
| --- | --- |
| 2°C target | 1.23% |
| Well below 2°C target | 2.50% |
| 1.5°C target | 4.20% |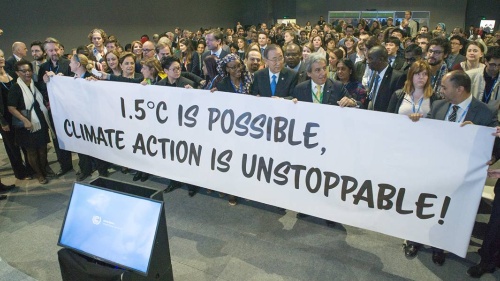 Related link: Business leaders urged to set more ambitious climate targets in effort to limit global temperature rise to 1.5°C