Following the G20 Summit in Japan, major Japanese corporations are announcing long-term environmental initiatives. In response to the marine plastic problem, the transition away from virgin petroleum-based containers has strengthened.
The Group of 20 (G20) meeting of energy and environment ministers boosted interest in environmental issues in May and June, stimulating a number of major corporations to announce significant environmental initiatives. Two of the most interesting in Japan were the long-term plans announced for 2030 and 2050, by Seven & i Holdings Co., Ltd. and Suntory Holdings Ltd.
Long-term targets in four areas
Seven & i Holdings announced its Green Challenge 2050 plan in May, setting a number of environmental targets to be attained by 2050. Mayumi Tsuryu, executive officer, Corporate Communication Div., senior officer, Sustainability Development Dept. at the firm explains "A third of our shareholders are overseas, and as ESG investment becomes more popular, about half of the factors used by overseas investors to evaluate companies are ESG-related."
Green Challenge sets four major themes for group firms, including convenience stores, supermarkets, and family restaurants (see table). One of them is handling waste plastic, specifically dealing with marine plastic problems that were a major issue at the G20 Summit. One measure to reduce waste plastic calls for using green packaging for all original product containers.
Part of this is a joint effort with Coca-Cola (Japan) Co., Ltd. to recycle PET (polyethylene terephthalate) drink bottles using only bottles collected through Seven & i group stores. The bottle for a new green tea drink "Hajime Ryokucha" released in June is made of 100% recycled PET.
The Food Loss Reduction Promotion Act was enacted in May, sharpening the focus on minimizing foodstuff wastage. The group plans to slash the amount of food wasted per unit revenue to 25% of FY2013 levels, by 2050.
The firm already sells ready-to-eat side dishes and salads with longer "best before" periods than usual, extending it one day by adjusting the composition of the air inside the package. Air-tightness is preserved with a thin plastic film, reducing the amount of plastic consumed compared to standard container lids.
The company launched a group-wide promotion team to drive the effort. Team leaders assigned to each of the four areas are executive officers or higher, pointing up the firm's commitment.
Tsuryu comments "Since we announced Green Challenge 2050, people throughout our supply chain have contacted us about it. I think this shared sense of purpose will lead to some exciting innovations."
Key points of Seven & i's Green Challenge 2050
Goal
Concrete initiative
2050 target
Low-carbon society
CO2 emissions reduction
Cut emissions by at least 80% from FY2013 levels, for all Group-wide stores
Circular economy society
Plastics
All Seven & i original products to use "green" material containers
Food losses and food recycling
Food loss per unit revenue to be cut by 75% from FY2013 levels. All food waste to be recycled
Society coexisting with nature
Sustainable procurement
All ingredients in Seven & i original products to be sustainable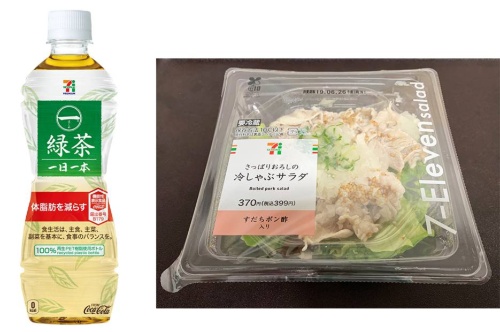 The bottle of a new green tea product (left) is made entirely from recycled material, the brainchild of Seven & i in collaboration with Coca-Cola (Japan). Packages such as salads (right) have been modified to extend "best before" lives.
Cutting virgin petroleum-based material consumption to zero
Suntory Holdings announced its Group Plastic Policy in May. According to Kenji Naiki, deputy senior general manager, Corporate Sustainability Div. at the firm, "Investors and ratings companies are much more concerned lately. Corporate initiatives to reduce marine plastic waste are weighted quite heavily overseas, I think."
The key feature of the new policy is slashing consumption of virgin petroleum-based material to zero, switching all bottles from PET plastic to recycled or plant-based material, worldwide. The group company in the forefront of the effort is Suntory Beverage & Food Ltd., handling non-alcoholic beverage manufacture and sale. The company already uses 100% recycled PET plastic bottles for selected products.
In March 2019 Suntory announced an expansion to its "bottle-to-bottle" recycling facility, which makes new PET bottles from empty ones. About 20% of Suntory's domestic PET bottle production is from recycled material, and boosting that to 100% worldwide, even with plant-based material, will be a tough job.
Outline of the Suntory Group Plastic Policy
1. Recycle & Renewable

All PET bottles used globally for Suntory products to be made of recycled or plant-based material by 2030
Actively work and collaborate with government agencies, industry, environmental non-governmental and non-profit organizations to develop measures required for an efficient recycling system matching the needs of each country where Suntory has business.

2. Reduce & Replacement

Reduce the amount of plastic used by changing the design of containers and packaging. Investigate alternative containers that do not negatively impact the environment.

3. Innovation

Actively invest in innovation for materials and processes that improve the recycling rate and minimize environmental impact.

4. New Behavior

Promote activities that drive change in consumer behavior. Each Suntory employee will work to change their lifestyle and actively participate in social contribution activities.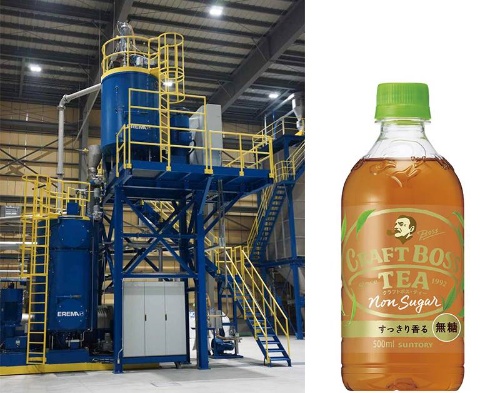 Suntory's "bottle-to- bottle (B to B)" recycling facility (left), developed with Kyoei Industry. One bottled black tea drink is already made from 100% recycled PET plastic (right).
Naiki explains that "It's not at all impossible technically. The problem is building a recycling system overseas similar to the one we've got in Japan." Plastic drink bottle recycling rates are far higher in Japan than in Europe or America. Likewise, the recovery infrastructure is still incomplete in Southeast Asia, a major source of plastic waste.
PET bottle recycling will require updating the legal and regulatory framework, and active cooperation by local governments and consumers both; it is not something a single firm can hope to achieve. Suntory is working to upgrade related infrastructure overseas through organizations such as the CLean Ocean Material Alliance (CLOMA).
It is always difficult to foretell the future, and impossible to tell if targets for 2030 or 2050 can be achieved. Still, actively working toward that end will surely stimulate innovation, and increase corporate competitiveness.