Engagement is becoming more prevalent as companies seek to boost corporate value through direct dialogue with investors, and increased engagement has resulted in clear gains in corporate value for a growing number of firms. As management actively exchanges information with investors, they also gain ideas that can be leveraged in business.
More and more companies are moving to boost corporate values by engaging investors in direct dialogue. Survey results announced by the Japan Investor Relations Association in April show that over 60% of companies responding felt corporate interest in dialogue as a means of promoting sustainable growth has increased over the prior year, more than doubling since 2015.
Corporations hope to gain more accurate evaluations from investors by introducing the firm's strengths and growth potential. The investor, on the other hand, gains the opportunity to press management to resolve outstanding issues, improve competitiveness, and reduce risk. The net result is, hopefully, a rising stock price.
General shareholder meetings in Japan reached their peak in June, and the active questions posed by shareholders on Environmental, Social, and Governance (ESG) issues was one form of engagement.
Direct engagement is especially important as a means of deepening mutual understanding between investors and corporations when it comes to ESG and other non-financial elements affecting corporate value. For example, many people assume that adopting renewable energy and other climate change-related measures will raise costs, and unless the company can fully explain how such measures relate to corporate value, it could adversely impact their rating.
One firm using engagement to improve evaluations is Asahi Group Holdings. It has steadily increased the number of dialogues with investors following the transition to a holding company in 2011. In the eight years since, stock prices have tripled, and performance has surpassed TOPIX since mid-2017.
Top management actively engaging in dialogue with investors
As part of the firm's investor strategy, management visits with investors who can provide input on management issues and opportunities. In many cases, this means a meeting between the company president and investors. Osamu Ishizaka, corporate officer and general manager, Investor Relations Section at the firm, explains "You can dig a lot deeper in a one-on-one. Our president sets the example in participating in these meetings."
Investor meetings always end with questions from the president, who asks what dissatisfactions people have with management, and what issues they want addressed. The president knows he will be peppered with pointed remarks about problems, but asks anyway, feeding back information on how those issues were addressed in the next meeting.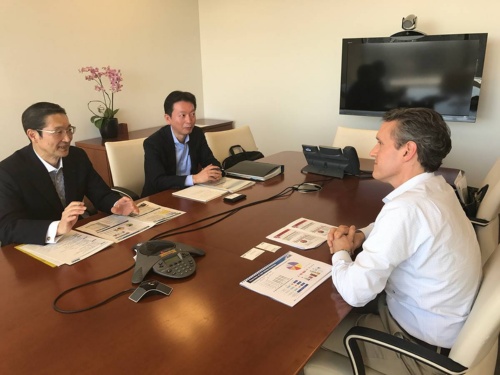 Asahi Group Holdings president and CEO Akiyoshi Koji in active conversation with institutional investors
Simple meetings between the company and investors as an extension of established investor relations activity is not sufficient to boost corporate value: dialogue is essential, by utilizing the suggestions and criticisms received to improve management, and further advance information disclosure.