Compared to the rest of the world, Japan has a lower ratio of female directors and top managers. Industry is working with investors and the government to change that situation.
The 30% Club, founded in the United Kingdom with the goal of increasing the ratio of women in top management, began active operations in Japan this May. Masahiko Uotani, president and CEO of Shiseido and elected as the first chair of 30% Club Japan in July, explained "The gender gap in Japan is serious. Resolving this issue and improving diversity will facilitate long-term corporate growth."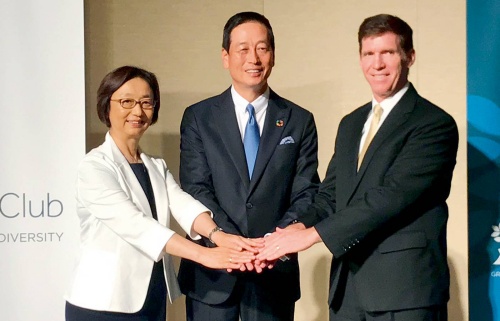 Shiseido President and CEO Masahiko Uotani (center), elected as first chair of the 30% Club Japan.
The lowest ratio of female corporate officers of any G7 nation
The Abe administration is promoting increased social participation by women as part of its growth strategy. It enacted the Act on Promotion of Women's Participation and Advancement in the Workplace in 2016, achieving some successes such as an increase of about 2.88 million women employed over a six-year span, but the gender gap is still far wider than the global standard. The Global Gender Gap Index issued by the World Economic Forum places Japan as 110 out of 149 nations.
Some 13.2% of management positions in Japan are held by women, significantly lower than the 43.8% of the United States, or 36% of the UK. The ratio of female officers is even lower, only 3.4%, the lowest ratio of any of the G7 nations.
The 30% Club Japan plans to work closely with industry, institutional investors, government, and media to boost the ratio of women in leadership positions. Specifically, the Club hopes to increase the ratio of female officers among the TOPIX 100 companies to 10% by 2020, and 30% by 2030. This will not be an easy task, given that the ratio in 2018 was only 7.6%, with 25 companies on the list showing zero female officers.
One reason for the interest in improving the ratio of women in top management is an increase in ESG-driven investment. Many investors evaluating firms on Environmental, Social, and Governance issues feel that increasing diversity on the board strengthens oversight and risk management, contributing to better ratings.
Last year the Japanese Cabinet Office surveyed institutional and other investors supporting the Stewardship Code, and about 70% of respondents revealed interest in participation by women in company operations because it had a "long-term effect on corporate performance."
There is hard data that backs up the positive effect of women on performance, too. A report released by McKinsey & Company last year, for example, shows that companies with more women in management deliver higher profitability than with fewer.
Shutting out companies with no female directors
Investor demands for female officers are rising. American investment major State Street Global Advisors, for example, votes "No" in elections for chairman and president when there are no women directors. Glass, Lewis & Company, an American proxy advisory service, has requested a hundred companies on the first section of the Tokyo Stock Exchange to elect a female officer.
Sumitomo Mitsui Trust Asset Management, a member of the 30% Club Japan, is working with other institutional investors to create more female officers in Japanese corporations. According to Hiroyuki Horii, executive officer and chief stewardship officer there, "Increasing the ratio of women in management is a crucial part of enhancing corporate governance. We are working with other institutional investors to promote the change."
As demands from investors continue to intensify, companies are moving to elect women to the board. As of July 17, 2019, 37 of the members of the 30% Club Japan are top management from TOPIX 100 firms, including chair Masahiko Uotani, president of Shiseido; Ajinomoto president Takaaki Nishii; chairman Yoshihiko Hatanaka of Astellas Pharma; and Yoshinori Isozaki, president of Kirin Holdings.
Before the number of female officers can be increased, women must be trained through management positions. This will probably require a significant change in perceptions by the Japanese themselves, as many women decline promotions because of perceived difficulty in balancing work and home life.
Shiseido, which has been empowering its female employees for years, requires each department manager to groom three possible successors, at least one of whom must be female—preferably two. President Uotani says "Top management is the key. We want to share our experiences, including our failures, with other companies."
In June 2019 the G-20 meeting was held in Osaka, Japan, and participants discussed empowerment of women, later releasing a declaration calling for programs to accelerate the entry of women into the workforce, improve education of girls and women, and support female entrepreneurs.
Private enterprise plays a crucial role in driving expanded participation by women in society and industry. It will not be sufficient to merely hire more female officers and managers; a revolution in the whole approach to enhancing corporate value is needed.