Nestlé Japan is changing the packaging on KitKat chocolate bars, its lead product, to paper. The firm hopes to boost brand recognition by stimulating more interest in plastics issues.
"We're seeing rising demand for paper packaging from our partners," says Kohzoh Takaoka, president & CEO of Nestlé Japan. On August 1, the company announced that it would switch to paper packaging for the large outer bags for five KitKat chocolate bar products, its best-selling chocolate snack, to be implemented from late September. "Our cost will rise a little with the switch from plastic to paper," he continued, "but we expect a resulting jump in sales."
The Nestlé Group has released a statement that it will make "all product packaging 100% recyclable or reusable by 2025." Nestlé Japan is spearheading the groupwide effort to switching to paper packaging.
By linking the effort to one of its banner products, the firm hopes to position itself as a proactive leader addressing the waste plastics problem. A source at the company explained this change alone would cut about 380 tons/year of plastic, equivalent to about 30% of total consumption for KitKats.
The switch affects only the outside bag, however, and changing the packaging that contacts the candy bar itself, directly affecting product quality, will be harder. Nestlé has set targets to replace internal packaging with a single, recyclable material by 2021, and make all the packaging material 100% recyclable or reusable by 2022. President Takaoka commented "We'll upgrade the individual wrappers to either paper or biodegradable plastic that dissolves in sea water within two or three years."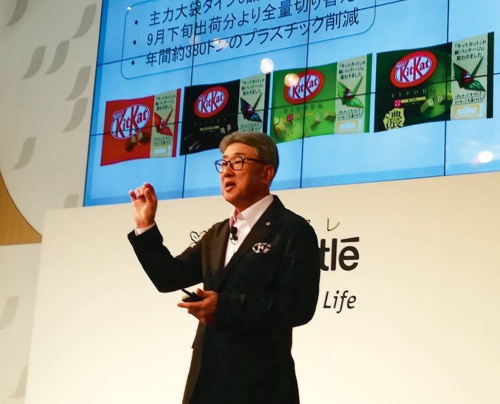 Kohzoh Takaoka, president & CEO of Nestlé Japan, explaining the firm's plastics initiatives
Boosting Brand Recognition with Media Coverage
As society becomes more sensitive to the problem of marine waste plastic, food and daily item industries that customers interact with every day are taking urgent action. Nisshin Foods Holdings, for example, is switching to a "Biomass Eco Cup," utilizing 80% biomass in a plant-derived plastic material, for its primary instant noodle products. Unilever, meanwhile, plans to replace all PET bottle for shampoo and similar products with 100% recycled plastic by the end of 2020.
The Nestlé Japan team offered an intriguing way to use empty paper packages, too: adding messages and folding them into origami to give away! In addition to helping protect the environment, the changeover to paper is also one of the first steps in creating shared value with consumers.
When telling consumers about your corporate stance, it's always most effective to link it to some trendy message. Nestlé has announced future goals while simultaneously boosting brand recognition by taking immediate action with small steps... and perhaps offers important hints for other companies looking to follow suit.