Rio Tinto, a dual-listed company with headquarters in the UK and Australia, is the only diversified mining company not in the coal business. The group is working toward supplying the materials needed for a low-carbon society, and investing into R&D to make it possible.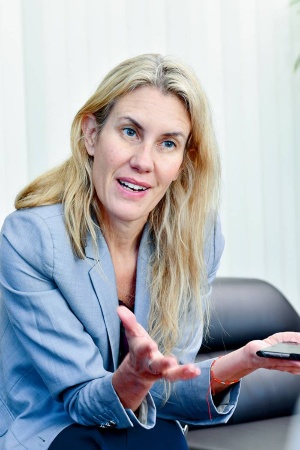 Simone Niven
In 2018, Rio Tinto became the only diversified mining company not involved in the coal business. Could you explain the background to that decision?
Niven: We're involved in mine development and operation, and we've always tried to ensure long-term, sustainable operation. The executive officers and the Board met in 2018, and decided to revamp our ESG strategy. A great deal of time and effort went into considering how to improve Environment, Social, and Governance (ESG) activities in a wide range of fields, including response to climate change, better transparency, and even social issues like human rights throughout the supply chain.
We've considered the effects of climate change in our operations for decades... taking steps to help minimize climate change, or verifying that our operations have the necessary resilience to cope with it, are nothing new.
We support the Paris Agreement, and in 2015 also signed the Paris Pledge, declaring our support together with concerned local governments, corporations, and investors. After in-depth debate by the executive officers and the Board, it was decided to develop an integrated climate-change strategy, and sell off our coal resources.
And the expected impact on corporate performance?
Niven: We considered future market change, in other words, supply and demand predictions, and decided it made sense to get out of the market for coal as a thermal power plant fuel.
The capital we gained from selling off our coal resources could then be directed to the development of new materials with promising demand futures, such as lithium.
Withdrawal from coal spurs investment into new materials
Lithium is used in rechargeable batteries.
Niven: Lithium will play a major role in expanding utilization of renewable energy and electric vehicles, for example. We are currently looking into developing lithium operations in Serbia. At present we're exploring the development possibilities and surveying the market, but we still have to decide whether to invest into the project or not. Any investment decision will also take into account the resulting contribution to the low-carbon society.
That kind of business opportunity is also an opportunity to contribute to the realization of the low-carbon society. This year Rio Tinto published a report based on the recommendations of the Task Force on Climate-related Financial Disclosures (TCFD), which requires companies to evaluate climate-related risks and opportunities. Could you explain a little about how this report came to be? I think ESG-sensitive investors must be very interested in the Rio Tinto strategy for responding to climate change.
Niven: A range of stakeholders including investors, environment-related NGOs, and other groups have expressed interest in the sustainability of our business. In the last year or so, though, there has been a surge of investor inquiries relating to climate risk.
Even so, we didn't release that TCFD report simply because more investors requested it. Dealing effectively with climate change is a key priority in preserving Rio Tinto as a sustainable corporation for the next generation, and a fundamental consideration in developing operations.
We published that report to provide improved transparency to our stakeholders, clarify the risks posed by climate change, and build a shared understanding of our investment policy for new material development, along with our climate change strategy.
The report lists four key action guidelines, based on climate-change risks and opportunities.
Niven: Yes, our strategy and economy teams boiled it all down to four action statements dealing with climate change.
The first is to supply essential metals and minerals for the transition to a low-carbon economy, based on estimates of future market trends.
So helping achieve a low-carbon society is a core objective, then. What materials are you especially interested in, in addition to lithium?
Niven: We identified three elements in the business environment that will affect the transition to a low-carbon economy, the first of which is that the world is beginning to shift toward the "circular economy," namely material re-use and recycling. We recognize that our role as a mining company will be crucial in building a circular economy. Second, there will be increased electrification of transportation and industrial processes. And third, the global shift away from fossil fuels and toward higher energy efficiencies will continue. Providing the materials necessary to support these three transitions will be essential.
Take copper, for example. It offers high electrical conductivity, and is extensively used around the world in the electric power infrastructure, contributing to environment-friendly smart energy. It is lighter than steel, and so is expected to be more widely used in transportation in the future, such as in electric vehicles.
Another critical material is aluminum, which is light, strong, and readily workable. It can be efficiently recycled, contributing to the low-carbon society. Apple products, such as the iPhone, utilize aluminum, and Apple has already announced plans to increase material and component recycling. Rio Tinto has the technology to smelt high-grade aluminum with outstanding energy efficiency, making a significant contribution to recycling.
We provide broad support for the construction of the low-carbon society through other materials as well, such as iron ore and cobalt.
Your second key action plan calls for a reduced carbon footprint throughout the lifecycle.
Niven: Mining has a number of energy-intensive processes, but we are working to improve energy efficiency across the board. We track energy consumption for all operations, and energy usage for each asset is evaluated on an operation-level portfolio basis with our in-house energy management team. We investigate how much of total energy demand can be provided by renewable sources, perform feasibility studies, and evaluate possible technologies and implementations.
And you summarize your carbon emissions for each operation and asset in your public reports, based on TCFD recommendations.
Niven: Yes, we show the current status and available technologies for each asset, and try to determine the portfolio-level approach that maximizes sustainability.
From 2008, we have been setting energy efficiency improvement targets, and have achieved an improvement of about 30 percent so far. Roughly 71 percent of total operation energy demand is supplied by renewable energy sources.
We are investigating other targets, such as achieving carbon-free operations by 2050, further reducing CO2 emissions from electric power consumption, and additional improvements in energy efficiency. We plan to announce new targets in 2020.
The third key action guideline covers the TCFD recommendation requiring identification and assessment of physical risk. This includes changes in weather due to the higher temperatures of climate change, as well as extreme weather events like hurricanes or floods, correct?
Niven: We assess the possible effects of physical risks on our operation portfolio.
We assess risks from initial mine development through closure. In some cases, that can extend over a century or more. Physical risks are assessed at asset development sites around the globe using climate change scenarios.
Physical risks include not only higher temperatures, but also risks related to water, such as changes in precipitation, flood damage, or rise in sea level, for example. We also take the possible effects of our operations on the natural environment into account.
When I visited our operation in Pilbara, Australia the other day the temperature was 46 °C, and I felt the danger of climate change in a very personal way.
Developing carbon-free aluminum jointly with competitor
The fourth action guideline is partnerships and advocating for policies advancing climate goals.
Niven: Forming partnerships to advance climate goals is especially important, I think. Last year we established partnerships with the government of Canada, the government of Quebec, and Apple Corp., to found a joint venture named Elysis LP with Alcoa Corp, one of our major competitors.
Elysis is developing carbon-free aluminum, replacing the CO2 conventionally used in aluminum smelting with nitrogen gas. In smelting, carbon is collected at the catalytic anode.
The aluminum industry has been researching carbon-free technology for many years, but when Apple approached both Rio Tinto and Alcoa simultaneously about it, we decided to combine our individual R&D projects into a single team. Collaboration has accelerated development, making it possible to bring the technology to market sooner than expected. Once perfected, the technology will contribute to a better society for new generations.
We plan to introduce Elysis technology in our own smelting plants, and sell it to other companies. If aluminum manufacturing can be made carbon-free on the global scale, it would mean a massive contribution to CO2 reduction.
Rio Tinto cannot create the low-carbon society by itself—it will require action by industry, governments to draw up policy frameworks and design new regulatory systems, and even consumers. The optimal policies must be implemented to ensure that regions can transition to a low-carbon economy. Rio Tinto is working in unison with its partners to better inform corporations, governments, and consumers, gaining their understanding and support.
Simone Niven, Corporate Relations Group executive at Rio Tinto