More and more young people are interested in helping resolve environmental and social issues through their work. SDGs-oriented initiatives are attracting innovative employees with outstanding problem-solving skills.
At the end of August 2019, one young woman caught the eyes of the world as she crossed the Atlantic by yacht, from the UK to New York: Greta Thunberg. A Swedish high-schooler, she has been skipping school for about a year, instead appealing to the world to do more about climate change. She spoke at COP24 (24th Conference of the Parties to the United Nations Framework Convention on Climate Change) and at Davos Forum, and then participated in the Climate Action Summit 2019 in New York at the end of September.
Is it only environmental activist Greta Thunberg who can get so passionate about resolving climate change issues? Apparently not, as over a million students around the globe participated in a "climate strike" protesting governments and private enterprises inaction.
The birth of "SDG natives"
Japanese youth are no exception. According to Hiroshi Odawara, Partner at McKinsey & Company, "Young people in Japan these days get information in realtime via social media, and keep tabs on what's happening in the world. They are interested in international conflict and poverty issues, but also have a good awareness of environmental and social problems."
Major corporations already have a variety of young employees who want to help resolve environmental and social issues through their work. Natsuki Yano, Investment Research Department Manager at Marui Group Co., Ltd., a three-year veteran, comments "When we consider the next generation, themes like ESGs---Environmental, Social, and Governance---and sustainability are attractive. We really want to help resolve social problems through our core business."
Norihiro Hanyu, HR Department Manager at the same firm, adds "A lot of the people interviewing for jobs here want to do something meaningful about social issues."
A large percentage of Millennials (born 1981–96) and the Generation Z people born after them are very interested in environmental and social problems. They grew up with the Internet, and use social media as a means of daily communications: they are "digital natives." In the same way, the newest generations are growing up in an environment when environmental and social problems are ever-present, as evidenced by the Sustainable Development Goals (SDGs) themselves: they are "SDGs natives."
SDGs natives will be of critical importance to corporations in the future, as they will be the core of society and the economy in labor, consumption, and investment.
Amid these changes, an announcement in August 2019 by pioneering social start-up euglena Co., Ltd. made a huge splash.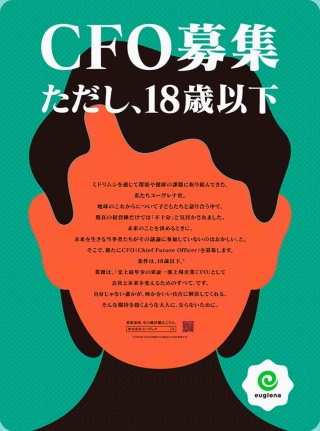 Retailer euglena hiring a Chief Future Officer: 18 or younger
Hiring a Chief Future Officer
The company posted newspaper and video advertisements seeking a "CFO, age 18 or younger," explaining that CFO didn't stand for Chief Financial Officer, but Chief Future Officer.
The company was founded to address problems like climate change and poverty, making a better future. Recognizing that it was unreasonable to exclude younger voices---who will primarily constitute society in 2030 or 2050---from their plans, the firm decided to hire.
Akihiko Nagata. Chief Operating Officer and Chief Financial Officer (COO & CFO) of euglena, discussed the move: "There are a lot of people who expect somebody else to solve the problems, but younger people are making these issues their own because they will be ones most affected by them. We want a Chief Future Officer to express the honest opinions we need from that viewpoint, regardless of what might be best for the company."
ESG is becoming an indispensable part of the sustainable growth approach, and corporate competitiveness will be swayed by how effective the firm can be in attracting new employees who are personally concerned with environmental and social problems. The selection ratio (ratio of jobs to job applicants) has been high in Japan since 1973, and many companies are facing difficulty in finding quality new hires.
As Japan's labor force dwindles the competition for human resources will intensify. Boosting ESG initiatives will not only improve the firm's rating from ESG investors, but also prove invaluable in assuring the quality personnel needed to remain competitive.
Both investors and companies are taking a hard look at HR strategies. "Human resource development and hiring quality people are closely related to corporate strategy achievement and improving corporate value," explains George Iguchi, Head of Corporate Governance at Nissay Asset Management Corp. "And it's of critical interest to investors, too. In my experience, the better corporate philosophy aligns with social expectations, and the more serious the company is about implementing it, the more employees feel their jobs are worthwhile, and the more they work to improve corporate value. In that sense, it is extremely important to incorporate SDGs into business strategy."
Vice President Daigo Shimizu of Goldman Sachs Japan Co., Ltd. adds "The next generation is as important a stakeholder as a shareholder, or an employee. They'll be the ones pushing the environmental and social initiatives. In order to attract the new generation, companies have to be able to show people that they are good for society."
To today's young SDGs natives, the issues expected to be paramount in 2030 or 2050 are very personal, and it is only natural they should be motivated to help find resolutions.
The younger generations are unlikely to come to work for older management who won't even be around by then... but by working to environmental and social issues, forward-thinking companies are securing an innovative workforce with problem-solving skills.