Capital markets have begun to look at corporate biodiversity conservation efforts. The framework for information disclosure about nature-related impacts and projects is looking likely to affect the judgment of investors.
Dai-ichi Life Insurance Co. Ltd. announced in September 2021 that it had purchased the complete release of approximately 3.9 billion yen (some $34.41 million) of green bonds issued by UK-based Anglian Water Services Financing PLC with the purpose of promoting biodiversity conservation. The bond maturity has been set at five years with a yield of approximately 1%. The corporate bonds issued to focus on biodiversity conservation are quite rare in the world of investment.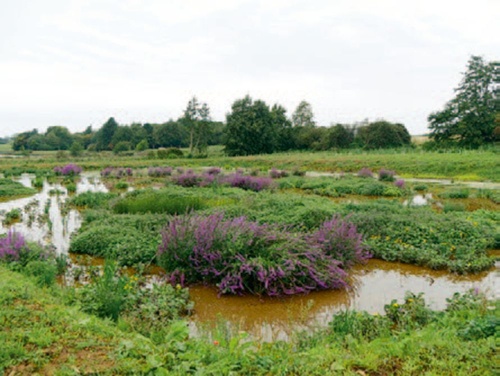 Biodiversity loss is a great risk factor
One of the reasons driving Dai-ichi Life investment in biodiversity bonds is that natural capital, including biodiversity conservation, has begun to be recognized as an area of risk in need of attention and where damages pose major potential impacts to the stability of the financial system. For example, in June 2021, the Taskforce on Nature-related Financial Disclosures (TNFD) was launched to establish the framework of rules that require companies to disclose risks and opportunities related to natural capital.
Dai-ichi Life believes that biodiversity conservation will become increasingly important within the future investment landscape and foresees funding demand for addressing biodiversity issues will grow. The company decided to invest in this kind of green bond after engaging in repeated negotiations with the issuing company and carefully examining the approach and content of the project in question.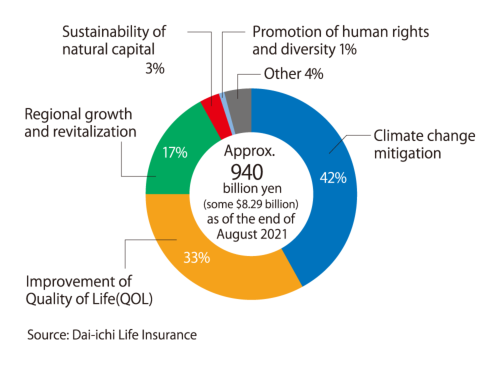 Breakdown of ESG Investment Themes
Anglian Water Services Financing PLC is engaged in the construction and operation of water and sewage systems. All proceeds raised from the bonds are allocated toward maintenance projects for water treatment facilities that manage and use wetlands as well as projects that assist the regeneration of rivers and waterfronts to conserve the habitats of native species. The bond is compliant with the Green Bond Principles (GBP) of the International Capital Market Association (ICMA) and certified by third party institutions. In addition to compliance with GBP, quantitative measurements are conducted to report on the impacts and influences of the projects. Mr. Yoshitsugu Kato, Manager of Foreign Corporate Bonds Division, Foreign Bonds Department at Dai-ichi Life said, "As investigations into ESG-washing (the deception whereby funds are presented as solving environmental and social issues in place of genuine action) are getting stricter, we will monitor the process carefully."
Dai-ichi Life has set a policy to incorporate elements of ESG principles into its investment policy and processes for its assets by 2023. The company plans to more than double the amount of investment in the area of ESG-related activities as compared to that of 2019, - which was approximately 550 billion yen (some $4.85 billion)- to address key social issues. As of the end of August 2021, Dai-ichi Life had already invested roughly 940 billion yen (some $8.29 billion) in ESG-related projects. From 2021, the firm has listed "Improving sustainability of natural capital" as a key ESG investment theme, and also plans to expand natural capital-related investments in the future. Mr. Yoichiro Kuroda, Manager of Investment Management Research Office, Investment Management Planning Department at Dai-Ichi Life said, "Biodiversity is extremely important from the perspective of risk management. Investing in projects focusing on biodiversity conservation encourages the advancement of more sophisticated initiatives undertaken by the investee companies and will also lead to grow their business performances."
In the future, there will be an expanding movement toward selecting investment destinations based on evaluations of corporate initiatives regarding biodiversity conservation as a key issue that comes next to climate change.