The COP26 conference held in the U.K. was the first summit on climate change attended by governments from around the world since the outbreak of COVID-19.
Talks focused on upgrading the targets held by major carbon emitting countries to reduce global rises in temperature
The 26th session of the Conference of the Parties to the United Nations Framework Convention on Climate Change (COP26) started on October 31 in Glasgow, Scotland. British Prime Minister Boris Johnson also held an official World Leaders Summit, inviting heads of state and governments to attend on Nov. 1 and 2. As of the end of October, the participants were reported to include U.S. President Joe Biden, French President Emmanuel Macron, and Japanese Prime Minister Fumio Kishida.
Biden Joins Other Heads of State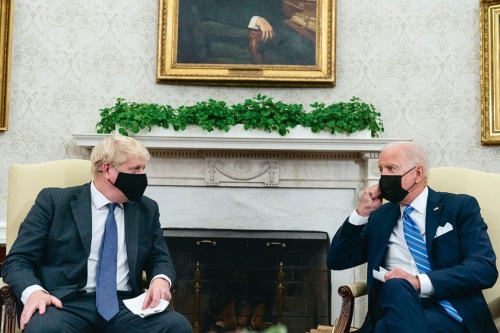 One of the missions being addressed by the world leaders gathering at the venue of COP26 was reviewing their own country's greenhouse gas reduction target for 2030, as stipulated by the Paris Agreement. This topic was supposed to be discussed at last year's COP meeting, but the event was carried over to this year as the summit was delayed due to COVID-19.
During negotiations on climate change, increasing the reduction target for emissions is known as "upgrading ambition" because the action is considered equivalent to holding a "higher ambition" toward preventing climate change. One year ago, Donald Trump occupied the U.S. Presidency, a position with arguably the strongest influence on the development of global climate talks. For this reason, it would have been difficult to obtain tangible results at a meeting held during the previous presidency, even if the COP conference had been held and there were decisions to "upgrade ambition.".
A new U.S. President in 2021 means the situation has changed completely. Top-down decision making by political leaders of member nations is required to review emissions targets. By bringing together President Biden and other heads of state at COP26, "Political momentum is likely to increase, which leads to upgrading climate ambition", said Kentaro Tamura, Programme Director in Climate Change and Energy at the Institute for Global Environmental Strategies.
At the Leaders Summit on Climate hosted by President Biden in April 2021, the U.S. announced its upgraded 2030 climate target plan for achieving carbon neutrality by 2050. At the same event, the U.K., Japan, and Canada also followed suit announcing their own upgraded plans for new targets.
Before COP26 started, attention looked most likely to be focused on the decisions of countries yet to review their 2030 climate target plans, specifically for members of the high-emitting nations and regions of the G20.According to one government official in charge of negotiations, "The US Special Presidential Envoy for Climate John Kerry, who reports directly to President Biden, thinks that encouraging more countries to upgrade their plans for 2030 climate targets is a top priority."
In particular, the increased ambitions of developed countries to raise their climate targets were seen as likely to affect other negotiation agendas at COP26. Developing countries insist that developed states are responsible for today's climate change, and continue to strongly urge them to advance measures for emissions reductions and to expand financial assistance. It is possible that developing nations may refuse to cooperate with agreements relating to other agendas on the COP26 schedule if there are no certain developments in upgrading climate ambitions.
Negotiations at COP26 also included discussions aimed at solidifying the details of rules to enhance the effectiveness of the Paris Agreement. Whether such negotiations lead to successful results continues to depend on whether developed and developing countries can agree on meaningful compromises.
New Targets were Announced by the EU and eight G20 member nations
| | |
| --- | --- |
| Targets reviewed and submitted to the UN | Argentina, Canada, EU, South Africa, UK, US |
| Targets reviewed but not submitted to the UN | China, Japan, South Korea |
| Targets with same ambition level submitted to the UN | Australia, Brazil, Indonesia, Mexico, Russia |
| No announcement of upgraded targets | India, Saudi Arabia |