Azbil Corporation, with its commitment to "human-centered automation," provides unique solutions through measurement and control technologies. Yoshimitsu Hojo, director and managing executive officer, explains how deepening CSR activities contributes to resolving issues both within the company and across its supply chain.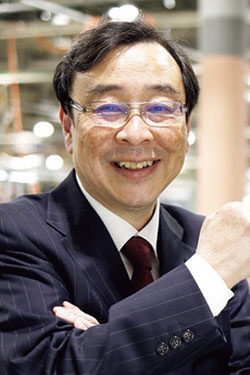 Yoshimitsu Hojo
Please tell us about Azbil's ESG management policy and specific measures being taken.
Hojo: In 2020, we announced specific goals and corresponding targets under the name "Essential Goals of azbil Group for SDGs". The goals are the following: 1) "Environment and Energy", 2) "New Automation", 3) "Supply Chain" and "Social Responsibility", and 4) "Health and Well-Being Management" and "An Organization That Never Stops Learning". We are strengthening our activities toward contributing to the achievement of a sustainable society.
Since the early 2000s, we have been working to improve our supply chain from the perspectives of environmental and social concerns. The Supply Chain and Social Responsibility goal is the advanced phase of our deepening CSR activities.
In 2021, we established evaluation indicators in ten areas related to environmental supply chain and social supply chain, in response to ESG assessments undertaken by external organizations and other factors. For the environmental supply chain, we monitor the chemical content contained in the parts and materials used in our products to ensure that they do not exceed regulation levels. If limits are exceeded, we then request our suppliers of those parts and materials to make improvements followed up with confirmation of the correction to within the proper range as well as checking the management of the process.
We have also actively promoted green procurement such as asking our suppliers to carry out activities to reduce their impact on the environment. As a result, we are highly rated for our environmental initiatives by external evaluation organizations.
What do you think are the factors that have led to your environmental measures receiving particularly high ratings?
Hojo: The automation we provide is responsible for saving energy in factories and facilities. We have been promoting energy efficiency and conservation in all of our factories and across all our businesses for a long time now while also focusing on reducing carbon dioxide emissions. We also comply with regulations regarding wastewater and chemical substance content in our products. The fact that we develop environmental policies in response to the demands of society and our customers as environmental measures become a growing matter of concern for our clients has probably led to our positive evaluation.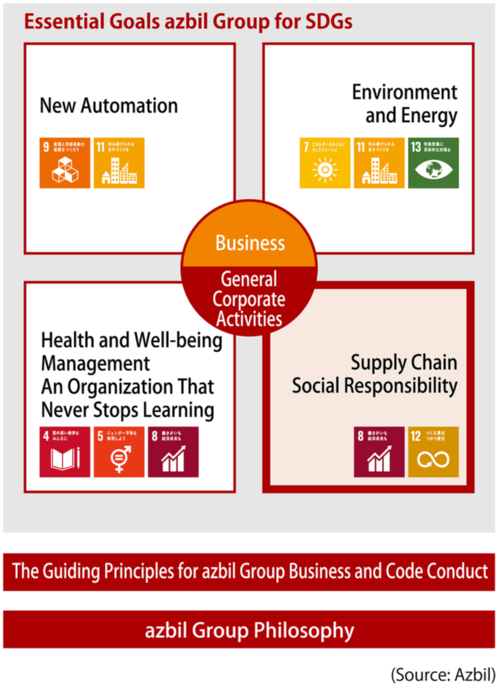 Supporting Business Partners Seeking Solutions
You are also proactively working on social issues such as human rights.
Hojo: In recent years, there has been a strong demand to eliminate forced labor, child labor, low-wage labor, and harassment. Ensuring that these things never occur is a vital requirement, not only in our Group companies but also along our supply chains. We recognize that we need to further strengthen the social supply chain to resolve these kinds of problems. It is important to categorize social issues into labor practices, health and safety, human rights and community, and quality/customer, and to work with our business partners to solve these problems.
We respect the human rights of our business partners' employees. In Japan, we ensure appropriate working conditions by checking on whether there are labor-management agreements as well as confirming that there are appropriate work conditions in line with Article 36 of Japan's Labor Standards Act to eliminate the risk of working long hours and overwork.
Are you looking to improve the work environment of your business partners?
Hojo: In April 2021, we signed the United Nations Global Compact, which requires companies to comply with and practice ten principles in four fields related to human rights, labor, environment, and anti-corruption. These four areas overlap with what we have been working on for a long time.
Through collaboration with our business partners, we have also provided on-site improvement support and technological production engineering guidance to improve productivity and profitability. In this way, we are improving the work environment, which our overseas business partners are especially happy about.
We have developed a system to evaluate the degree of improvement in four areas of achievement—policy, system, efforts, and effectiveness—and we verify the results through surveying suppliers with questionnaires. The rotation of this PDCA (Plan, Do, Check, Act) cycle will drive continuous collaboration and improvement with our business partners.
However, while we can check the status of the primary suppliers that we communicate with directly, we cannot guarantee the status of secondary and tertiary suppliers further along the supply chain. Since we must trace activities to protect human rights back to the secondary and subsequent suppliers for confirmation, we intend to focus on reducing risk and eliminating human rights problems at the earliest stages of the supply chain.
That means checking the activity status of the entire supply chain.
Hojo: We have about 600 suppliers for the main components alone. Until now, we have been using electronic data exchange for transactions such as receiving and placing orders. To take this one step further and improve communication efficiency, we are building an information system for the supply chain.
For example, we use business continuity planning to check the safety status of our business partners in the event of natural disasters such as an earthquake with a seismic intensity of five or higher, or in the case of typhoons or floods. This not only covers domestic business partners, but also those overseas. In the past, we had to allocate a number of staff to communicate with sites by phone and email.
In order to manage the entire supply chain, we plan to launch a supplier management system in 2022. This will allow us to automatically inquire and check on the status of our suppliers.
We take pride in being a manufacturing company, but we are also actively working to promote IoT compatibility with the products we handle. We will continue to work on digital transformation for our entire business, including the supply chain.