All Nippon Airways is working on strategies to decarbonize aviation working together with its customers.
To encourage corporate participation in the initiative, the airline issues carbon dioxide reduction certificates that can be used for TCFD reporting.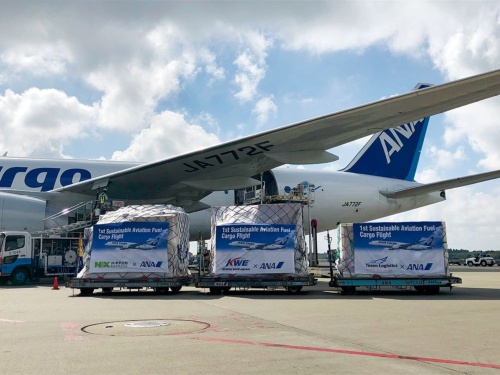 On Jan. 20, 2022, All Nippon Airways (ANA) began accepting corporate applications for its SAF Flight Initiative Corporate Program, aimed at helping companies reduce carbon dioxide emissions. For this initiative, the airline issues carbon dioxide reduction certificates to companies that use ANA-operated flights for business travel and other purposes, as proof of their contribution to carbon dioxide reductions due to relying on Sustainable Aviation Fuel (SAF). This certificate complies with the Renewable Energy Directive of the European Union and can be used for reporting to the Task Force on Climate-Related Financial Disclosures (TCFD)and Carbon Disclosure Project (CDP), a global non-profit organization that manages the environmental disclosure system.
ANA estimates the distance flown on their flights over the course of a year for all business use and travel by employees of companies signed up for annual contracts with the airline This enables ANA to calculate the carbon dioxide reduction impact of using SAF, for which they then issue certificates accordingly. In addition to airfare, companies also pay a user fee that covers some of the costs for introducing SAF as well as expenses for issuing certificates. Companies can also choose to create contracts allowing them to specify their carbon dioxide reduction targets and budgets.
Targeting Prime Market Companies
The main targets for the program are companies listed on Prime Market, which is a new segment of the Tokyo Stock Exchange scheduled to open in April 2022. This program was created in response to revisions made to the Corporate Governance Code last year requiring companies listed on this new market section to report TCFD information. In particular, the companies now required to calculate and disclose emissions reports are those whose greenhouse gas emissions along their chains (Scope 3 in the code) – those generated during the stages of manufacturing, transportation, and use of the products after being sold – account for more than 40 percent of total emissions (Scope1-3). This new reporting task is proving to be a major challenge.
Mr. Motofusa Inui, in charge of aviation policy and ESG at ANA's Corporate Planning Department, said, "We believe that the program will be beneficial for trading companies and others with high Scope 3 emissions". Further to this, he pointed out that, "We also have a cargo program that aims to cut carbon dioxide emissions released when transporting products and we hope to develop demand for this initiative by exploring the needs of pharmaceutical companies and precision equipment manufacturers, along with other sectors".
NIPPON EXPRESS and two other participating companies have already signed on to this cargo program. The initiative was launched last year. In September 2021, Japan's first code-share cargo flight equipped with SAF took off from Narita Airport bound for Frankfurt, Germany.
In the world of international aviation, carbon dioxide emission regulations are becoming increasingly strict. The result of this enforcement is an intensifying race between airlines for access to SAF. ANA will secure a stable supply of SAF to meet demand by offering its SAF corporate program to companies as well as the cargo transportation industry. This is a strategy that will enhance the airline's negotiating leverage with SAF suppliers.