Decarbonization is a top priority for business continuity across the aviation industry.
Eyeing the post-pandemic era, JAL has taken a step toward further strengthening its fund-raising base.
Japan Airlines Co. Ltd. (JAL) has issued the aviation industry's first transition bond this March, with an issuance amount of 10 billion yen (some $77.8 million in April 2022), and a short-term maturity of five-years.
Transition bonds are a type of ESG bond similar to green bonds or social bonds, and the use of funds raised is restricted to projects for transitioning to decarbonization. This type of bond is increasingly popular among industries with relatively high carbon dioxide emissions that are finding rapid or immediate carbon cuts difficult to achieve.
The aviation industry is one such industry facing these difficulties. JAL has set a goal of reducing its own carbon dioxide emissions to virtually zero by 2050. The company plans to use the funds raised through the transition bonds to replace its fleet of large aircraft with fuel-efficient, state-of-the-art aircraft by 2030.
Yuichiro Kido, JAL's Director of Finance, explains, "This is going to be a considerable capital investment so we want to expand the financing possibilities open to us. If we are seen to be reluctant to adopt environmental measures, investors may start to leave us. By issuing transition bonds, we are showing that we are serious about decarbonization."
Even though inflation is a concern around the world and long-term interest rates are fluctuating right now, Kido added, "Due to the high level of investor demand (for ESG bonds) we expect there will be a resulting drop in interest rates."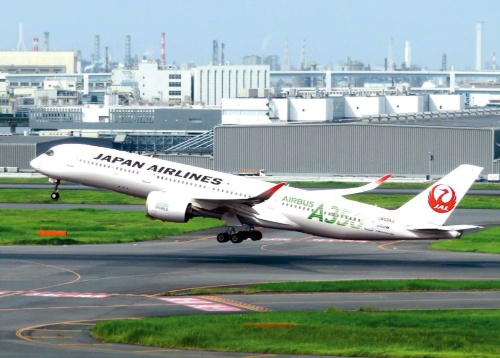 Attracting offshore investors
According to the Japan Securities Dealers Association, the total amount of ESG bonds issued in Japan was 2.927 trillion yen ($22.765 billion) in 2021, up about 40% from the previous year. The number of ESG bonds being released is increasing steadily, but the reliability and effectiveness of projects is now being heavily scrutinized to ensure that they are genuinely leading to solutions for environmental and social issues. If their intention to contribute to the preservation of the environment is interpreted as mere pretense or a whitewash, then they might earn "a negative reputation," said Kido.
For that reason, JAL acquired a second opinion on the suitability of its transition bond from Sustainalytics, a Netherlands-based provider of independent reviews that operates worldwide. Since many of JAL's shareholders are institutional investors from Europe and the U.S., the airline believes that the third-party endorsement from an organization with a highly respected international reputation will ensure its credibility. After the issuance, the aviation company will disclose the appropriation of the funds and the reduction impact on carbon dioxide.
JAL set a 2030 goal to reduce carbon dioxide emissions by 10% as compared with 2019 figures, decided before the COVID-19 pandemic. About 60% of that reduction will come from fleet renewal. The airline also plans to continue issuing transition bonds to raise the funds it needs for further decarbonization.
The aviation sector has been hit hard by the pandemic, but JAL is looking ahead toward the post-COVID-19 era by strengthening its funding base to help realize its top priority – decarbonization.
Outline of Transition Bonds Issued by JAL
Maturity
5 years
Issue Amount
10 billion yen (some $77.8 million)
Interest Rate
0.70%
Use of Proceeds
Fuel-efficient, state-of-the-art aircraft
(France's Airbus A350, U.S. Boeing 787, etc.)
External Reviewer
Sustainalytics, Netherland