An activist shareholder is putting pressure on the Seven & i Holdings' management team to sell parts of the business and demanding the firm comply with various ESG requirements.
Activist investor ValueAct Capital is shaking up the management of Seven & i Holdings Co. The outspoken San Francisco-based investment firm has demanded that the Japanese company sell Sogo & Seibu and reform Ito-Yokado, the firm's original business. The mounting pressure is a bid to force a focus on its convenience store operations, and to that end it has openly requested that they also fulfill a variety of ESG requirements.
On the environmental protection front, the investment firm has pointed out that Scope 3 emissions were not measured for Speedway gas stations and convenience stores, purchased by Tokyo-based Seven & i Holdings last May. ValueAct criticized the Japanese firm for "failing to explain how to demonstrate leadership and promote action around energy transition activities in the U.S."
In terms of social obligations, ValueAct indicated that the Seven & i Holdings management structure has led to a lack of communication due to its more than 170 subsidiaries. It also claims that the employee satisfaction ratings among all the Group's companies are below the average for retailers in Japan, according to a website that allows employees to anonymously review their employers.
As for governance, the independence of the board of directors is being called into question. Seven internal directors are also executive officers or directors of the subsidiaries, dual positions that constitute risks regarding conflicts of interest with those subsidiaries. The investor is advocating that the majority of directors should be independent outside directors.
Moreover, ValueAct has demanded the appointment and announcement of a lead independent outside director who would also serve as a liaison for shareholders and investors.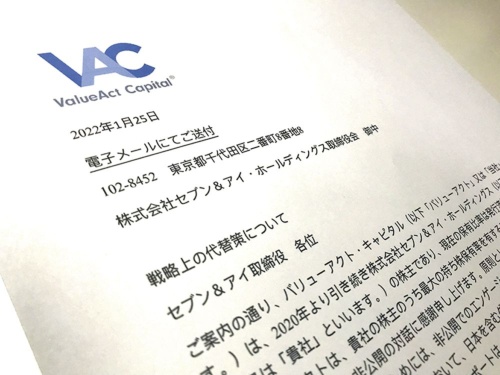 Tired of friendly dialogue
The more diversified the business, the more risks there are that need to be addressed. ValueAct pointed out those risks in relation to ESG requirements. The investment firm claims that by implementing business reforms, Seven & i can increase per-share earnings by 1.4 times to 748 yen (roughly $5.84 in April 2022), as envisioned in its medium-term management plan.
It is said that ValueAct has been a friendly activist that interacts regularly with management teams without engaging in any overt criticism or demands. This time, however, the company has taken the unusual step of releasing its requests in the form of an "open letter" while also asking other shareholders for their opinions.
The investment firm believes that Seven & i Holdings is avoiding criticism by engaging in superficial, performance-oriented dialogues, and is losing patience with this kind of evasive behavior.
Seven & i Holdings has replied by saying that it is "managing its business in a way that corporate governance functions properly," and that it has "conducted more than a dozen dialogues over the last year." In response to this, ValueAct is poised to increase its pressure, stating that, " an alternative approach needs to be considered."
It is increasingly likely that ValueAct will propose that the Seven & i Holdings management team step down or will name its own candidates for the board of directors at the Group's annual shareholders meeting scheduled for May in Japan.