Fujifilm, Tokyo Gas, and Minamiashigara City, in Kanagawa Prefecture, have joined forces to launch a solution in the fight against climate change.
"As a manufacturer, we have our eye firmly set on a carbon-neutral model," stressed Fujifilm President and CEO Teiichi Goto at a joint press conference with Tokyo Gas and Minamiashigara City, Kanagawa Prefecture, held on Mar. 29 this year. On that day, the three parties signed a comprehensive cooperation agreement to achieve a carbon-free society. Their first step will be to work on decarbonizing fuel used to power production processes.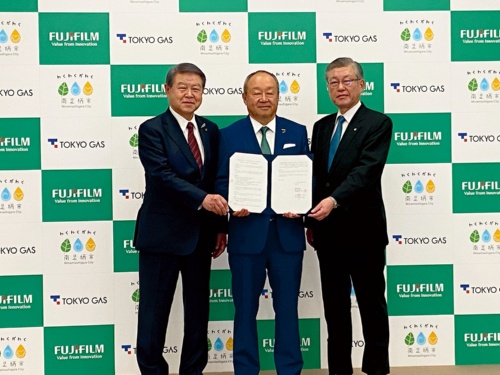 A Path to Methanation
The key to the project is methanation. This technological method synthesizes carbon dioxide with hydrogen to produce methane, which is expected to replace natural gas as a non-carbon emitting fuel. Electric power can also be decarbonized by switching to renewable energy, sources for which include solar panels. These are especially important issues, because according to president Goto, gas-fueled facilities are often used to produce chemicals, making fuel decarbonization a common issue confronting the materials sector.
To achieve this goal, the group will build a methanation facility while also using a water electrolyzer to generate hydrogen from water at the Ashigara site of the Kanagawa plant. This is the location of the company's main factory for high performance films and will supply the methane generated as fuel to be used for cogeneration - combined heat and power (CHP) - to produce power free of carbon emissions.
Utilizing Tokyo Gas's technology and expertise in the field of decarbonized fuel development, Fujifilm will procure renewable electricity with the cooperation of Minamiashigara City. Methanation verification tests will be conducted by the middle of the 2020s, and full-scale operation is expected by 2030. The firm is also eyeing the possibility of expanding the use of renewable energy to other factories.
In December last year, the Fujifilm Group announced that its goal is to reduce carbon dioxide emissions to virtually zero by 2040. But before that, the firm is targeting 2030 for a 50% reduction of emissions from its 2019 level. The company wants to achieve carbon-neutral manufacturing using methanation to lend momentum to realizing these goals. Although the total amount of investment in this initiative has not been made public, President Goto considers this project the "minimum condition for business continuity," a view that shows his company's eagerness for decarbonization investment.
The corporation has also introduced a new internal carbon pricing system to help achieve carbon neutrality. The amount of carbon dioxide emission reductions are converted into a monetary value and then the figure is used as a basis for guiding investment decisions. This strategy will work to accelerate investing in decarbonization. Since April, the level of success regarding carbon dioxide reduction targets has been reflected in executive compensation packages, and a mechanism incorporating a carbon-neutral oriented perspective into management decisions has also been adopted.
Now that climate change has become a financial risk for companies, it is not only necessary for businesses to work in complete unity for change, but also to confront and overcome the challenges of decarbonization in a prolonged onslaught undertaken together with other enterprises, organizations, and local authorities.