Wouldn't it be wonderful if there were a way for corporations to help solve social problems through relaxing society toward a natural, healthy state of being, all while simultaneously creating social and economic value. In our changing world, only companies able to help reinvigorate health, the community, and the environment, while illuminating the path to a better society, will survive. This is especially true for companies that play a role in our daily lives, because every move made can be seen.
Fermenting a better society through technological know-how
Ancient Chinese texts praise the curative properties of sake as being the "best medicine." You can still hear this saying being used these days, even as much of society begins to shift its stance to a different view of alcoholic beverages. Kirin Holdings Co. Ltd. is returning to that wise old proverb in search of new value. The Group is applying the advanced fermentation biotechnology gained through decades of experience brewing beer to new challenges in the area of health. Kirin is evolving into a unique corporate group focusing on two key areas: drinks and alcoholic beverages, as well as pharmaceuticals and biochemicals. The goal is to combine healthy products with deliciousness to develop a new interpretation of the "best medicine" for the needs of today. The Group's plans are guided by the United Nations Sustainable Development Goals (SDGs), and the creation of shared value (CSV).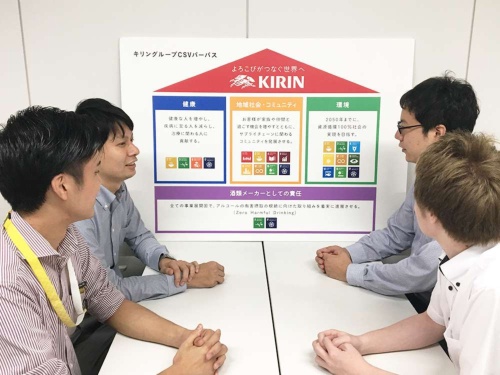 Kirin employees discuss SDG initiatives
Kirin believes that food and medicine are two sides of the same coin. The Group is striving to create value in the field using "healthy diet as preventative medicine" as its guiding philosophy. The company's mid-term business plan codifies this stance, laying the foundation for long-term growth by boosting profitability in the food, drinks and alcoholic beverages domain, while also driving major growth in the pharmaceuticals sector. The major objective of the mid-term plan is to launch a new field that bridges the Group's two existing sectors to enable future growth and expansions into new areas of development. The company is also already working on important initiatives, including the establishment of a joint research and development effort by Kirin with Group firms Koiwai Dairy Products Co. Ltd. and Kyowa Hakko Bio Co. Ltd. The aim of this cooperation is to improve health using Lactococcus lactis strain Plasma. The company plans on marketing the final products not as medicinal supplements, but as yogurt, varieties of food supplements, and beverages.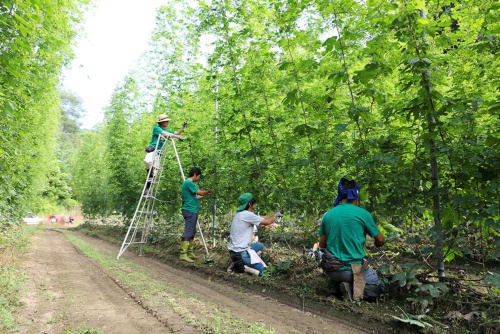 Harvesting hops in Tono, Iwate, Japan
However, in order to succeed, the business plan will demand the highest standards. Quality has been a guiding principle at Kirin since its foundation. These high expectations have also been crucial in bringing together three decades of experience and research from across diverse fields within the Group, including yeast-based beer fermentation, lactobacillus, and food-related life sciences, resulting in the successful development of Lactococcus lactis strain Plasma.
No business plan can be successful without a solid base of corporate support, and here too Kirin has a long history of strong market performance and financial health. Both strengths are essential in creating new value, and are also important for becoming a sustainable corporation. Because Kirin is so closely involved with our daily lives through what we eat and drink, the corporation believes it is their responsibility to help create a better tomorrow for the Group, its stakeholders, and, especially their customers. The Kirin Group is first and foremost committed to serving its customers, and this ideal naturally leads the corporation in its goal of realizing the SDGs.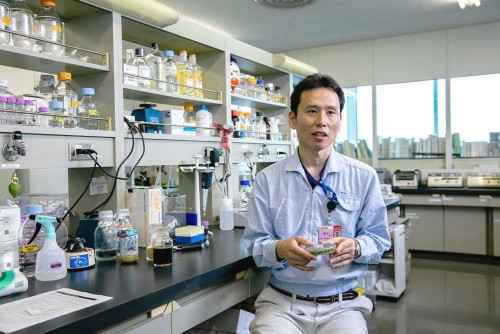 Research at Kirin's Health Technology Laboratory
Contributing to Society's Happiness through All 17 SDGs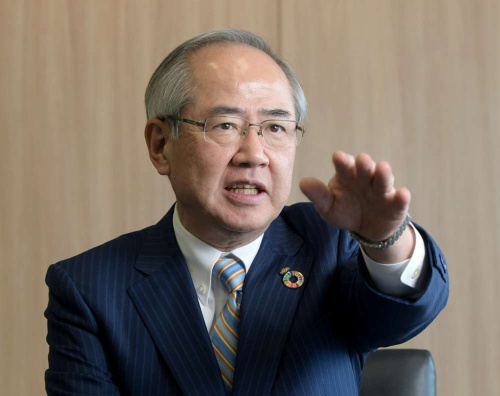 Yoshinori Isozaki
The business environment for the food and beverage sector is not one of optimism. The impacts on health caused by consuming alcohol, sugar, and other substances are increasingly popular topics of discussion and debate within the community.
This year, Kirin Holdings announced the Kirin Group Vision 2027. This long-term blueprint maps our responsibilities as a maker of alcoholic beverages, calling for our continued contributions to the future happiness of all customers through focusing on health, the environment, and local communities, to help with the resolution of social issues.
The underlying philosophy is to achieve sustainable growth by creating new value through harmony with society, and, as a manufacturer of alcoholic beverages, to put all our energy toward realizing meaningful progress toward the elimination of harmful consumption of alcohol within all nations where we conduct business. This is covered by SDG 3 ("Ensure healthy lives and promote well-being for all at all ages") and 17 ("Revitalize the global partnership for sustainable development"). But we intend to reach our goals three years earlier than targeted in the declaration of SDGs.
In addition to this, we are taking urgent action to reduce the use of plastic containers for drinks.
As part of our efforts to create economic value we have established an agricultural company in the Tohoku region, the area devastated by the 2011 Great East Japan Earthquake. The new operation has already begun providing assistance to farmers cultivating hops, the crop that gives beer its bitterness and aroma. By improving the quality of domestic hops and ensuring a stable supply chain, we will make a positive contribution to local production activities. We have set a yield target of 100 tons of hops annually by 2027. Demand for hops is growing due to the popularity of craft beer, and the successful link between craft beer and Kirin's beer business will bring even more economic benefit to the region. We have also launched a long-term project to increase the percentage of domestically grown grapes used to make our wines.
When you consider the full range of Kirin's business activity, from drinks and alcoholic beverages through to pharmaceuticals and biochemicals, you can see that we touch on all 17 SDGs. The entire Group, including management, manufacturing, sales, research, and distribution units, share a common understanding of these Sustainable Development Goals --- it's our responsibility to the future, as Kirin.