The Sustainable Development Goals (SDGs) planned by the United Nations and insurance products designed to provide reliable protection in times of unexpected hardship may at first glance appear to be unrelated, however, the two share a very important common element. Both start from the same focus on sustainable daily life and consider the many possible risks hidden in the future. Insurance must think on a global scale in order to play a role in helping to solve problems around the world.
The safety net for a changing society
SDGs are based on the recognition that merely ensuring the future of the economic and social models prevalent today will end with disastrous results for the entire world. The insurance industry is able to help point out how to address these challenging issues looming on the horizon.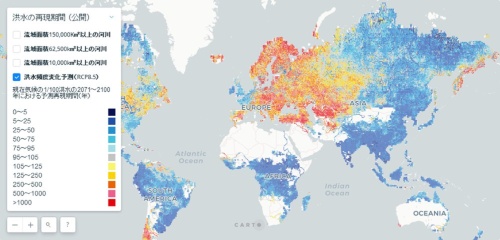 Climate change research project (LaRC-Flood) is a joint initiative together with the University of Tokyo and Shibaura Institute of Technology
People around the planet face a variety of hazards. A report on global risks was issued just before the opening of the 2019 Davos World Economic Forum Davos last January, a meeting that is held annually. The report listed a number of high-probability risks for 2019, including extreme weather, natural disasters, and cyberterrorism, among others. Unfortunately, simply continuing the development of science, technology, and economic strength does not always reduce risk and may, in fact, increase some risks.
The increasingly fast adoption of internet use has enabled people to communicate freely across national borders, and dramatically improved the convenience of information acquisition, financial services, and much more. Artificial intelligence has accelerated this transformation, distributing benefits across society. The very same systems, however, threaten personal and corporate livelihoods through viruses and malware transmitted via smartphones and personal computers, while cyberterrorism poses a threat at the national level.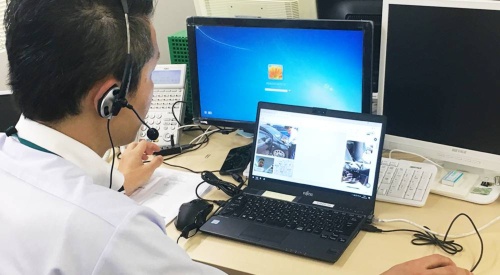 Introduction of a video chat system to assist investigations of remote accidents
Economic growth is facing the same situation. Emerging economies such as China have vastly enriched the lives of many of their citizens, dramatically reducing the number of people living in poverty, but in the event of large-scale natural disasters, extreme weather events or terrorism, it could also mean staggering economic losses. The positive aspects of technological innovation and economic growth certainly cannot be denied, but it is important to note that changes in society are also creating new categories of threat and risk.
But exactly what can insurance companies do to help? Consider automobile insurance, for example, which is an essential part of society's economic infrastructure in today's developed world. Automobile insurance is needed because automobiles have been manufactured in huge quantities, and have come to be used by the whole of society. As the automotive era evolved, insurance products also evolved to offer more sophisticated products required by both drivers and the wider community. Insurance does not merely compensate for losses incurred because of accidents, as society changes, insurance companies analyze new and changing risks, and provide safety nets for individuals and corporations.
Today, society demands that insurance companies help mitigate risk. The SDGs clearly outline that the future we experience will depend on the choices we make today, and in many cases insurance companies are expected to help people make the correct choices.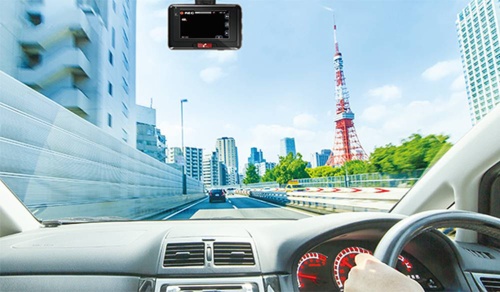 Sale of "Observe and Protect Automobile Insurance," utilizing a drive recorder with transmission functions, a collaboration with Mitsui Sumitomo Insurance and Aioi Nissay Dowa Insurance
https://www.weforum.org/reports/the-global-risks-report-2019
Imagining Every Possibility: Cyberterrorism, natural disasters, and catastrophes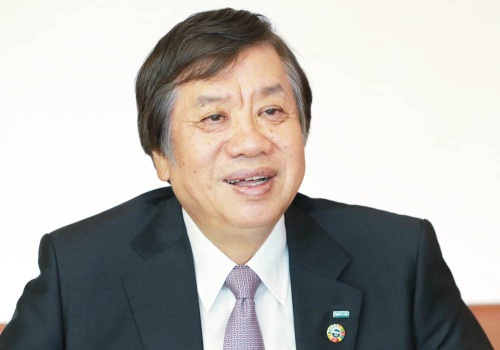 Yasuyoshi Karasawa
Even though many nations and companies might see their actions as reasonable, it is quite possible that their activities may not be optimal for society as a whole. SDGs were formulated to provide a globally shared awareness of the immediate dangers facing the world, and especially to provide a framework for everyone to work together toward common goals. All the stakeholders—nations, private enterprise, individuals -- seek the same objectives, each doing whatever is possible, on whatever scale.
We considered what we, as an insurance company, can do through our business, and we summarized our conclusions in the medium-term management plan guiding our corporate activity from fiscal 2018 entitled "Vision 2021." This plan is based on creating shared value in line with the SDGs as leading marks, and defines seven key themes as targets, including "good health and longevity", "deal with new risks," "a safer mobile society", and "climate change mitigation and adaptation." Our goal is to help achieve a resilient and sustainable society by 2030.
We are already offering products and services in keeping with these goals. For example, we offer partial coverage for security services required by corporate, and other, customers after suffering a cyberattack. Collaborative research is under way with the University of Tokyo and Shibaura Institute of Technology into global flood risks caused by climate change. We are also preparing a service that will make it possible for customers living in extreme poverty who are unable to open bank accounts to obtain coverage for accidents as well as other coverage plans.
It is important to understand that an insurance business can be sustainable only if society itself is sustainable. If there is no hope for the future of society, then people will not need insurance since they'll believe they have nothing to protect. Making Japan's continued growth sustainable will require revitalizing rural Japan, and this is another area that we are determined to contribute toward in a major way.