It is now only about a decade until the 2030 target date, and the role that major banks can and should play in attaining the Sustainable Development Goals (SDGs) set by the UN continues to grow, because they are so intimately linked with both corporate and individual clients. Banks are responsible for the crucially important function of financing, the lifeblood of the economy, but how can they help build and maintain a strong, resilient nation?
Working as One with Clients on the Environment and Human Rights Issues
Resona Holdings Inc. is the fourth-largest Japanese banking group, following the "three megabanks" in total assets. Its guiding strategy, however, is very different from its competitors.
While the three megabanks are streamlining operations by merging and closing branches, the Resona Group has expanded its domestic network to about 800 locations, through the launch of its Kansai Mirai Financial Group and other initiatives. The bank exhibits its strategy of prioritizing domestic customers by offering the most domestic offices of any bank, and the company's emphasis on SDGs is a major pillar.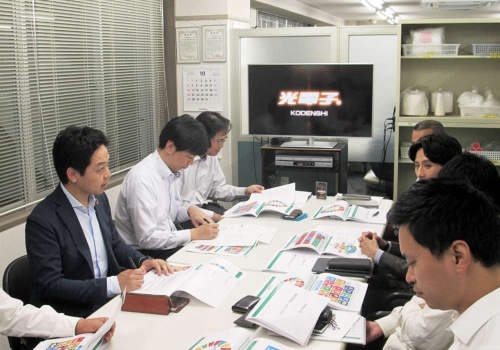 Providing management consulting for clients, including on SDG initiatives
United Nations' SDGs set 17 goals and 169 targets. The Resona Group, serving 500,000 corporate clients of all sizes, announced in November 2018 that it would prioritize four key areas: the community, dropping birthrate and graying population, the environment, and human rights.
While considerable progress has been made, still some 80% of managers at small- and medium-scale enterprises don't understand the significance of SDGs. Resona is working to rectify this by providing an SDGs initiative diagnostic service.
"SDGs represent a major opportunity to expand business, but also risks," says Kazuhiro Higashi, President and Representative Executive Officer of Resona Holdings. The opportunity he refers to is increased profit from new, environmentally sound products and services, while one risk is, for example, human rights issues. The company analyzes client business models to offer advice for improvement.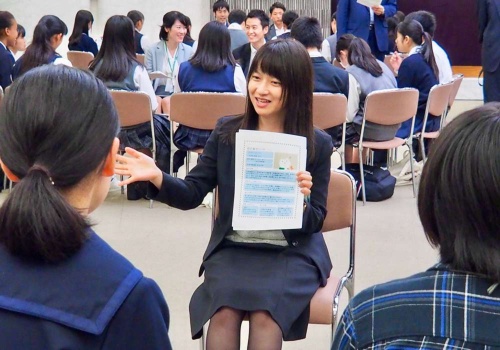 Career seminar for high school students (Saitama Resona Bank)
Leading Japanese corporations are very sensitive to problems such as child labor and low wages at their production sites in developing economies. An unexpected problem downstream can force the firm to shut down the entire supply chain, and in a domino effect can destroy the business of domestic primary or secondary subcontractors, too. As far as the environment is concerned, recall that nobody expected plastic straws to grow into such a major issue, for example.
Banks are expected to contribute to more than just corporations, and have already started raising awareness of SDGs issues among individual clients. Japanese banks, including the Resona Group, are competing to expand their range of investment trust offerings, adding firms in fields like the environment, medicine, and education.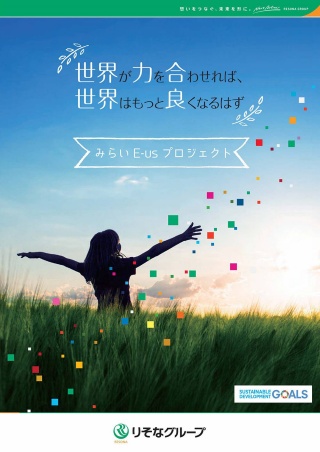 Funding scholarships with profits from the Mirai E-us Project investment trust
One SDG issue common to all developed economies is the dropping birthrate, and the resulting aging population. Japan, however, is at the very forefront of efforts to prepare for the 100-year lifespan.
The role of financial institutions in Japan is enormous. The world is watching to see if Japan, a developed economy facing a host of issues, can indeed become sustainable.
The Challenge of the 100-Year Lifespan: Beyond Mere Profit and Loss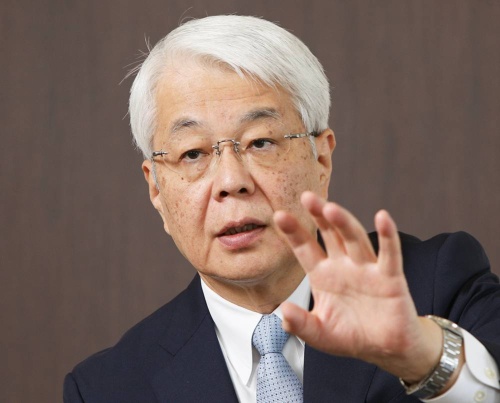 Kazuhiro Higashi
Resona Group clients may not all know what SDGs are, but they are clearly showing more interest in human social issues such as the environment, education, and poverty.
We wanted to respond to that interest in a proactive way, so we increased our range of SDG-related investment trust offerings. We think it's our responsibility as a bank to offer our clients a range of options, even if they aren't always ideal from our own profit-and-loss or business perspectives.
Concretely, take a look at the Nihon no Mirai (Japan's Future) fund investing into small- and medium-scale Japanese enterprises, or the Mirai Medical fund investing into medical technology. The Mirai Education fund, launched in October 2019, invests into educational institutions in Japan and elsewhere.
In addition, we are also applying a portion of profits obtained from SDGs-related investment funds into scholarships for high school and university student from single-parent homes, through the Mirai E-us Project.
We hope that by providing these scholarships we can help our clients better understand what it means to contribute to society, and reach a common appreciation of the SDGs idea.
To survive as a leading Japanese bank, we must take effective action to prepare for the 100-year life. I think the Resona Bank is approaching the problem in a unique way, in investment trusts and in general banking operations. One of our strengths is that many of our people are experts in how to leverage finance, through investment trusts, to alleviate the problems of the aging society, including pensions, real estate, and wills.
We will continue to provide the maximum support for our domestic branches, and while we will certainly utilize evolving artificial intelligence and digital technologies, they are not adequate for financial transactions by themselves.
Can artificial intelligence and machinery ever hope to handle complex inheritance problems, riddled with human emotions? I think not, and that's why our brick-and-mortar branches offering face-to-face interaction, are so valuable. We are determined provide broad support for SDGs, from the bottom up throughout our organization.