Health has always been a top priority for humankind. This fundamental focus is outlined as "Good Health and Well-Being" in the third of the Sustainable Development Goals (SDGs) set by the United Nations. As pharmaceutical firms continue to expand their business fields, they are working directly toward this goal, perfectly positioned to support the initiatives described within the UN goals. Society has high expectations for drug-maker activities and the industry is bearing that weighty responsibility.
Developing Essential Medicine Accessible by All
The diseases that afflict the population at different stages of history often change with shifts in human development. Industrialized nations once suffered epidemics of cholera, dysentery, and tuberculosis, but improvements in personal hygiene and urban environments have vastly reduced the presence of these contagious diseases. Today, people are often more worried about the troubles brought by diabetes, high blood pressure, and other lifestyle-related diseases. One of the leading causes of death globally in recent years is cancer. Nations with emerging economies are yet to face the same rates for cancer but appear headed in the same upward direction.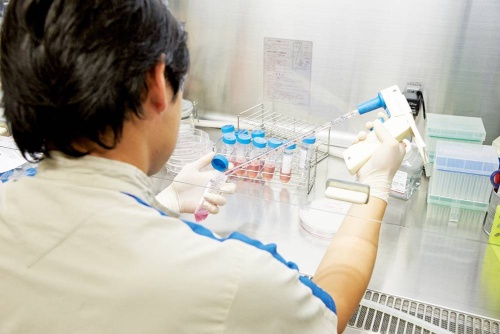 Researchers evaluate potential anti-cancer drug by using live cancer cells
Research and development-oriented pharmaceutical firms around the globe are working hard to find cures for cancers. Recently, a variety of new medicines have been developed that utilize the human immune system to attack cancer cells, bringing about impressive results. Recognizing this growing trend, Daiichi Sankyo Co. Ltd. is switching its corporate thrust to anti-cancer drugs - a new direction for the firm.
There are some very good reasons for the company's audacious decision to take this new direction. An anti-cancer drug the company has been researching for an extended time is attracting attention around the world. Called an Antibody Drug Conjugate (ADC), this treatment fights cancer through the injection of the anti-cancer drug exclusively into the targeted cancer cells, minimizing side effects. The first product is expected to be available for general use in 2020.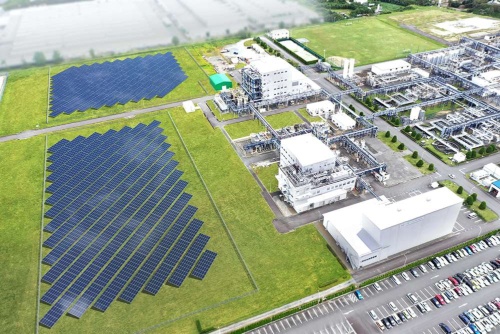 A solar power generating facility is scheduled to build for onsite consumption in the Onahama Plant in Iwaki-city, Fukushima,
Daiichi Sankyo has built its business on drugs to treat lifestyle diseases, especially cardiovascular disease. The company's continued focus on developing pharmaceuticals needed by society clearly aligns with the ideals of the SDGs. Development alone is not enough to reach these goals, the drugs must also be delivered to patients needing treatment.
Investments of massive amounts of capital are required to develop new pharmaceuticals, but the outcomes have the potential to reap phenomenal profits. One particular treatment for leukemia, for example, is priced at over 30 million yen (around $275,000) per dose. As prices continue to soar, new drugs are increasingly reduced to the role of benefiting just a small percentage of the world's population.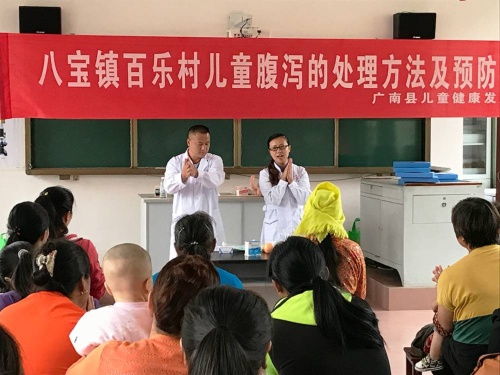 Promoting public health education in China
"We are keeping development costs as low as possible by leveraging big data to cut clinical testing costs," explains Sunao Manabe, president and CEO of Daiichi Sankyo. The company is also developing new drugs for rare diseases affecting a small number of patients. The primary goal is to develop new drugs that can reach all patients needing treatment.
Protecting human health requires more than merely medical treatment with drugs. Healthcare also demands that the patient's mental state be looked after together with preserving our rich natural environment. These goals are all defined in the SDGs, and Daiichi Sankyo is committed to providing support for all patients while utilizing renewable energy in its facilities. The company hopes to serve as a pioneer for the Japanese initiative aiming at a sustainable world.
Continuing the Pursuit of "An Enriched Life Through Good Health"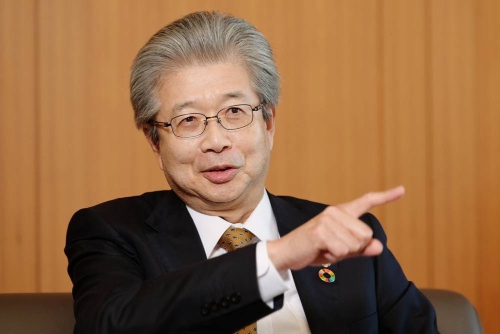 Sunao Manabe
When the Daiichi Sankyo Group charter of conduct was renewed this past spring, there was a question about exactly how to include the SDGs within the document. But since our corporate philosophy, "Helping people around the world live enriched lives through good health" is linked directly to the SDGs, it was especially easy to make the connection.
We can contribute to enriched lives through good health by providing innovative new pharmaceuticals. The fundamental key to continuing these contributions is our partnership with universities and other research organizations, collaborations that yield rich new ideas. This collaborative process is also an important element of the SDGs.
To ensure that the pharmaceuticals we create and provide can reach the patients around the world who truly need them, we set prices after considering the medical systems and standards of living in the various nations where the products are available. In the US, for example, we have established a program to provide medicine free of charge to applicable patients not covered by private health insurance.
It is crucial to provide accurate, easy-to-understand information to ensure medicines are used correctly, so we have leveraged artificial intelligence to help deliver fast, helpful responses to customer queries.
We have also established a business continuity contingency plan to make sure pharmaceuticals continue to be available even in the event of a disaster that would otherwise affect distribution.
In addition to this, we provide ongoing cultural support and entertainment relief as part of our health care, for example, inviting patients and their families to a variety of performances.
"Helping people around the world live enriched lives through good health," is a clearly defined goal that has ensured our corporate mission has been successful in enriching the quality of lives, and in the pursuit of that goal, we are advancing a growing range of initiatives contributing to a more sustainable world.
Someday, the best way to contribute to enriched lives through good health may not be through creating pharmaceuticals, and indeed our business might change completely. Even so, our ultimate goal of improving life quality with good health will always remain the same.