A major focal point of the United Nations Sustainable Development Goals (SDGs) is environmental problems, especially as many areas around the world are now experiencing more frequent natural disasters of increasing severity. The Japanese archipelago has now experienced catastrophic storms and floods -- thought to occur only once every several decades -- pummelling the nation two years in a row. These extreme weather events are no longer exceptions to the norm. Will it be through insurance claim payouts and related support services that general insurance companies take on the responsibility for damage insurance risks?
Risk Dispersion
Preparing to Protect Customers
On October 15 this year, all general insurance companies were in the grips of rising tensions from the early hours of the morning. Super Typhoon No. 19(Hagibis) hit eastern Japan during a 3-day holiday weekend. Ominous headlines filled news reports as the storm approached: "Heavy rainstorms and floods expected to arrive with typhoon Isewan ; " "Take all action to protect the lives of your loved ones and yourself." Despite repeated warnings from the Japan Meteorological Agency, the number of people killed or missing was close to 100. Serious damage was caused in the prefectures of Fukushima, Miyagi, and Nagano, where river embankments burst causing massive floods.
In fact, it is unclear whether the number of typhoons generated because of global warming has increased. However, it is a matter of certainty that stronger typhoons are becoming more apparent due to changes in ocean temperatures, while natural disasters, in general, are showing a tendency to become more severe.
Delivering insurance benefits quickly and reliably to ensure the continuance of regular civic life and business reconstruction in countries struck by large natural disasters is, "the duty of Japanese insurance companies," says Satoru Komiya, President and Group CEO, Tokio Marine Holdings Inc.
Major general insurance companies buying overseas life insurance operations to expand internationally is a clear sign of the growing strength of Japan's financial institutions. However, the leader of this group with over 2 trillion yen (some $18.3 billion) invested into overseas mergers and acquisitions is Tokio Marine Holdings. The Group's breakdown of consolidated profit is now made up of equal halves from Japan and overseas.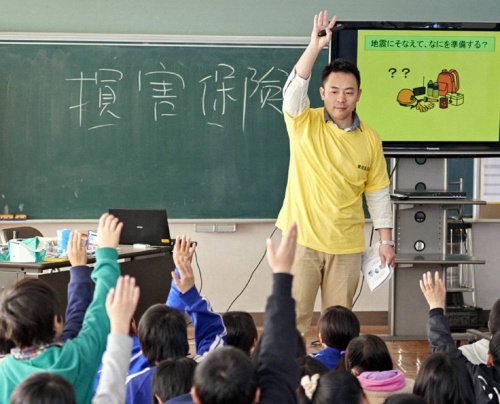 One of the aims of this expansion is to capture the high growth of the international insurance markets compared to the domestic market. But even more important than simply being opportunities for overseas growth -- is the decentralization of underwritten risk. By carefully diversifying revenue sources, the management and payment of insurance benefits will be more stable. This diversification will also contribute to further gains for domestic contractors and shareholders.
Direct grassroots measures are also fundamental. To this end, in addition to deepening academic-industry collaborations with universities connected with disaster prevention and mitigation activities, Tokio Marine Holdings sends staff to visit elementary schools to teach students directly about disaster prevention.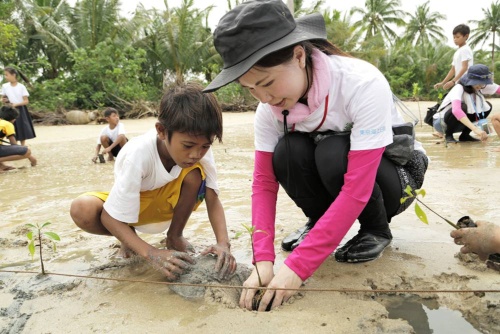 There is also the "100-Year Mangrove Joint Value Development Declaration." Tokio Marine Holdings launched this policy in October 2019. Since 1999, the Group has planted more than 10,000 hectares, equivalent to the area of about 200 Tokyo Disneylands, along the coastlines of nine countries in Asia and across the Pacific Ocean, creating an estimated economic value of 110 billion yen (roughly $1 billion).
Mangroves are important because these plants absorb carbon dioxide (CO2) and nurture valuable ecosystems. Mangroves also function to protect the lives of coastal residents from damage caused by tidal storm surges and tsunami.
How do all these factors confront new threats from nature and realize the philosophy behind the SDGs? Confronting today's difficulties is testing the very reason for the existence of general insurance companies.
States of Emergency Confronting Individuals, Society Always Preparing for Battle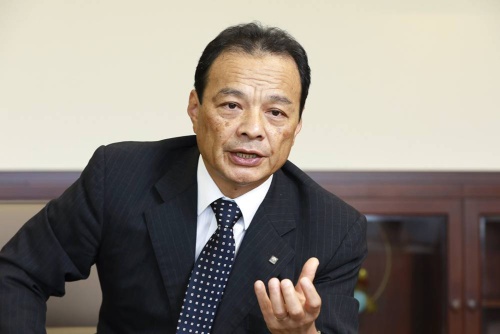 Satoru Komiya
In 2018, insurance industry payouts for all property and casualty insurance claims topped 1.7 trillion yen (some $15.5 billion), the largest in the industry's history. And, following on from that, this year, large-scale natural disasters such as Typhoon No. 15 and 19 continued to occur. First of all, above all else, I would like to express my most sincere and heartfelt condolences to all those affected by the recent natural disasters.
Our company, including employees from departments not directly related to the typhoon claims, has dispatched as many staff as possible to the disaster-affected areas, and is working to pay disaster insurance payouts with the determination of the policy category, deliver "As soon as possible." We will also be paying insurance benefits using the latest technologies, including satellites, artificial intelligence (AI), and drones.
Today, the global economy is at a crossroads. Needless to say, the world is facing many challenges: climate change and environmental problems; the aging population in developed countries; income and educational inequality; poverty in developing countries; along with a range of other issues. Increasingly, humanity needs to manage these new kinds of social issues having negative impacts around the world. As an insurance company manager, I recognize these problems as being more and more critical.
Technological innovation symbolized by digitalization is moving forward at a dramatically fast pace. Various anxieties are also accompanying the increased conveniences and comforts of life made possible by these very same tools of innovation. A typical example of one such cause of anxiety is the increase in risks brought by cybersecurity threats.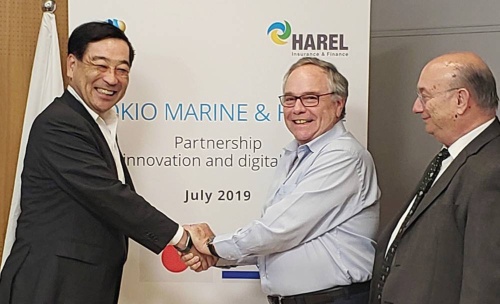 Cybersecurity risks are different from natural disasters and require a different approach. These threats include challenges such as the nature of cybersecurity risks changing on a daily basis, lack of accumulation of past data, and the possibility of cyberattacks being carried out simultaneously all around the world. Cyber-risk Insurance design and risk management based on these characteristics are essential. Our company is strengthening its position to better combat these threats through various efforts, including a tie-up with the biggest leading-edge Israeli insurer in the field of cybersecurity.
We want to help in the event of emergencies that affect either individual customers or society as a whole. Every employee sharing this perspective will work together to cooperate in solving the world's rapidly changing problems. I believe that when we combine these efforts, it will naturally lead to a joining together with the philosophy behind the SDGs.