Sogo Shosha roam the world seeking out the best business opportunities. The significance of trading companies that do not have their own products or unique technologies is the ability to provide solutions to the challenges facing society as a whole as well as those for customers. In order to realize the United Nations Sustainable Development Goals (SDGs), now in dire need by the world during this era of climate crisis, Sogo Shosha are searching for "optimal solutions" to turn the SDGs into reality.
Listening to the Earth
Living Together with Nature
Imagine, electricity generated by solar power panels stretching across African deserts feeding increased demands for power in Europe far across the Mediterranean Sea. Large, complex plans are being drawn up to transform wide-open, sweltering landscapes into sacred places for generating clean energy. Beyond any doubt, these thoughts may not be mere dreams after all.
One example of such future hopes we can see coming true is the "Giga Solar" project managed by Marubeni Corporation in the United Arab Emirates (UAE). This solar power plant uses some 3 million solar panels covering a site the size of 7.8 square kilometers. The amount of electricity generated by "Giga Solar" is equivalent to one reactor of a nuclear power plant. Designing low cost, high density panels managed by robotic systems has enabled the generation of low-cost energy as a replacement for fossil fuels.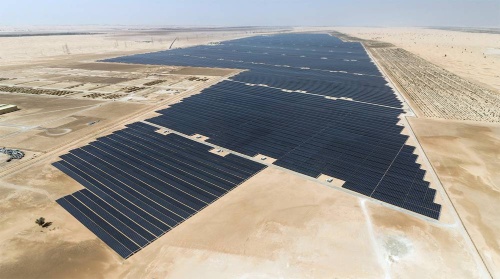 Sogo Shosha constantly work in the fastest possible way to meet the needs of customers and society during every historical era. This way of working is the business DNA that has been passed down, unbroken through generations to the general Sogo Shosha of today.
However, trade activity is not always restricted to any one particular pattern. From ramen noodles to missiles, Japanese Sogo Shosha have always been synonymous with the distinctive ability to provide all the products needed to meet customer demand. However, in this era, businesses are no longer evaluated simply by the extent of their commercial reach. Both customers and society now demand more than just products, they also want to see a balance between consideration for the world's environment and economic considerations. To meet these new demands, Sogo Shosha need to create new images for their corporations to accommodate the expectations of the times. It could be that the SDGs will now take center stage.
When Sogo Shosha push to advance business, sometimes conflicts can seem unavoidable. While wanting to deliver much needed food to the poor and needy, companies also have the responsibility to protect valuable natural resources. To address these kinds of conflicts, companies need a best solution to match the demands of the current period. An approach that strikes a balance with all concerns and expectations. This also provides a new opportunity currently still lying dormant that Sogo Shosha must uncover.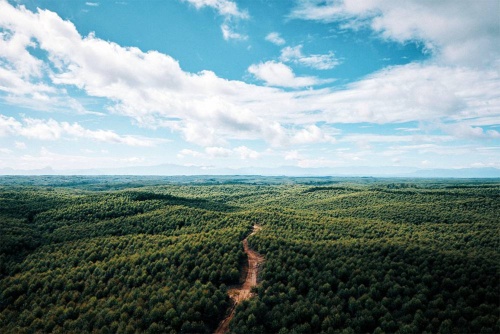 Marubeni made a difficult business decision in one such conflict of business interests. Coal-fuelled power stations emit large amounts of gases that contribute directly to global warming, so the company decided on its declaration to pull out of coal-fired power generation. Financial institutions with heightened focuses on climate change were also viewing Marubeni's situation very critically. Even with the threat of profit drops in the immediate future, the corporation will make a large change in its business orientation toward renewable energy, including solar power generation. Marubeni chose the future.
In Indonesia, Marubeni is in charge of a forest 1.4 larger than Tokyo. In these woodlands the corporation balances paper pulp and tree plantation businesses. Marubeni has also started a textile materials recycling business together with sustainable business venture firms to return used clothing and cut fabric to raw textile materials. The textile industry was Marubeni's original are of business.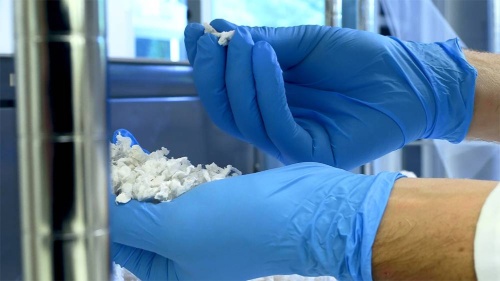 There are no Sogo Shosha with business structures deeply involved at all stages of their supply chains. It would be a huge contribution to the SDGs if Sogo Shosha took the lead to show strong attitudes toward child labor issues and other related human rights issues.
Masumi Kakinoki, President and CEO of Marubeni says, "Perhaps, humans are harmful pests for the earth. However, at the same time, the only ones who can stop themselves and put the breaks on, are humans." Listening clearly to the voice of the earth to create new wisdom, expectations for Sogo Shosha are now higher than ever seen before.
Pulling Out of Coal-Fired Power --
Everything for the Future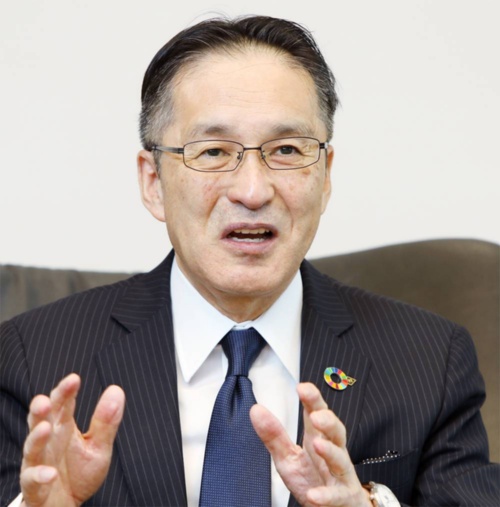 Masumi Kakinoki
The pursuit of convenient, affordable and plentiful products that we find in abundance today was the expression of Japan's era of rapid economic development. However, this situation is now being questioned as having been carried out at the expense of future generations. Firstly, we need to stop and think about, "Consume appropriate products in appropriate quantities at appropriate prices (to ensure sustainability)" -- this is the correct path toward the SDGs.
It is difficult to implement the goals of all 17 SDGs at once. For example, overcoming hunger and protecting natural resources can also create conflicts of good will. So, we must proceed in a balanced manner. In line with this, we first need to quickly understand what is needed and move to change in the way that responds to the world's expectations. That is our mission as a Sogo Shosha.
Our company made the "Pulling Out of Coal-Fired Power Generation" declaration in 2018. By 2030 all existing coal-fired power generation projects in Marubeni's power generation portfolio will be cut by half, and, in principle, no new coal-fired power generation enterprises will be taken on during that time. While this is happening, Marubeni is also putting all its efforts into renewable energy.
We are also focusing on forest conservation. In Indonesia, we are working on paper pulp while at the same time as undertaking concerted actions to replant forest areas in thanks for what we have received. We must be consumers of timber who at the same time also return the richness of vegetation to its natural state.
Our young employees are working on a business to rent solar-powered rechargeable lanterns to homes in areas without electricity in Africa. By providing hours of bright illumination with those electric lanterns, customers made happy by the products smile and this is a truly wonderful thing. This is one of the results that developing businesses which contribute to the SDGs can bring to global society.
Marubeni group provides all employees with repeated in-house training to heighten their awareness about the SDGs. I think this level of awareness is also the responsibility of Sogo Shosha widely involved with large supply chains. I myself want to make the SDGs, "sustainably decent development goals."