Trees grow, and thriving, expand to form groves and woods, and as time passes, become vast forests. Properly managed, with minimal interference, woodlands and forests can produce high-quality natural water, and also absorb CO2, a key factor speeding up climate change. The result of planting and fostering new woodlands is to help protect the Earth. Timber, lightweight and easy to work with, plays a role in every aspect of our daily lives. The concept forming the core of the United Nations Sustainable Development Goals (SDGs) begins with nature, with the forest. It's hard to imagine a future without the beauty and strength of wood.
Woodlands Hold Key to Sustainable Societies
Indonesia's West Kalimantan sits directly on the equator. In December 2019, the joint venture between Sumitomo Forestry Co. Ltd. and a local company was introduced at the 25th session of the Conference of the Parties for the United Nations Framework Convention on Climate Change (COP 25) in Madrid, Spain. This was their third consecutive appearance at COP and the audience listened, impressed by three reports delivered on the international stage, showcasing the company's finest sustainability achievements in West Kalimantan. The presentations detailed the positive changes brought about by the joint enterprise. The forestry project's results include a significant contribution to the local economy through the stable supply of lumber produced using environmentally sound practices and the creation of some 300 jobs.

Under the green forest canopy stretching across roughly 115,000 hectares (about 1150km2) is a vast area of expanding peatland, created by long years of withered vegetation accumulating in the groundwater. Environmentally damaging development, along with burning peatlands, have caused CO2 to be released from the soil here, creating an environmental problem of international proportions.
Sumitomo Forestry's activities in the area began in 2010, paying careful attention to the management of soil, water level, when planting and nurturing trees. Great care was taken to preserve the habitats of rare plants and animals, avoiding the isolation of such species through preserving green corridors. Production areas were established, and carefully planned logging began four years ago.
The knowledge and experience gained by Sumitomo Forestry over its many years of operating in the forestry management sector has helped the company revitalize local production, centered around forestry. Timber is raised and produced in a sustainable way, and then sold to paper mills, bringing those paper companies into the circle of sustainable business. A number of groups concerned about the preservation of their own peatlands have visited the site, coming from Democratic Republic of the Congo and various international environmental protection organizations. The goal of these study tours was to inspect the area and learn about the sustainable management methods used.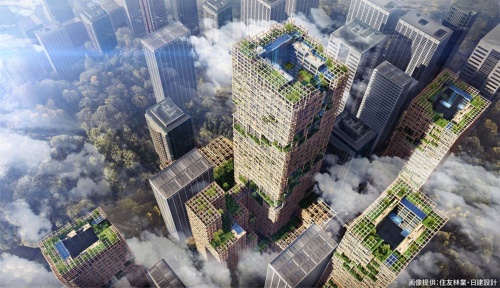 Initiatives to reduce CO2 emissions have recently shifted to newer, more sophisticated levels of action. The SDGs that are attainable through woodlands and forestry are not merely about emission reductions, but are also aimed at making other contributions essential for daily life. There is more to the life of trees than simply absorbing and processing CO2 as they live and grow, capturing and transforming carbon into a solid state. Wood is lightweight, easy to work with, and simple to transport. Compared to iron- or petroleum-based materials, the levels of CO2 generated during production and transportation are extremely low.
Not only do forests play an essential role for the Earth and society through contributing to the environment, forests are also a valuable resource. When expertly managed, we can achieve the woodland cycle of planting, nurturing, and harvesting, but we are yet to make full use of the advantages of wood itself.
The harmony between human society and the natural environment is now suffering from collapse. Instead of devouring the future, humanity must achieve a sustainable, yet prosperous, society supported by protecting the past and building on the blessings of nature we still have today.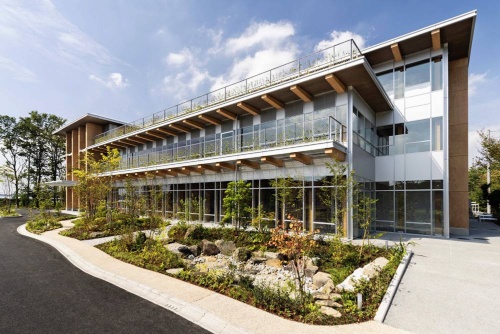 Restoring Earth's Capacity to Resist, Endure, Regenerate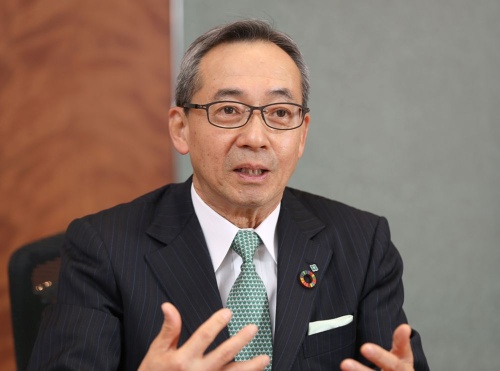 Akira Ichikawa
Sumitomo Forestry's medium-term management plan started in 2019 is not only about positioning the company to benefit financially, the plan places the ideas central to the SDGs squarely at its core. Quantitative targets have been set for 15 specific items grouped into five critical issues: 1) ongoing timber and materials procurement that considers sustainability and biodiversity; 2) the development and sale of reliable and safe products and services that consider the environment and society; 3) the reduction of environmental impact of our business activities; 4) a vibrant work environment where a diverse workforce can unharness of their skills and individuality; and 5) corporate ethics and governance structures.
For example, we plan to boost the ratio of "sustainable wood products," which includes certified and planted timber up from 89% in fiscal 2019 to 100% in fiscal 2021. We plan to increase our sustainable energy generation businesses, including biomass power, by 1.7 times, from 218,000 to 374,000 households. We are approaching the end of the first year of the medium-term plan, and expect to announce our progress in the near future.
A guiding principle of the Sumitomo Group is, "Place prime importance on integrity and sound management, don't pursue immoral business." In accordance with Sumitomo's Business Spirit that states, "Benefit self and benefit others, private and public interests are one and the same," we strive to behave as a good member of society in all our activities, and the SDGs are an integral part of guiding our behavior.
To better cope with the abnormal weather of recent years, we must help the Earth recover its natural capacity for resistance, endurance, and regeneration. We plant trees to regenerate and protect forests, then we use the trees sustainably to build the future. It is for these reasons that broadening participation in forestry activities is our duty.