Thales of Miletus, commonly acknowledged as the founder of Western philosophy, called water the "permanent entity" or "primal matter." Water is essential for all life on earth, and such is the importance of water that it can even determine whether our planet lives or dies. It is clear that protecting clean water and striving to increase the health of the ecosystems that produce water will contribute to world prosperity. Suntory is drawing up its plans for the future according to lessons learnt from water.
Harnessing Suntory's Spirit to Target SDGs
Teaching Children Water's Importance
"How much of the water on the earth can we use right now?" This was a question posed to students at the Kikuna Elementary School in Yokohama in mid-February 2020 as part of a special lesson on water, a program run with the Japanese name of "Mizuiku," mizu means water and iku means education. Most of the 34 fifth-graders instantly replied "Lots!" based on their experience that they can easily pour water from any tap. But the children were astonished when the teacher explained that the correct answer is only about 0.01% of the water on the planet is fit for immediate use. This special class was part of an outreach program sponsored by Suntory Holdings Ltd. aimed at teaching children about water and how to use it responsibly. The teacher explained how mountains and forests play a crucial role in securing water supplies, and how rainfall in mountainous regions seeps into the ground, absorbs minerals, and then emerges again as delicious spring water. "Mizuiku," is part of Suntory's corporate efforts related to the United Nations Sustainable Development Goals (SDGs), encouraging children to think about what each of them can do for the environment as individuals.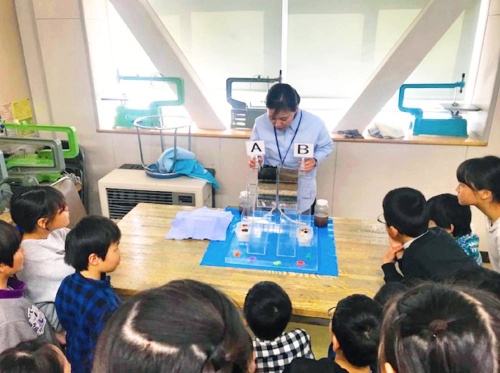 Forests help create fresh water. And Suntory helps protect and preserve Natural Water Sanctuaries in 21 natural locations across Japan, covering a total of some 12,000 hectares of woodlands. In 2013, the Suntory Group set a 2020 goal of increasing the volume of naturally generated underground water in its sanctuaries to be double the volume of what the company pumps into its domestic plants. The group achieved this milestone in 2019, a full year earlier than the set target. Water is essential for the Suntory Group's corporate activities, and this effort ensures that company growth is directly tied to increasing greenery. As a result of these policy measures, forests will produce more clean water and contribute to wildlife diversity.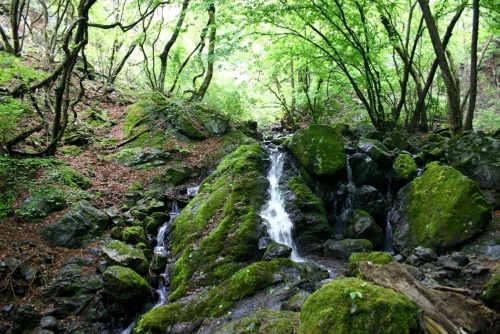 Suntory is a global company, with businesses in the US, Europe and the Asian-Pacific region, as well as Japan. The Group believes that open daily dialog with consumers, investors, and overseas partners about global society and the key role of SDGs will make even more sustainability activities possible. The time-honored Suntory value of "Yatte Minahare" -- "go for it" in English -- will further accelerate the Group spirit of rising to meet new challenges. There is no longer a trade-off between benefiting business over the dire issues facing our planet. The time has come to revolutionize society, cooperating with a variety of private and community partners to create a better world and prosper together. In this new global era, Suntory is applying its traditional values to determine the expectations and the needs of society in advance, while working to satisfy everyone at the global level.
The Suntory Group's promise of "Mizu to Ikiru" (living with water) is directly related to the philosophy underpinning the SDGs. Water is easy to understand because it is such an integral part of our lives, so we must think more and ask ourselves what we can do for the Earth.
New Business Developments Stem From the principle of "Giving Back to Society"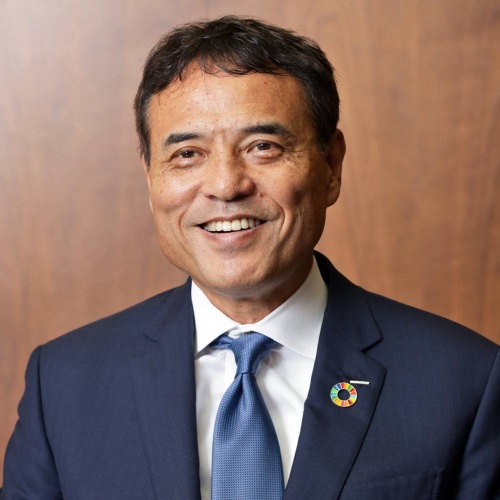 Takeshi Niinami, President and CEO
The founder of Suntory, Shinjiro Torii, first advocated the company principle of Giving Back to Society. Business profits should not only be invested back into the business as well as directed to help business partners, but should also contribute to society as a whole. Over 120 years ago, Shinjiro Torii voiced the principle that underlies today's SDGs: that companies also be responsible members of society. The employees of the Beam Inc. distillery acquired by Suntory in 2014 (now Beam Suntory Inc.) also fully understand and follow the meaning of these words.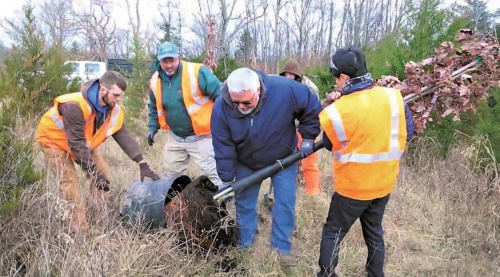 The relationship between corporations and society has changed in recent years, a shift in roles that is now more evident in the eyes of the public than ever before. Today, consumers will not even consider thinking about products on offer unless they can see that those items are indispensable without harming the earth. This trend is especially strong among younger generations. What kind of company produced those goods? And how were they made? Are the products and the methodologies sustainable? People seek to purchase a variety of exciting goods, but they also want to know whether the manufacturer is reliable or not. In short, they want to purchase goods from a company that is doing "good for society."
Technology is essential for achieving the SDGs. For problems that we cannot solve alone, we must turn to greater innovations to attract new investment and to accelerate developments. For example, Suntory has set a target to replacing all plastic PET bottles with fully recycled or plant-based materials by 2030. This also puts a stop to the introduction of all new uses for petroleum-based materials. We have already started a pilot production from wood chip feed, in collaboration with international start-ups. We will also cut CO2 emissions to net-zero by 2050, thus becoming carbon neutral. These are our corporate promises to the global society.
The SDGs present our Group businesses not only with new challenges, but also with new opportunities.