An increasing number of companies are placing the United Nations Sustainable Development Goals (SDGs) at the core of their business philosophies. The Daiwa Securities Group not only incorporates the SDGs into the underwriting and selling of the green bonds that make up its core business but now also includes businesses across fields not conventionally connected, such as renewable energy and agriculture. We spoke with three Group executives closely involved with promoting SDGs within the Group about the goals and challenges of this new direction.
Daiwa Securities Group Inc.


Creating New Value through Hybrid Products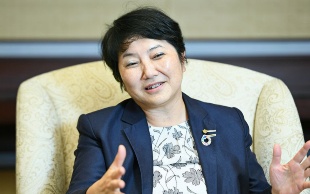 Keiko Tashiro,
The SDGs form the core of two strategy plans recently released by Daiwa Securities Group Inc. The Group's "2030 Vision" outlines the firm's development targets for the next decade to 2030 while its three-year medium-term management plan starts in 2021. . Keiko Tashiro, Deputy President, Head of Overseas and SDGs, Daiwa Securities Group Inc. provides some perspective, "We feel that the SDGs are essential for creating a solid foundation for management operations that will avoid the impact of market fluctuation." Daiwa uses the term "hybrid" business to refer to new SDGs-related operations that are quite different from their traditional market businesses . The Group's plans set targets calling for hybrid businesses to account for 25% of ordinary income for the Group by 2023, and then 35% by2028.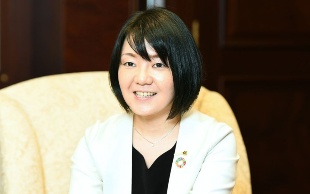 Ruriko Kawanabe,
While setting goals, the Group has now been involved in operating SDGs-related businesses for some time. In the field of renewable energy, for example, Daiwa Group is part of more than ten solar and biomass power generation projects located in Japan, and several international locations. Future investment in this field is expected to be expanded from its present level of just under 60 billion yen up to 300 billion yen. The Group is also involved in agriculture, including ventures such as baby leaf salad mixes (mesclun) in Kumamoto prefecture, and tomato farms in Yamagata and Oita prefectures. With life expectancy increasingly lengthening into an era of century-long lives , the Group has branched out into managing facilities for nursing the elderly. Ruriko Kawanabe, Head of the SDGs Promotion Office at Daiwa Securities Group, cautions, "If we do not actively pursue SDGs-oriented business activities, then our evaluation by the market, and by society in general, will fall, having a direct impact on corporate profitability." That said, recent policies are paying off. Kawanabe feels that the years the Group has spent on SDGs training are finally bearing fruit, adding, " More and more employees are sending emails directly to the company president outlining proposals for the kinds of SDGs-related business projects they really want to be involved in ."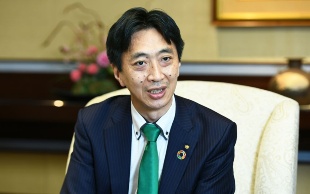 Kazushi Shimizu,
The Group's core finance business is also excelling as a result of SDGs-related activities. In the area of green bonds, where Daiwa was once the exclusive seller, the company now handles 48% of sales for SDGs-related bonds to individuals. Kazushi Shimizu, Executive Director, Department of Debt Capital Markets, Daiwa Securities Group Inc. is in charge of SDGs bonds and shares his latest ambition for the Group, "I want Daiwa to be the first in Japan to offer COVID-19 bonds, created to generate capital to fight the virus and fuel recovery." The definition of "green bond" is now expanding as they are used more often by local governments to generate funds for repair, recovery, and revival in the aftermath of typhoons and other disasters, including floods. "This type of application perfectly fits the traditional definition of SDGs, which includes responding to the effects of climate change and extreme weather events," shares Shimizu.
As part of measures to combat the COVID-19 pandemic, Daiwa Securties joined the "#Don't Stop the Music" Project launched by J-Wave, a Tokyo-based FM broadcasting station to provide support for the music industry The Group is also making hotels held by itss real estate trust (REIT) available for use by medical professionals. Tashiro says, "COVID-19 has created a situation more urgent than ever before where every employee is forced to reflect on what they can do to help realize the SDGs."Looking ahead 10, or 20 years into the future, what can the Group do to help realize the values contained in the 17 Sustainable Development Goals? As this question remains firmly embedded within the consciousness of every employee, the result is an endless supply of new business ideas.
Contributing to Society Boosts Profitability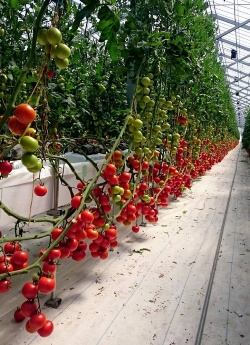 Daiwa Securities was one of the first corporate groups to adopt initiatives targeting the SDGs. The first steps were taken under former President Shigeharu Suzuki as part of his drive to create a workplace more welcoming and supportive of women. In addition to instituting childcare leave for women, Suzuki also established a childcare leave support system for male employees. Within this system, requests for leave to take children to amusement parks are not accepted, but requests for leave to assist with childcare are approved. Only cases of genuine childcare, such as watching children while an employee's wife goes to the hairdresser or does essential chores are considered. Over the last three years, all employees now raising children have taken advantage of this new childcare support system. While it was once considered the sole responsibility of women to look after children and attend school events, Group programs now promote the active involvement of men in caring for their children, including work leave to attend school activities.
If the capital market is one factor contributing to social inequity, then the same market should be utilized to help close the inequality gap. .This idea could be the basis for securities companies taking up SDGs initiatives. While the SDGs display a strong sense of social contribution, Deputy President Tashiro says, "SDG initiatives are meaningless if they don't make sense businesswise ." Classifying the SDGs as social contributions simply turns these goals into costs to be borne by the wider community. If sustainability initiatives generate profit, however, then the programs will continue. This approach represents sustainable profitability, and it is this stance that is the key to Daiwa Securities' interest in the business of SDGs.
Japanese companies listed on domestic stock exchanges are seeing increases in the number of overseas shareholders, a fact that is also spurring interest in SDG initiatives. Corporations can no longer afford to respond to questions about sustainability without taking firm action. The best way forward is to launch new SDGs business initiatives and nurture them into new sources of profit. Of course, this is no easy task, and while Daiwa Securities' program is still being developed, it would be encouraging to see more companies pursue activities aligned with the SDGs in Japan. This kind of shift in business would make possible faster responses to recent events like the COVID-19 pandemic, damage caused by flash floods, and other unexpected calamities, all while producing even more effective corporate measures to help the world.