The Mitsubishi UFJ Financial Group Inc. (MUFG) celebrated its 15th anniversary on November 1 and is now embarking on a new path. The unprecedented spread of the Covid-19 virus has highlighted just how essential a stable society is for corporate growth. MUFG is using its resources as a leading finance institution to help resolve social challenges by contributing to initiatives that support the United Nations's Sustainable Development Goals (SDGs). Now is the time for MUFG to show its strength and value as a top bank.
MUFG Enforces ESG Principles by Green Bonds, equity and debt financing
In spring 2019, MUFG became the first Japanese financial institution to officially commit to the long-term goals of sustainable finance. The firm listed actual transactions that address Environmental, Social, and Governance (ESG) concerns in order to contribute to sustainable growth. By 2030, the firm plans to add a total of some 20 trillion yen (around $192 billion) toward sustainable finance, 8 trillion yen (around $77 billion) of which is slated for environmental fields.
The new goals include targets for financing activities that help preserve the environment, such as renewable energy operations, including wind and solar power generation, together with underwriting and selling green bonds. There are also financing activities aimed at social development such as extending credit to new start-ups and rural revitalization projects, along with infrastructure improvements for hospitals and schools. The initiative is already off to a favorable start reaching a first-year contribution of 3.7 trillion yen (some $35 billion).
In line with this stance, in principle, there will be no new financing for any coal-fired power generation plants in Japan or overseas. Under the governance policy, credit will be withdrawn from all operations involved with any kind of dangerous labor practices or child labor. In order to strengthen ESG compliance from both sides, a new Chief Sustainability Officer (CSuO) position has been created and key executive has been appointed.
With a total of 240 billion yen (some $2.3 billion) from underwriting green bonds, MUFG has become Japan's leader in the sector due to the success of Group firm Mitsubishi UFJ Morgan Stanley Securities Co. Ltd. However, Mitsubishi UFJ is going one step further, issuing its own green and social bonds, created in response to investor demand. One such example of the new issuance is thenewly-released COVID-19 revival bond. In September, the bond became the first of its type in theworld to be sold to individual investors.
The environment surrounding finance has changed dramatically in recent years, and Japan's banks are facing a host of challenges. One such challenges is the financing of coal-fired power plants. For the continued growth of emerging Asian economies, cheap sources of energy are vital, but concerns over impacts on the environment complicate the use of these inexpensive resources. Naturally, the bank's wisdom and foresight will play a crucial role in developing future solutions for these types of challenges.
One important recent development is MUFG's February decision in February to invest around 80 billion yen ($706 million) into Southeast Asia's biggest ride hailing venture, Grab Holdings Inc. "The ideals held by these young founders resonate with our own philosophy," says Hironori Kamezawa, President & Group CEO of MUFG, explaining the investment.
Grab's vision of "Financial Inclusion" focuses on employment and income, going beyond just offering ride-hailing service app to include a wide range of new businesses such as food delivery, and financial services such as digital payments and bank accounts. Through its local banks, MUFG is also partnering with Grab, to leverage its financial strength to boosting the standard of living across Southeast Asian nations. This is being done together with MUFG Innovation Partners Co., Ltd., Krungsri Finnovate Co., Ltd. of Thailand, and local Group banks:Bank of Ayudhya Public Co, Ltd. of Thailand; PT Bank Danamon Indonesia, Tbk.; Security Bank Corp. of the Philippines; and Vietnam Joint Stock Commercial Bank for Industry and Trade.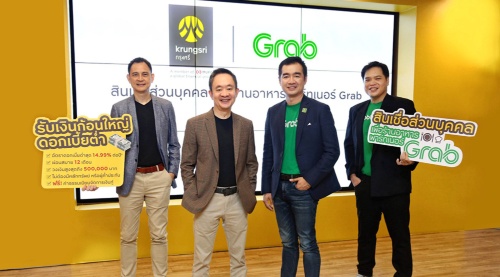 SDGs Key to Stable Future World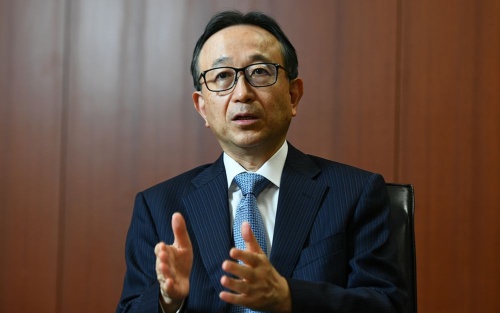 Hironori Kamezawa, President & Group CEO
Even now, companies of all sizes are experiencing unprecedented hardship due to the COVID-19 crisis. The Mitsubishi UFJ Financial Group is harnessing all available resources to provide financial assistance to those businesses in need.
COVID-19 has driven home the realization that a stable society is an indispensable condition for companies to grow and develop. That is to say, it has become clear that SDGs-oriented initiatives are the future of all financial management, as successful growth relies on these goals.
There has been considerable debate about the values contained in ESG-thinking and the SDGs even before the arrival of the Covid-19 pandemic. As a bank, we have been very conscious about challenges threatening the environment and society.
However, from now on we need to change our way of thinking, from the ground up. This means we need to bring our management strategy and daily business operations into closer alignment with the philosophies contained within ESG strategies and the SDGs.
The primary mission of companies is business growth and contributing to society by offering a variety of services providing employment, as well as paying taxes and dividends. However, from now on we will place social awareness first. Before committing to any individual strategy we will ask ourselves, "Why are we doing this?", in order to recognize the relevant social issues and ensure these elements are included in every strategy. We need to approach things from this new perspective. First, we will ask ourselves what solutions are possible for a given issue, and then consider what types of services and businesses are appropriate.
We will also focus on donations in areas we cannot cover through our business activities.
I must say that I bow my head in deep appreciation to for the work of all healthcare professionals. But there are also many students in dire financial constraints. I recently visited the Ashinaga Foundation and saw for myself just how desperate the situation is for some students. In response to this, we decided to double MUFG donations from 0.5% of net income from our banking operations to a full 1%. As consolidated Group net income for the last fiscal year (2019) reached about one trillion yen (roughly $9.5 billion), this 1% represents a donation of some 10 billion yen (roughly $96 million).
The young employees who will lead the Group in the future have a much greater awareness towards the need to make social contributions than my generation. As CEO, I am determined to meet the expectation of such employees, both women and men, so they can feel proud to be part of the Mitsubishi UFJ Financial Group.