Redeveloping local parks to refresh community bonds, and building shopping centers where mothers can look after their children while working are all just some of the business activities that make Daiwa Lease Co. Ltd. stand out in the world of leasing. The Osaka-based firm recognizes that the pursuit of the United Nations Sustainable Development Goals (SDGs) will boost corporate value and ensure its survival.
Park Redevelopment Projects Raise Community Happiness
Junichi Moriuchi, Director
"Parks have the most potential for effective use of all public land," explains Junichi Moriuchi, a director at Daiwa Lease. While often popular when new, after a while maintenance standards often drop, leading to a decline in the number of users. And eventually weeds take over the grounds. The Park Solutions Business addresses this problem. Sennan Long Park in Sennan-city, Osaka was completed in July 2020 and now has facilities for glamping, track and field athletics, a hot spring, eating and drinking establishments, and a soccer ground -- all contained on its spacious 11-hectare layout. In total, the park is about two kilometers in length.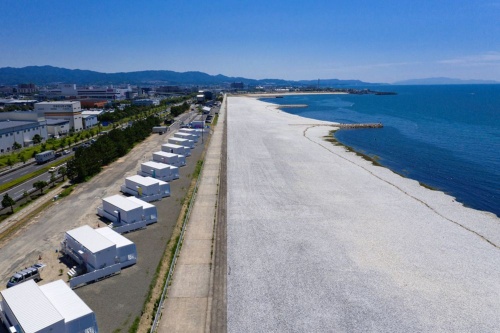 After being left unattended for a long time, the park was loaned to Sennan-city free of charge by the Osaka prefecture government, and redeveloped by Daiwa Lease. The company invested a total of about 2.3 billion yen (some $22 million) in the project. Daiwa Lease plans to maintain and operate the park for the next 30 years.
Even though overseas visitors to Japan have almost completely vanished due to the pandemic, the glamping facility is fully booked through to the end of February 2021. "You can buy something to eat and drink, including alcohol, at the supermarket next door, and on weekends the local Okadaura Fishery Cooperative Association runs a market with fresh fish and seafood," says Deputy Section Manager Takachika Honda. Daiwa Lease and the stores are not the only ones profiting from business here, the local economy also benefits through a special mechanism that is building strong ties with the community, in line with the sentiments contained in SDG No. 11, "Sustainable Cities and Communities."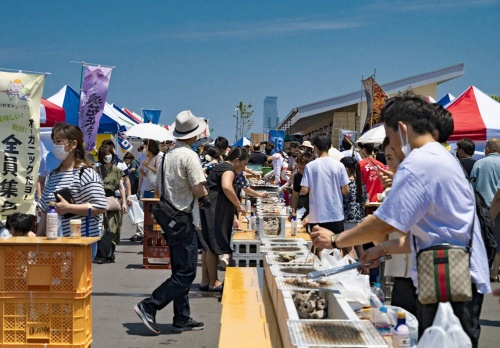 Daiwa Lease has also entered into similar initiatives at Osaka Castle Park, Tsurumi-Ryokuchi in Osaka-city, and Toriizaki Seaside Park in Kisarazu-city, Chiba, among others places. Branch Otsukyo, a former bicycle racing facility in Otsu-city, Shiga, was redeveloped and opened in November 2019 with a park covered by natural grass accounting for about 15,000 m2 -- more than 20% of the total 64,800 m2 site. "This is like putting a shopping center in a park," explains Moriuchi, "rather than the other way around." While part of the shopping center has been closed during the Covid-19 state of emergency, the crowds gathering at the park are proof of the plan's excellent potential.
Branch Otsukyo also includes one facility operated by Mama Square of Tokyo, a partner in the project. Children accompany their mothers to work, spending the day at the day-care facility adjoining the workplace. Mothers are able to work while feeding their children, changing diapers, or cuddling their young ones when upset. The work is for an outsourcing company that handles drafting, machine operation, and other jobs contracted by Daiwa Lease. This work-life management shares values with SDG No. 8, "Decent Work and Economic Growth."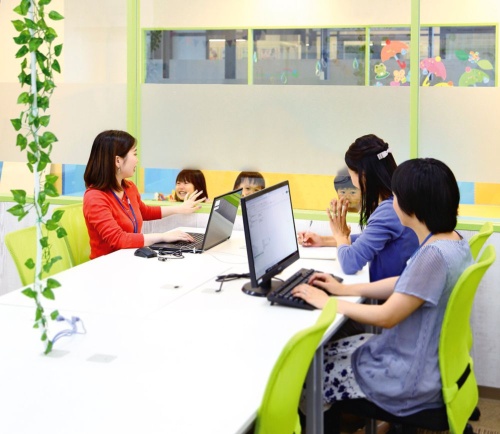 In November 2019, the firm also publicly solicited SDGs-related community development proposals. Out of 103 submitted proposals, six were crowd-funded by the general public to reach the project targets. Daiwa Lease donated funds to match the money raised. "We hope to use the capital to lead in the commercialization of start-ups," said Senior Team Leader Sayaka Tanaka, in charge of the initiative.
At a Fukuoka City shopping center operated by the firm, food storage containers have been provided to collect food from homes and businesses to save it from being thrown away as waste. Instead, the food will be donated to charities for distribution to those in need. Reducing foodstuff wastage contributes directly to SDGs No. 1 aiming for "No Poverty," while also addressing goal No. 2, "Zero Hunger." Daiwa Lease is already effectively integrating the Sustainable Development Goals into its wide ranging fields of business.
Community Development, Environmental Greening: Daiwa Lease Reflects on True Benefits for Everyone
On September 9, 2020, a special ceremony celebrating the 100th anniversary of the birth of Nobuo Ishibashi, founder of Daiwa House Industry Co. Ltd, was held in Kawakami Village, Nara. Executives from Daiwa House and Group companies gathered to reaffirm their commitment to realizing Ishibashi's dream of boosting Daiwa Group's total revenue to 10 trillion yen (some $96 billion) by the corporation's centennial celebration in 2055.
Daiwa Lease has been able to expand its business from a singular focus on construction leasing to include park redevelopment, environmental greening, and more, because the ten trillion yen Group target is a figure clearly stated but without any restrictions on operational activities. This target alone, however, would center revenue as the ultimate objective, but Mr. Ishibashi asked his successors to think about"What it is that can be useful to the world, not just what can be profitable." This is exactly the philosophy that forms the foundation of the SDGs.
Daiwa Lease has considerable experience working with governments and the public sector, but that alone is not enough. Some industry observers say that a company's awareness of the SDGs can contribute to competitiveness, that is to say, SDGs-oriented initiatives can open up new business opportunities.
Japanese people have a tendency to take volunteering too seriously. Some people put pressure on themselves concerning their own expenses and contributions toward volunteer activities, but it is enough to offer what can be done in the spare time that they donate. Thinking about volunteer activities as personal hardship while enduring all the challenges of the task puts a strain on the generosity being offered. Thinking in this way, will crush any desire to continue these kinds of activities over the long term.
SDGs initiatives are the same. Many companies become involved with sustainability activities but fail to continue on until the goals are reached. Director Moriuchi explains, "As society transitions to a new normal with Covid-19, we must consider what role we should play. I want us to be a company that helps to clarify and resolve the challenges of our changing world." By adding SDGs-oriented services to the shopping centers it operates, now a core part of the business, Daiwa Lease is boosting both its attractiveness and its profitability.