In macroeconomics, we are all formulated as the accumulation of consumer activities, referred to as, "household final consumption expenditure (HFCE)"; the total amount spent by a resident household on goods and services. And, in fact, most goods and services are designed with the final consumer in mind. The customer makes the final decision about whether or not to buy, use, or disregard items, and only the products that pass these tough evaluations find value through purchase power. But does this approach still work, given all the issues facing today's society, particularly in terms of sustainability, social awareness, and ethics? The key to success is product development strategy designed to garner consumer empathy. For retailers, this means shouldering a heavy responsibility, but at the same time, consumers need to learn self-control.
Retailers Take Lead in Social Revolution
Retailers play an invaluable role in culling unworthy products and services, and in turn assume some of those functions on behalf of consumers. During the boom years in Japan, stores offered the wide range of products demanded by the public for an easier and more luxurious life. This was the setting for the establishment of the mass consumption society. Now that the essentials are taken care of and people have time for more leisurely pursuits, consumer buying trends are showing a surge in interest regarding concerns for the future. Will there be any generational differences? Is environmental impact excessive? Does consumption itself really serve the interests of society? In the face of Japan's low birthrate and the onset of a graying population, the retail industry has changed. Society now expects the sector to function as an extension of social infrastructure.
Seven & i Holdings Co. Ltd. boasts 22,500 retail outlets across Japan serving some 25 million customers daily. Annual group revenues (including overseas operations) total about 12 trillion yen (some $109 billion). In addition to the 7-Eleven chain of over 20,000 stores, the company also operates domestic networks of supermarket chains, including Ito-Yokado and York-Benimaru. A Group this size must manage itself to address the concerns of a wide range of stakeholders; consumers, convenience store owners, vendors, employees, shareholders, and the local community. It's a difficult feat, but President Ryuichi Isaka is convinced only the companies that manage to do this successfully will survive. Over the last few years Seven & i has launched a number of initiatives solidly based on the United Nations Sustainable Development Goals (SDGs).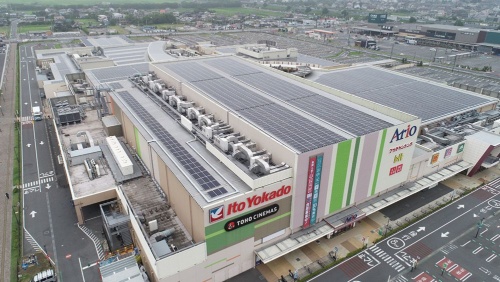 The retail sector's strength lies in its unique closeness to consumers. Retailers that are closely connected to the consumers they serve can work with them to create a more ethical society and promote the sustainable consumption of resources. Marketing expert Philip Kotler, a close friend of Seven & i founder and honorary chairman Masatoshi Ito, uses the term "social marketing" for marketing which influences consumers and society as a whole. If consumer awareness can be changed ethically, it will have an effect on vendors. If the needs of the final consumer change, it will trigger effects that ripple up along the chains of the retail sector's networks.. In this way, retail has the power to change society, from the bottom up.
At the same time, this developmental change imposes environmental burdens on retailers and the distribution networks that supply them. Food spoilage is one result easily visible to consumers, and efforts are underway to resolve this waste by improvements and innovations in the areas of processing, packaging, temperature control, and distribution.
In the past, the well-known and influential management thinker Peter Drucker praised the firm's revolutionary success regarding improved productivity and convenience. Today, Seven & i Holdings is rising to meet the new industry challenges presented by supporting the SDGs.
Overcoming Today's Challenges with Organizational Flexibility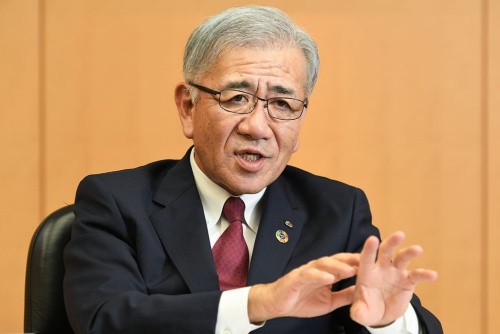 Ryuichi Isaka, President and Representative Director
In 2014, Seven & i identified five key undertakings to help resolve social issues:
Providing Social Infrastructure for an Aging Society and Declining Population
Providing Safety and Reliability through Products and Stores
Non-Wasteful Usage of Products, Ingredients and Energy
Supporting the Active Role of Women, Youth and Seniors across the Group and in Society
Building an Ethical Society and Improving Resource Sustainability Together with Customers and Business Partners
The year after these resolutions were decided, the United Nations announced the Sustainable Development Goals. A comparison of the SDGs and the Group's resolutions revealed that our initiatives apply to all 17 SDGs. As a corporate group with the largest network of stores in the world (about 70,000 outlets), our responsibility toward helping achieve a better future is clear.
Our new activities directly related to customers include enhancing internet-based sales and offering direct sales at the premises of customers using retail trucks, to assist people with limited access to real stores, and easy-to-understand nutritional information on all products to minimize risks of lifestyle-related diseases.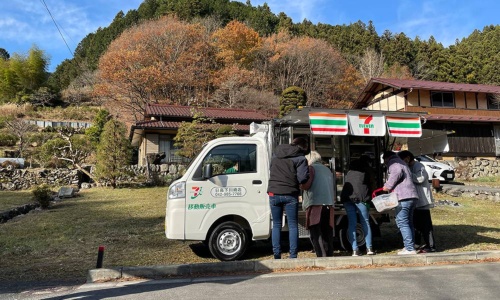 In 2019, we formulated Green Challenge 2050 to reduce our environmental impact. This is a commitment to net-zero carbon dioxide emissions by 2050, together with replacing plastic packages with our own green packaging alternatives, targeting the goal of increasing the use of this green packaging to 50% by 2030, with an end goal of 100% by 2050.
As our contact points for all customers, we are also upgrading our stores to promote and support a recycling-oriented society. Examples of these activities include the collection of recyclable plastic bottles and promoting recycling throughout the entire supply chain. To provide extra motivation for collection, we are using marketing methods such as rewards of in-store nanaco electronic money's points offered for returned bottles.
The behaviour and consciousness of consumers has changed drastically due to the COVID-19 pandemic, and the search for a new balance within our economic society continues. Seven & i Group has always risen to meet the challenges posed by new social issues arising in our changing world. We will remain a flexible and sustainable Group committed to providing convenience and richness to consumer's life.