Insurance firms are strengthening ties with local governments across Japan. Their involvement across many fields of operation places these companies perfectly to make significant contributions to revitalization efforts in regional communities -- an activity that is a key element of the United Nations Sustainable Development Goals (SDGs). Fusing aspects of community development with insurance practices presents the prospect of a new role for insurance firms in the uncertain future of the emerging post-COVID world.
Government, Public Sector Collaboration Drives New Growth
The Japanese government listed three main pillars in its SDGs Action Plan 2020, which was announced in 2019. The plan focuses on business and innovation, promotion of the next generations and the advancement of women, and regional revitalization. Boosting the growth and economic power of rural areas is designed to create well balanced development across the entire nation, and has been raised a number of times in the recent past. This growth strategy started with the regional revitalization program launched in the 1980s, then continued with proposals to move capital functions to venues outside of Tokyo, and is now being realized through the current local town tax donation program - a system where taxpayers can nominate to direct portions of tax to particular local municipalities.
Even with these growth-oriented policies, Japan's population continues to shrink at an increasingly rapid pace. People are still moving to city centers, with a particular concentration in the Tokyo metropolitan area. It is these kinds of circumstances that have led to the SDGs becoming popular around the world as a beacon for new ways of organizing and thinking, which has led to new community development collaborations between governments and the private sector. This pivotal moment of change is seeing insurance companies hold the potential to play a central role.
Tie-ups between local governments and non-life insurance firms would have a number of outcomes. Disaster prevention and mitigation could be improved using statistical data to better estimate the risks of natural disasters, such as typhoons and flooding. Utilizing data analysis of information sets could also prove beneficial, for example, examination of road accidents, would play a key role in illustrating how to upgrade infrastructure to increase convenience and ensure safer daily lives. Based on the knowhow of corporate insurers, it is also possible to nurture local industry by promoting workstyle reforms, assisting with business succession, and advising companies with cybersecurity. For local governments, focusing on collaborations with insurance companies to achieve the SDGs will increase the trust of their residents, and boost the awareness of sustainability and morale among people working in regional areas.
The role of insurance companies is now expanding beyond the original business of preparing for risks and providing compensation for damages to also include risk prevention. The state-of-the-art technology and data that reduce risk for insurance companies are indispensable for regional revitalization aimed at sustainable town development. The long-lasting adverse effects of the COVID-19 crisis have severely exhausted local communities and their economies. During this uncertain era, governments of regional areas and local towns are more interested than ever before in how insurance companies are able to help realize the SDGs.
Of course, insurance companies would be doing more than just supporting the regions. If local economies improve and business expands, then their potential customer base does too. This growth would also benefit the development of new business, and boost employee morale.
In the era of global business, Japanese industry turned its gaze to overseas markets where growth remained strong, in contrast with the relatively stagnant domestic situation. The SDGs, however, call for building a new sustainable society, and that presents the potential to stimulate local economies to refresh the vitality of the home market. Public-private partnerships for regional revitalization may lead to a new business paradigm for insurance companies that have already begun to work on prevention measures to work alongside their compensation operations.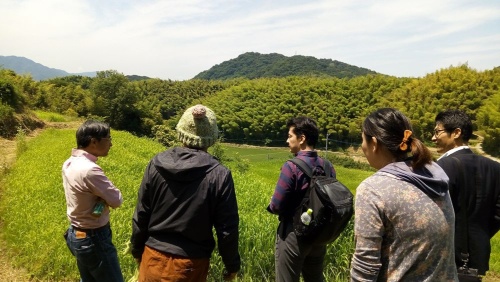 Growing Alongside Local Communities in an Era of Diversity
Noriyuki Hara, President and CEO
We are working to help revitalize regions outside of major metropolitan centers because when they become healthier, we also grow and develop. We have entered into cooperative agreements with over 300 municipal governments in 44 of Japan's 47 prefectures, because we believe that regional development is essential in achieving sustainable growth across Japan. It is our hope that through our involvement in regional revitalization we can grow together.
There is also a great awareness and understanding of the SDGs in local communities. I think this is because the idea of creating communities where people will want to live for extended periods perfectly matches the goals of both the SDGS and regional communities. We work to minimize disaster damage, and achieve new growth through "resilient communities" that are better suited to the shifting challenges of today's environment. Collaborative programs with local governments are how we help local communities while also making it easier to confirm the positive effect our efforts are having in regional areas. I think this also makes a big difference to employee morale.
Needs vary by region, so naturally the ways that we work with those municipalities also differ in order to match every situation. In Nagano Prefecture, for example, we concentrate on helping local firms expand overseas, find business successors, and otherwise strengthen local industry. In Kobe, we are providing compensation for accidents caused by dementia patients, at the same time as working on monitoring services with a local security company to offer care services. In addition, we have made a number of internet sites and apps available to the general public that provide estimates about typhoon damage to buildings, to help with disaster prevention and mitigation measures in each region.
The declining birthrate and aging population together with the frequent occurrence of natural disasters means that the environment surrounding the insurance sector has changed significantly. We must now respond to an increasingly diverse range of issues. While the key business pillars for the sector remain automobile and fire insurance, the specifics around essential services vary considerably depending on the region. Insurance companies of the future will have to offer a seamless business that includes compensating for losses alongside proactive disaster prevention and response. The most important element for achieving this is the power of our employees. In this sense, I am confident that the knowledge and experience gained through regional revitalization projects within Japan will also be invaluable for the development of our human resources.