The information technology industry is evolving with such astonishing speed that its potential for enormous impact on society is continually being revealed in new ways. SoftBank Corp. has transformed itself to match the world's changing expectations from technology every decade since its foundation. The company remains true to its motto, "Information Revolution -- Happiness for Everyone." While the firm's main business is telecommunications, this seems likely to shift toward the United Nations Sustainable Development Goals (SDGs) in the near future.
SDGs Are Key Guide for Transformation into 5G Society
Twenty-four-year-old Masayoshi Son founded SoftBank Group Corp. 40 years ago. It was back then, in 1981, that the founder told a gathering of all his employees -- a sum total of two part-timers -- that he would make his company one that counts its revenue in the trillions. He set his sights on the information revolution as the means to achieve this.
Without any capital, the founder started with the wholesale of software. At this time, Ken Miyauchi joined the company becoming Son's confidante and the living authority on everything about SoftBank, Miyauchi was also the driving force behind the firm's determination to constantly reshape itself to stay ahead in rapidly changing times.
From wholesaling package software, the company expanded into publishing, and later, as the Internet boom began in the 1990s, established Yahoo Japan Corp. At the beginning of the new century, Son decided to enter the Asymmetric Digital Subscriber Line (ADSL) broadband market, describing it as a "kingmaker" technology. He was up against Japanese telecommunications giant Nippon Telegraph and Telephone Corp (NTT), losing an enormous amount of money over four years. Son describes his company as having "hanged onto the edge of the cliff with only two fingers," and credits Miyauchi's direction of the marketing team and their efforts for saving the company. That same team has continued to support Son's bold -- and often risky -- moves ever since. One example of this kind of touch-and-go decision was dropping two trillion yen (some $18.5 billion) to enter the mobile telephone communications market.
In 2015, Son became Chairman of the telecommunications business SoftBank Corp. and Miyauchi assumed the post of President & CEO. Under Miyauchi's leadership with the three 'SoftBank,' 'Y!mobile' and 'LINE Mobile' brands, SoftBank Corp. built a strong customer base of 25 million smartphone subscribers and grew its core telecommunications business. In December 2018, SoftBank Corp. listed on the Tokyo Stock Exchange.
Miyauchi says a paradigm shift is now occurring in the industry, "The rules of the game are being rewritten as we begin to enter the era of widespread fifth-generation (5G) mobile communications service." He says a society where people and things are constantly interactively networked will be changed significantly. Miyauchi has spearheaded the "Beyond Carrier" growth strategy to expand SoftBank Corp.'s business beyond telecommunication services, the kind of transformative shift that he and Son have already accomplished numerous times with the company.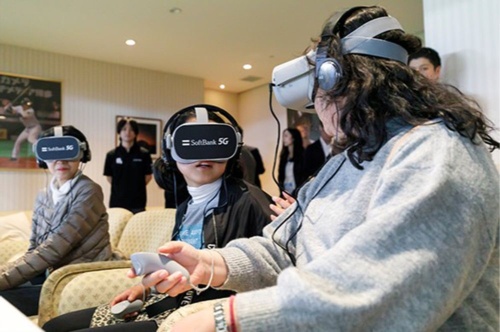 Group management began to think about the SDGs in 2018, when the firm was listed on the stock exchange. It was then that the executives realized that the 17 goals crystallized their ideas about what the firm should strive to become after growing beyond the telecommunications carrier business. "The SDGs clarified the management concepts underpinning our philosophy of 'Information Revolution -- Happiness for Everyone,'" says Miyauchi, "and brought our fundamental aims into sharp focus."
SoftBank has reached a major turning point. We asked Miyauchi what sort of resources would power the future of SoftBank's development during this period of renewed transformational change. "Young people who are fascinated by new technology," he answered. "No need to worry. There are plenty of eager, talented people out there."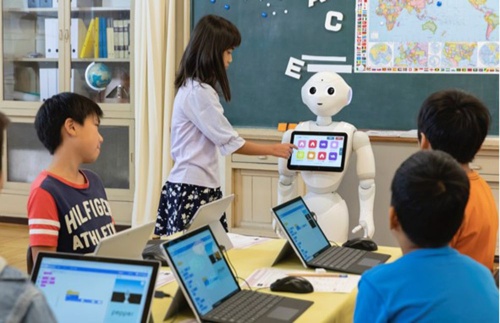 Miyauchi has worked with Son leading SoftBank through all the recent turbulent changes in the information technology industry, and this April he was promoted to Chairman of SoftBank Corp. From the Chair, the future looks infinitely bright.
SoftBank Ready to Change for the "Super-Open" Era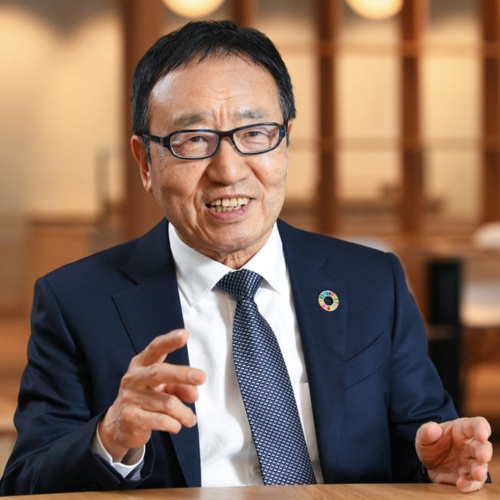 Ken Miyauchi, Representative Director & Chairman
In fact, the first time I became aware of the SDGs was when an analyst brought them to my attention. He suggested they looked like something I would not be interested in, so I examined them thoroughly and was astonished by what I found. The 17 goals of the SDGS spelled out everything we needed to do.
I immediately created an internal SDGs Promotion Committee. We formulated an overview matching our management strategy to six key themes and drew up action plans clarifying what each department needed to do. We implemented these plans throughout the company. I assumed overall management responsibility for the project by assuming the role of Chief SDGs Promotion Officer. It was through announcing my responsibility at this level that I made it clear to all employees just how serious our commitment to the sustainability goals really is. In this position it is much easier for employees to accept the challenge and get difficult jobs done when the company president is shouldering this level of responsibility.
This year marks the twentieth anniversary of SoftBank's entry into the telecommunications industry. We've adopted a new objective, the "Beyond Carrier" strategy. This declaration signifies that we are growing beyond our present role as a telecommunications carrier that simply provides communications infrastructure. The current technological paradigm shift is accelerating at a tremendous pace, including artificial intelligence among other advances, toward an era when all devices are becoming interconnected with everyone. Our role is to utilize this technology to create new value for our customers. It is about more than just being a telecommunications company. We will provide new business models not only for major corporations, but also for small- and medium-size businesses, government agencies, and more.
To that end, the question of our success depends on whether we can partner with the young creators outside the company who are developing new technologies and business models. We've had open innovation for some time, but it is necessary to have a "super open" attitude. Otherwise, we will not be able to keep up with new flows of innovation as they race ahead. Together with these new innovators, I am confident SoftBank will remake itself to remain a leader of the technology frontier.