More than a year has passed since the threat of COVID-19 started to dramatically reshape the world. The ways we are able to live our lives have been changed significantly, while global-scale problems have taken center stage in daily life. Two key issues are defined in the United Nations Sustainable Development Goals (SDGs): health and welfare for all, and elimination of inequalities between all people and countries. The target date for achieving the SDGs is now less than a decade away even as the pressing question of how to balance measures to cope with COVID-19 and the SDGs remains unanswered. What is Japan's stance on the competing priorities of responding to the pandemic and taking measures to protect the environment?
Building Zero-Carbon Facilities for Greater Environmental Kindness
During the COVID-19 crisis that has now continued for more than a year, Takeshi Niinami, CEO of Suntory Holdings Ltd., has been thinking that the Earth has been sending messages to humanity for quite some time. These signs have been in the form of extreme weather events, stress caused by marine pollution, and of course, pandemics. He realized that humanity has simply looked the other way, ignoring all the warnings indicating that we shouldn't use our planet for purposes that merely benefit ourselves. In January 2020, the Davos World Economic Forum was held even as the global spread of COVID-19 started. Niinami was astonished by the change in the mood at the gathering. There were no more plastic beverage bottles available, and when he participated in a session with environmental activists on reducing the use of plastics, the CEO faced a barrage of questions as the chief executive of a drinks manufacturer relying on large volumes of plastic.
Suntory's actions, however, have not been inadequate. Plans were firmly in place. The firm had already announced that by 2030 all PET plastic drink bottles globally would be replaced with recycled materials or plant-based alternatives made from materials such as wood chips. The Suntory Group had also already raised its Scope 3 target to cut greenhouse gas emissions by 30% across its entire value chain by 2030, from raw materials procurement to distribution, sales, and recycling.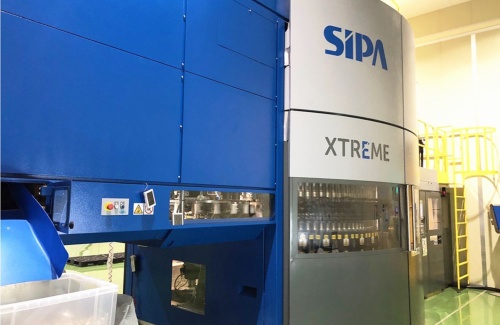 Nevertheless, society's judgement on issues regarding the environment remains severe. The world community continues to demand higher standards when implementing the "3 R's" -- Reduce, Reuse, and Recycle. That said, Niinami is absolutely correct in saying that using recycled materials for drink bottles is the most practical approach right now.
It is true that the task of simultaneously addressing the needs of the global environment and those of the economy has been a difficult and narrow path to negotiate at times. Despite these policy challenges, innovation along with digital technologies brought by a wide range of stakeholders should be able to generate new wisdom to widen this path to include a greater number of possible approaches. The catastrophic changes forced on society by the COVID-19 pandemic should be grasped as a positive opportunity to push for new clues that will lead to new solutions in working towards a better world for all.
One promising development is the Suntory Kita-Alps Shinano-no-Mori Water Plant. The mineral water facility started operating in May in Nagano Prefecture. Biomass-fueled boilers combined with carbon credits to offset carbon dioxide emissions make this the first plant to achieve net zero carbon emissions in Japan. The facility is designed to preserve and nurture local water reserves and forests, blending into the region as though the plant is part of the ecosystem.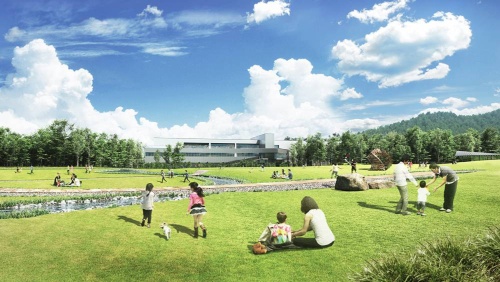 The SDGs are no longer goals to be chased by individual corporations, but rather targets to be achieved through collaborative action pursued in cooperation with partners across industries and local communities.
Guiding Management Philosophy with an Asian Spirit of Nature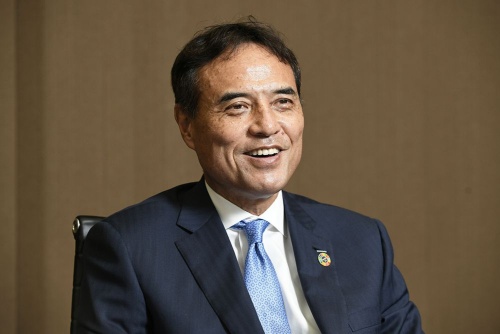 Takeshi Niinami, Chief Executive Officer
I think the importance of diverse societies is what I have learnt most from the COVID-19 crisis. Japan's overconcentration of skilled professionals in Tokyo must be rebalanced by distributing highly-talented professionals across the entire nation. These new leaders, people who truly understand the importance and blessings of nature, must be nurtured in every region. This is why, over a decade ago, we began organizing guest teachers to visit elementary schools as part of our Mizuiku - Education Program for Nature and Water. These visits help new generations better understand the environment. The same reason also brought about our decade-old Mizuiku Outdoor School of Forest and Water. Face-to-face initiatives were difficult because of the pandemic last year, so both programs were continued with the use of video. Participants gained better understandings of nature, and we are now creating hybrid online and face-to-face water education programs for the Mizuiku classes.
In addition to the science essential for achieving the SDGs, there is increasing pressure to realize these goals from a financial point of view. I agree with this line of thought, but I also wonder if the SDGs should be approached with more of a philosophical interpretation of nature, a kind of animism. I feel this way because Japan and other nations across Asia have always had the spirit and heart to hear the unspoken messages within nature. Most Japanese corporations have created management philosophies, and most of these include expressions of respect for the natural world. Suntory has defined its own philosophy with the mission "To create harmony with people and nature", which summarizes our commitment to respecting both nature and humanity -- a challenge we continually prioritize.
No purpose is served by any sort of competition to attain the SDGs. Indeed, cooperative, open forms of innovation carried out together with non-government organizations (NGOs), venture enterprises, start-ups, and even competitors, will benefit us all by revitalizing trees, forests, fresh water, the mountains, and the sea. Doing this means everyone can enjoy the benefits of all in their natural states.
Suntory will continue to carefully exchange information, not only with those in our fields of business interests but also across a wide range of activities, so that we are all able to listen to what is being said by the Earth.