Alcohol is said to have ten virtues, but not only this, drinking helps you think faster, and also breaks down social barriers allowing everyone to talk and mingle in a more carefree way. Drinks are a kind of intangible social capital bringing the adult world together. During the pandemic, face-to-face connections between people have weakened. Now, corporations are searching for new ways to rebuild relationships. A variety of themes contained in the SDGsoffer hints towards finding solutions.
Boosting Local Food Culture with Alcoholic Beverages
In Japan's famously scenic Higashi-Matsushima, Miyagi, about 150 tons of ripe barley was harvested from 19 hectares of farmland stretched along the coast. Salt deposits still remain in the local soil due to the tsunami caused by the Great Eastern Japan Earthquake a decade ago., This heightened salinity still keeps even the weeds from growing large, but Asahi Group Holdings Ltd. (Asahi GHD) is working with the Higashi-Matsushima Organization for Progress and Economy, Education, Energy (HOPE) to spark the revitalization of agriculture here. A barley variety with the capacity to grow well in salty conditions was selected for use in the area by the Barley-of-HOPE Project, a scheme marking its 8th year of operation in 2021.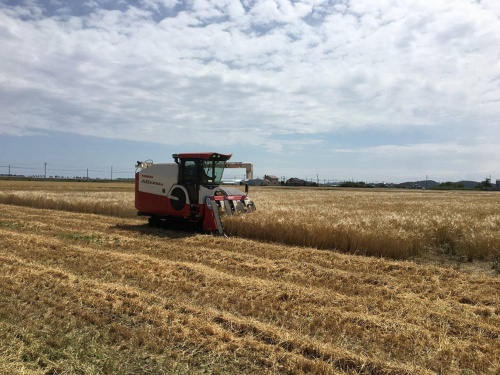 Asahi GHD President Atsushi Katsuki believes barley is one of blessings of nature that has a special connection to his company. This is why he is pushing the project that weaves together the region's recovery with Asahi's own business. Local barley has already been put to commercial use in products including cakes, sweets, and craft beer. And from this year the company has embarked on the journey of creating whisky, a new long-life project aimed at infusing the workplace with exciting prospects. Malted barley is now being milled in preparation for distilling. President Katsuki explains, "As a manufacturer of consumer goods, one of our strengths is that we can handle the entire process from cultivation to harvest, production, and then delivery into the hands of consumers."
New connections can create new values. One of this year's hit products is the Asahi Super Dry Nama Jockey Can, a lager beer for which the entire top pops open to create a foamy head. This idea came to life about three years ago during discussions with a paint manufacturer, an event that reveals how new meetings can help develop products that surpass customer expectations.
The company has adopted "RE:CONNECTION" as its slogan for community activities. Framed by this thinking, the firm is incorporating the SDGs into its global business operations, not just in northeastern Japan. A move that is focusing on food, regional environments, and disaster recovery.
Australia can be seen as one such example of Re:CONNECTION driven activity. The country often faces the threat of severe drought even though agriculture is one its major industries. In 2020, Asahi GHD acquired the nation's largest beer manufacturer, Carlton & United Breweries. The company immediately began working with a transport firm to deliver excess water from its fermentation processes to farms, using enormous tanker trucks. By giving back to local communities in this way, the firm is helping minimize waste, contributing some 680,000 kiloliters of water in 2020.
Alcoholic beverages have long played integral roles in the creation of national and regional food cultures. Asahi GHD's increasing global expansion perfectly positions the Group to understand the emerging winds of change sweeping through societies around the world. President Katsuki, who has extensive experience working outside of Japan senses these shifts as he invokes a sense of crisis: "Europe and America established very strong environmental regulations early on, and they continue their work on improving these strategies to comply with global expectations. Japan, on the other hand, tends to slowly strengthen regulations. It will take time to reach a comparable level." What are the reasonable limits of disclosure concerning company operations? "I want Asahi Global Holdings to learn praise for its policies from future generations", shares President Katsuki
Beer Helps Koshien Baseball Stadium Turf Stay Green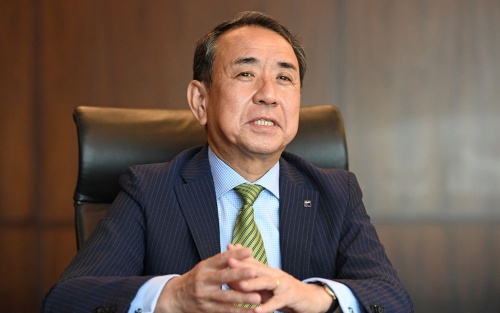 Atsushi Katsuki, President and CEO
The National High School Baseball Championship of Japan, or "Summer Koshien," is a fiercely fought competition held every year, but until recently the outfield turf was already brown by the later games, due to being trampled on by the champion players. Now, however, the ground remains green throughout the championship. While it certainly receives excellent care, credit must also be given to a beer by-product used as a fertilizer. Already utilized by many farms and golf courses, this fertilizer results in minimal runoff and heightens disease resistance.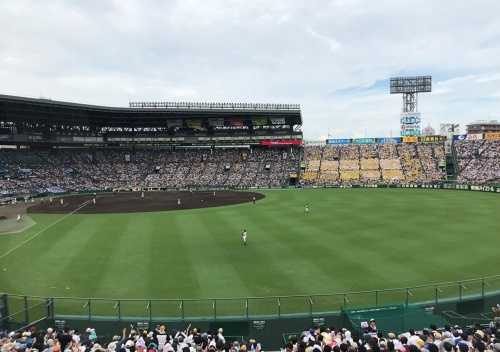 Consumable products such as liquor and other beverages are judged strictly by society due to their high visibility. -- do production processes for these drinks consume too many limited resources, such as water, aluminum, and PET resin When beverages are consumed, health- and safety-related checks also run through the minds of consumers as they monitor responsible drinking, or sugar content.
Asahi beverages Super Dry and Dry Zero feature the "g" mark, indicating they were manufactured with green energy and made with zero carbon emissions. Asahi GHD has shipped over 15 billion units labelled with this mark, the largest number from any firm in the food and beverages sector in Japan. We plan to continue drawing on diverse sources of energy through our distributed energy network system while promoting the widespread adoption of renewable power.
Our original goal for 2030 was to cut greenhouse gas emissions by 30% from 2015 levels, but we later increased this target to the even higher aspiration of slashing 2020 emissions to 50% of 2019 levels. Of the 72 factories we operate, both in Japan and overseas, 65  are nearing the goal of realizing operations run on 100% renewable energy. The company will not be able to survive unless we rise to the highest global standards.