Non-life insurance companies are ignored most of the time, but when accidents or disasters strike these firms become indispensable. As natural disasters of unusual ferocity occur increasingly often, the insurance sector is seeing more activity around risk than ever before. One set of guidelines for this new world can be found in the United Nations Sustainable Development Goals (SDGs), but these days, what exactly does society expect from non-life insurance companies?
Diversifying Risk Drives Creation of New Insurance Products
In recent years, people are increasingly talking about how we're experiencing more abnormal weather every year, and 2021 has certainly been no different. A number of unexpected natural disasters have occurred.
In Japan, there was a huge landslide in July in Atami city, Shizuoka - a town popular for holiday homes. The unseasonal torrential rainfall in August proved to be just as bad as the monsoon period, causing sediment disasters and flooding across western Japan. Also, the temperature in Hokkaido, Japan's northernmost major island, exceeded 35°C for 15 days, setting a new record for prolonged high temperature. While all this was happening there was also the continuing threat of COVID-19. Society and the economy are now both tired and stressed by this recent succession of crises, especially as the continuing spread of infection still has no end in sight.
During such unpredictable times, insurance plays a critical role. Compensation is more important than ever when dealing with unexpected emergencies. President Satoru Komiya of Tokio Marine Holdings, Inc. says "we provide safety and security".
There are a number of key points involved.
First, as the circumstances surrounding daily life and business continue to change at great speed, the insurance company must clarify potential risks. This is necessary not only to develop new insurance products to address such risks, but also to enable customer consultation based on expert knowledge. It also helps reduce the risks faced by customers.
Second, the insurance company must remain financially capable of covering all payouts that are claimed. One approach is to set up a special reserve fund specifically for compensation payments made in response to natural disasters. As of June 2021, total payouts made by the Tokio Marine Holdings Group were up 7% year-on-year. If corporate financial strength remains unaffected by damage payouts, customer trust will increase.
Third, it is important to ensure that all risk assumed by the insurer is not centralized geographically. Tokio Marine Holdings began acquiring insurance operations overseas many years ago, distributing its risk internationally.
The Group, involved in activities addressing climate change both in Japan and elsewhere, established the target of cutting Group wide greenhouse gas emissions in 2030 by 60% from its 2015 levels. The firm will also run all major facilities on 100% renewable energy. The Group has already achieved carbon neutrality for eight years running by planting mangrove forests along with other initiatives.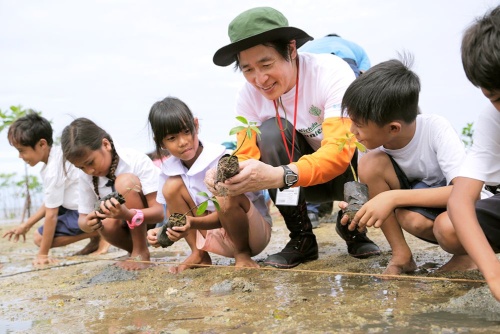 A long-term perspective is essential for maintaining a steady, proactive program, and the SDGs -- a set of targets realized through international consensus -- serve as an excellent guide for this. Now it's in the hands of the insurance company to demonstrate just how their expertise can contribute to resolving the serious long-term challenges ahead.
Growth through Solutions for Social Problems in an Uncertain Era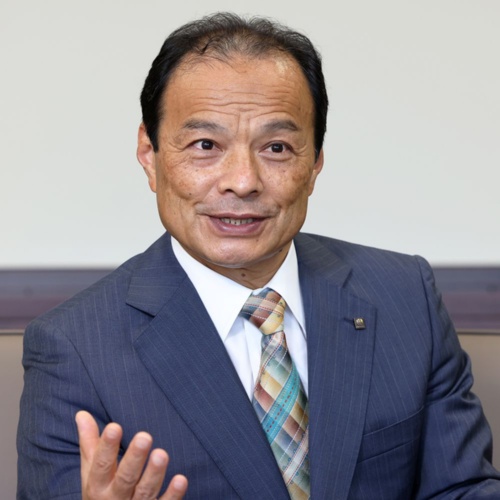 Satoru Komiya, President & Group CEO
We are living in an age with more uncertainty than ever before, and the structural changes to work and society already underway in many fields have been dramatically accelerated by COVID-19.
Precisely because of this unpredictability, it is more important than ever to return to our original purpose - one which has never changed. For Tokio Marine, this means protecting society and customers from the risks of unexpected emergencies.
In the event of a disaster or accident, we will help our clients return to their daily lives as soon as possible. This is the fundamental role of insurance companies. It is crucial to provide this kind of support to customers as they work and live with a future increasingly difficult to know.
There are four key points associated with achieving our goal; namely advancing measures to address climate change, supporting emotionally rich and healthy lives, improving disaster resilience, and promoting diversity and inclusion.
We believe in delivering value to all of our stakeholders, including future generations. Thinking about children when formulating management policy, you can clearly see how important it is to build a sustainable society based on long- and medium-term perspectives.
With this in mind, we have already been working with children for many years on initiatives such as our Green Lessons program, where our employees teach elementary school students about environmental issues.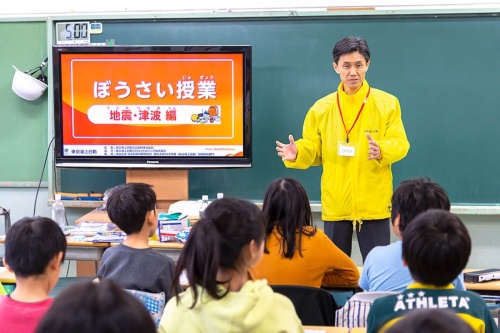 We are also involved in resolving environmental problems as part of our own business. For example, in 2020 we began offering policies in Japan to comprehensively cover all risk related to offshore wind farms during construction and operation. We also acquired an American insurance agent specializing in risk related to the renewable energy sector.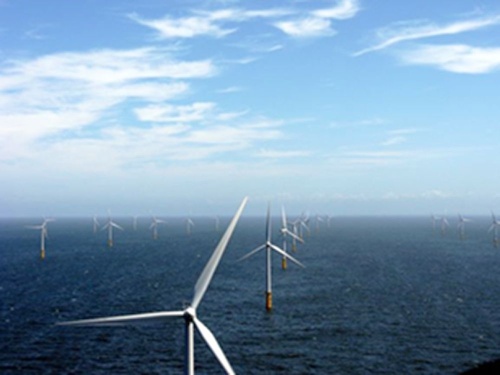 Our insurance work, done properly, will benefit the world. We are determined to remain a company that has a helpful role to play for everyone. We can only grow by contributing to resolving the problems that confront our society.