About 60% of our planet's 7 billion people live in cities. However, the majority of resources essential for city living, things like food and energy, are produced in rural areas. To further increase balance, the basic concepts contained within the United Nations Sustainable Development Goals (SDGs) promote mutual support between metropolitan and country areas. Through its "With Rural Japan" strategy, Mitsubishi Estate is working with regions far from the capital to improve Japan's charm together with the nation's sustainability.
Investing in New Sectors : Japanese Sake,Tomatoes
Mitsubishi Estate Co. Ltd. has started investing in rural businesses. To name just a few, examples include; a Hokkaido sake distillery, a Chiba tomato agribusiness venture, and a lumberyard in Kagoshima. So why is a company so famous for its property holdings in Tokyo's prime downtown Marunouchi district investing in different fields outside the metropolis?
On site at one of these examples, construction continues on a timber processing and lumberyard facility in Yusui Town, Kagoshima. The location is on the grounds of what used to be a high school administered by the local government. Mitsubishi Estate has joined six other firms to produce, distribute, and sell lumber, as well as use the material for its own construction. To do all this, the group established a new company in the area named MEC Industry Co. Ltd.
The new firm handles the entire lumber process from production to sales in order to cut the costs of go-between agents. This is not the only benefit, though. Because timber is prepared once sales bookings are received, forest resources are managed more effectively. Most of the wood comes from the south of Kyushu, supporting the SDGs that advocate stable employment and sustainable forests.
On the outskirts of Chiba City, a new agriculture start-up named MEC Agri Co. Ltd. has started cultivating cherry tomatoes high in sugar content. The firm's greenhouses, built to rely on solar power, produce cherry tomatoes as sweet as most house fruit. This produce is available all year at restaurants in Tokyo's Marunouchi area as well as other places. The tomatoes are expected to delight visitors to Tokyo from abroad once flights and cruises start to arrive again. This is part of Mitsubishi Estate's "Tokyo Torch" strategy to introduce the charms of rural Japan to the world, presented in Tokyo. It is a strategy that continues to expand.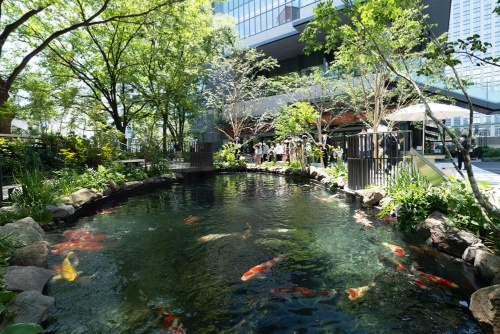 In Kamikawa Town, Hokkaido, Mitsubishi Estate has invested in a sake distillery. The company also plays a role in managing seven Hokkaido airports and positions a visit to the Kamikawa distillery as a central feature of its Hokkaido tour package.
All these investments are essential for Mitsubishi Estate's core business, but upgrading and refining the products created by investee enterprises also adds a new luster to the entirety of those regions.
Amid all the hardship of COVID-19, the pandemic has also put the spotlight on the workation, characterized by its community-based outlook. Mitsubishi Estatehas defined the term for its own purposes to refer to the innovation needed to create new ideas and the kinds of communication not possible in old-style work environments, at the same time as including the location of a brand new workplace. All these factors combined lead toward heightened motivation of the teams involved to drive a stronger, more productive corporate environment. Mitsubishi Estate hopes this new rethinking of work will revitalize employees, companies, and even society itself.
As part of this new approach, "Work x ation Sites" are now in smaller towns such as Nanki-Shirahama in Wakayama and Karuizawa in Nagano. These sites are places where employees can work in a residential training environment, spending their free time building relationships with the surrounding local community or exploring new business partnerships.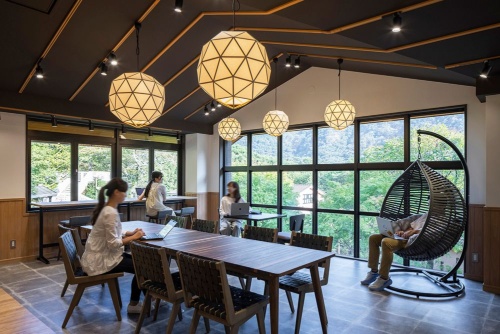 Mitsubishi Estate's initiatives to boost rural Japan's status are a win-win solution that heightens sustainability in country areas where the population is declining at the same time as contributing to the realization of livable urban areas through the SDGs.
Uncovering Rough Regional Gems for Polishing into Brilliance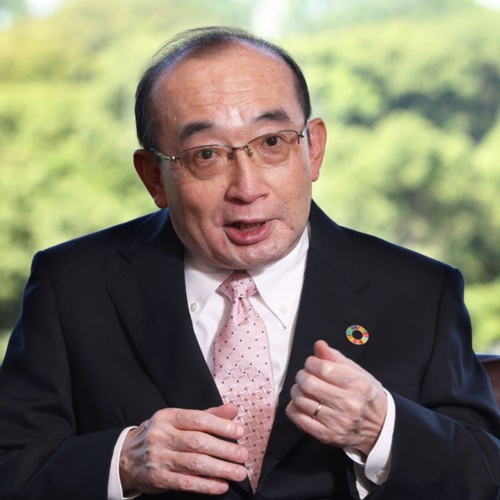 Junichi Yoshida, President & Chief Executive Officer
I was born in Kitakyushu City, and raised in Shimonoseki and Nagoya. Every one of Japan's many regions has its own rich history and traditional culture, while all have different foods and cuisines accompanied by the natural beauty of each individual season. Mitsubishi Estate is committed to joining with local communities across the nation to introduce the variety of fascinating elements of life and culture found across Japan to the entire world, from the heart of Tokyo. The capital city's role as a hub for everything in the country makes possible our initiatives to help revitalize rural Japan.
The charm of Tokyo itself will also increase through projects that cooperate with Japan's regions. The results will be further shared to boost the interest in the special aspects of life in the countryside. Through this initiative, Tokyo cooperates with rural Japan, and rural Japan with Tokyo, creating new value. Working together, the sustainability of both will be improved.
I first realized the importance of cooperation between urban and rural areas when I was assigned to Sapporo, in the northern island of Hokkaido. People I met who had been transferred to the city, or visited there on business trips, told me about many exciting and beautiful places in the area. One such person wished that freshly caught Pacific saury sashimi could be enjoyed in Tokyo during its best season. This interest supported the creation of new transportation systems to preserve the freshness of the fish. The result is that delicious Pacific saury from Hokkaido can now be enjoyed not only in Tokyo, but in Singapore too. I plan to continue passing on the requests from people in Tokyo, or overseas, to local suppliers.
In rural Japan, I think it is crucial for community development projects to identify the aspects of local histories, traditions, food cultures, and other factors most likely to flourish in the future. Then, we need to find people capable of rising to the challenge of developing new businesses to assist the advancement of these expanding new markets. We urgently need a framework that enables us to find people with these skills, whether they are in Japan or overseas.
We recently invested in a Hokkaido sake distillery. We believe it is important that the communities in the regions we work with are engaged with all the businesses we support. I want the company to create and help the growth of new enterprises to heighten the world's fascination with rural Japan, and it doesn't matter whether or not we gain any credit for this. We feel that the revitalization of regional Japan can be boosted best in this way.