The idea of contributing to the United Nations Sustainable Development Goals (SDGs) through investment is finally being widely adopted. Nomura Asset Management is working to buoy corporate value while engaging in dialogue with companies set to receive investment funds in order to cooperate in finding ways to assist with the resolution of social issues. The firm is leveraging its investment prowess to develop its own initiatives for revitalizing regional Japan and helping create a prosperous society where people can truly enjoy living increasingly longer lives.
Engaged Discussions with Investee Companies to Resolve Social Issues
General shareholders' meetings were held across Japan in late June annually to evaluate corporate financials for the year ended last March. This year, the AGMs(annual general meetings) once again featured constructive discussions between management and shareholders. In recent years, the stewardship code – a document that outlines principles for responsible institutional investors – has become widely accepted by companies across Japan, resulting in the accelerated trend of emphasizing discussions with corporate management about their policies and activities.
Nomura Asset Management Co., Ltd. actively engages with the companies in which it invests, often following earnings announcements and at other opportunities throughout the year, to discuss key issues of corporate responsibility, including responses to climate change and increased representation of women in senior management and as outside directors. President Hiroyasu Koike believes that "encouraging companies to make improvements helps resolve social issues, and increases corporate value."
One major theme at this year's general shareholders' meetings was carbon zero and decarbonizing corporate activities. A variety of ideas were raised and discussed, including the switch to solar energy to supply all power for operations and replacing current fleets of company cars with electric vehicles. These changes incur significant costs for corporations, but many companies are deciding to move ahead with these kinds of expensive upgrades anyway. The reason for this is because businesses know that investors would rather sink funds into environmentally responsible companies over enterprises not taking any measures to shape a better world.
There might be a feeling among firms that this is an unusually tough time, but if shareholders engage in discussion with the companies, they are able to make proposals that can help resolve society's problems and become a driving force toward achieving the SDGs.
On the other hand, there is also growing momentum to review investment to revitalize economic activities with the goal of ensuring that retirees have enough money to continue living comfortably for the rest of their lives. Newspaper headlines like "20 million yen (some $176,000) plus pension needed after retirement" have spurred younger generations toward a greater interest in investment, and corporate investors are now courting them with the notion that this kind of activity can improve the world. As President Koike explains, "This is precisely the responsibility of institutional investors, and the very value of our existence."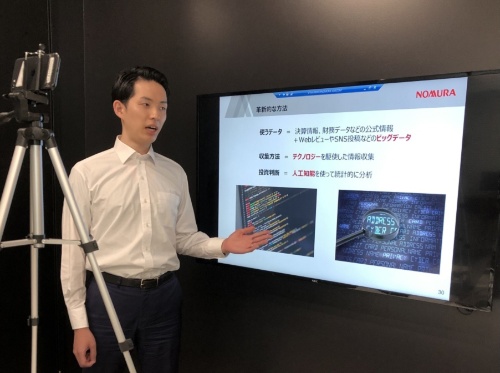 Contributing to achieving the SDGs through investment, this is the constant reminder set by the 17-color badges that glimmer on the chests of employees as an expression of the firm's determination.
New Research, Information Sharing for the Centenarian Era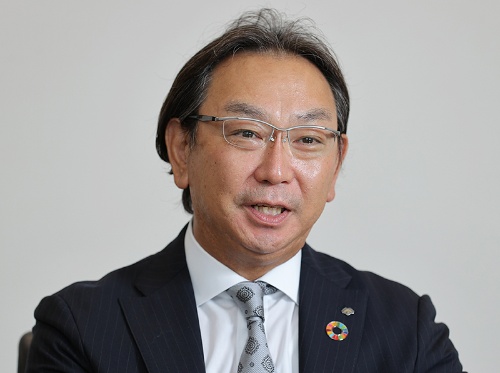 Hiroyasu Koike, Representative Director, President & CEO
In order to promote SDGs and solve social issues, Nomura Asset Management is actively working to build a sustainable society through the management of asset investments.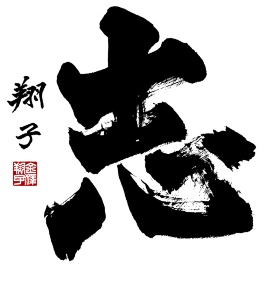 One initiative is the "Kokorozashi" Project – a Japanese word meaning kindness, goodwill, ambition – aiming to revitalize Japan's rural regions. In November 2020 we launched a mutual fund called the Global ESG Balance Fund, which has been nicknamed "Blue Earth," which have been distributed by domestic regional financial institutions. Part of the trust fees we receive go toward SDGs-related activities carried out by local governments, contributions made in the form of hometown tax donations,"furusato nōzei" in Japanese. Blue Earth is now worth well over 40 billion yen (around $352 million), with contributions made to more than 20 local governments across the regions.
Another project is contributing to SDGs through Nomura Asset Management's Asset Management Research Center, established in December 2020.
In particular, we have launched a project disseminating easy-to-understand information about how asset management is related to the ESG principles of Environment, Social, and Governance.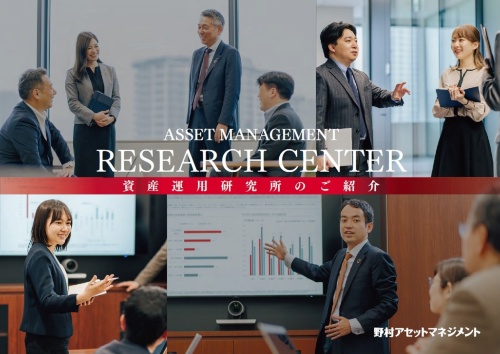 In addition to this, we are working on research and information provision projects covering seven fields of interest that include asset life issues in the age of lifespans stretching past 100, and investment education. We believe that it is our mission to helping society resolve social issues through these activities and other initiatives.