As society continues its transition toward the circular economy, competitiveness within the manufacturing industry is increasingly influenced by the reuse and recycling of materials. The office machine industry has already proven the success of this idea. By aligning business strategies with the United Nations Sustainable Development Goals (SDGs), companies have managed to map out a visible path to future growth fuelled by profitability based on contributions to preserving the environment.
Close Dialogue with Customers is Key in SDGs-Aware Management
Investment choices based on considering the Environmental, Social, and Governance (ESG) stance of investment targets are becoming more widespread. The approach of companies to resolving environmental and social problems is seen as increasingly important. Ricoh Company, Ltd. is a forerunner in this field, already well-known for the company's active information disclosure, a policy which can be traced back to its declaration of Environmental Management in 1998.
Environmental measures generally result in greater costs, but then-president Masamitsu Sakurai announced a policy designed to drive both environmental preservation and profit creation. He prioritized clear targets and rigorous cost management. For example, old copiers returned by customers were dismantled into components, cleaned, and then sold as refurbished equipment when possible. Designs were continually tweaked to improve recyclability, and the number of these refurbished products sold continues to rise yearly.
In 2005, the company introduced a system to forecast the number of returning products. Today, after more than 20 years of use, the product and component program has grown to produce annual revenue of 30 billion yen (some $262 million).
In Europe and North America, it has become commonplace not only for public institutions, but also corporations, to evaluate the ESG stance of a potential investment target. Ricoh has earned high regard for its commitment to protecting the environment, attracting 10 billion yen (some $87.4 million) in orders for 2020. This success clearly shows that the company's approach of more than 20 years has been invaluable in gaining customers.
Ricoh has set lofty targets for its efforts to counter climate change. In 2017, for example, the company became the first Japanese company to join the international corporate alliance RE100, a group of businesses committed to powering 100% of their operations with renewable energy. In March 2021, the company announced a boost to its renewable energy goal for fiscal 2030, upgrading from 30% to 50%.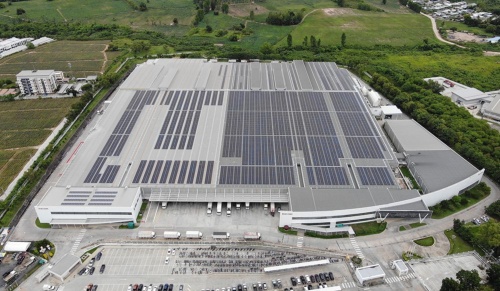 The company also assists customers with their own SDGs projects. This is being done with the help of over 400 "SDGs Key Person" staff at its sales subsidiary. These employees share in-house experience and expertise with other companies, doing things such as accelerating initiatives that reduce energy use. In the process, Ricoh is able to build stronger bonds with its customers, and in a growing number of cases this also results in new orders for office machines and networking services.
Also, in March 2021 the company conducted a "connection statement survey" asking staff how their work is related to the SDGs. A designer, for example, might be contributing to decarbonization through designs that reduce power consumption. President Yoshinori Yamashita, who came up with the idea, believes it's important for employees to be able to speak about their work with pride when at home with their families. This is also an important chance to help staff to think of the SDGs as personal commitments.
Awareness of the SDGs will be integrated into daily work. With this strategy, Ricoh will ensure that employees continue to adapt and evolve to reach numerical goals.
Setting Clear Goals and Expanding ESG Initiatives internally and externally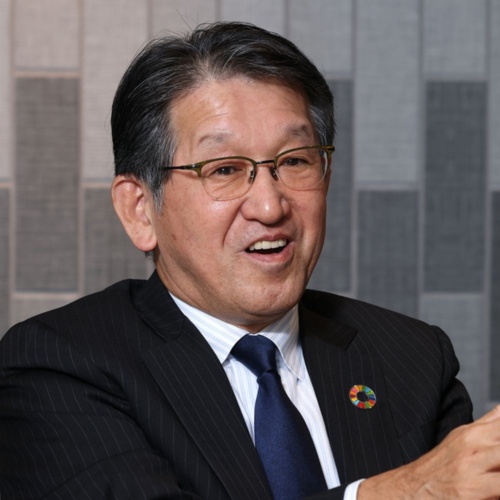 Yoshinori Yamashita, President and CEO
When Ricoh advocated "Environmental Management" in 1998, I was a General Manager of Business Management Department at the U.K. plant. Along with striving for defects to zero, our goals included initiatives such as promoting the use of recycled plastics in copiers. Achieving this was impossible without the cooperation of customers and partner companies. And even with their help, it was difficult. But it was a rewarding job to become a plant that the region needed - I felt it was my life's work.
As soon as I became president, I decided to join RE100, because I believe it is more important to clarify goals clearly rather than to discuss whether or not they can be accomplished. I thought that if Ricoh made a statement, then other Japanese companies would soon join us. And, customers switching to renewable energy would be a catalyst for the energy companies.
We disclose detailed information on our ESG targets in our annual Integrated Report because we want to share internally and externally a common understanding. There cannot be much progress when goals are unclear. Lack of clarity also holds people back from being able to seize initiative and get things done by themselves. Executive management has to get out in front, and actively drive initiative. External recognition also boosts the motivation of employees, and expands the circle of activity both internally and externally to include even more people and enterprises.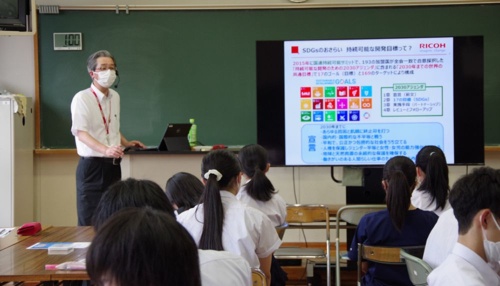 The founder of Ricoh defined the "Spirit of Three Loves," to love your neighbor, love your country, and love your work. Nowadays, "country" can be interpreted as community, society, and even the entire Earth. Whenever I meet an employee I ask them, "Is it useful for the world? Are you happy?" In preparation for our centennial anniversary in 2036, we formulated our corporate vision: "Fulfillment through Work." We have contributed to productivity by advancing office automation over the years, and now we will help customers' creative work so that they can attain self-fulfillment.