The world is making significant moves toward the major objective of the Paris Agreement – keeping the average global temperature rise below 1.5 C compared to pre-Industrial Revolution levels. The key to success is expanding the use of renewable energies such as solar and wind power. While it is said that Japan lacks suitable sites, placing the nation at a disadvantage, there is plenty of room for innovation. Now, a number of Japanese companies are rising to the challenge of drawing on wisdom and technology to develop new business opportunities.
Combining Wisdom, Technology to Expand Solar Power
The Japanese government has established a 2030 target of cutting greenhouse emissions by 46% from 2013 levels, while hoping to achieve a 50% reduction. This high goal is on an equal footing with those of the U.S. and Europe, earning high praise from the international community.
About 90% of Japan's carbon dioxide emissions come from generating energy. So, in order to achieve the bold target it is essential to end dependency on fossil fuels, promote electrification, and expand the use of renewable energies such as solar and wind power.
At present about 76% of Japan's energy sources rely on fossil fuels. The government plans to cut this to 41% by 2030, and boost renewable energy by 36–38% to roughly double what it is now. There is some criticism of these goals as unrealistic, including concerns about supply instability and the limited availability of suitable sites.
However, energy policy is also being reviewed. The government implemented system whereby electricity generated from renewable sources by individuals or companies is purchased at incentive-boosted prices known as feed-in tariff (FIT) will change. This policy will be replaced by the feed-in premium (FIP) system in 2022, which instead subsidizes the market price with a fixed amount.
This approach requires suppliers to formulate accurate generation plans and sell power within the market accordingly, forcing the creation of an entirely different business model. The desire to find new business opportunities within this framework is clearly displayed in the name of one new company born from the exciting shift in policy –afterFIT Co., Ltd.
Instead of worrying about why it can't be done, afterFIT is using its wisdom to develop the technology needed to make success possible. If there is no existing solar power generation, use an existing structure. For example, the firm is promoting its Corporate Power Purchase Agreement (PPA) strategy, building free Solar Carports equipped with solar panels in the parking lots of regular shops to generate income from electricity.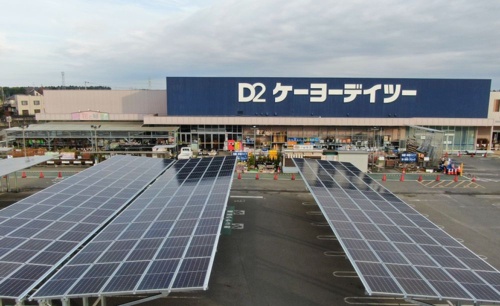 The company has also introduced output prediction technology based on data from solar radiation meters and cloud cover cameras installed in the units together with cloud coverage data from satellites. Output prediction is used to compensate for the shortcomings of instability that accompany solar power generation, and is utilized to adjust the supply-demand balance as needed. In addition, drones are used extensively for maintenance work on solar panels.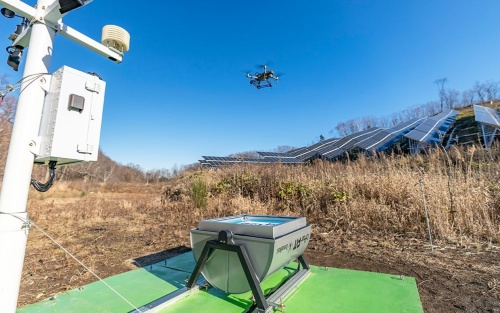 A research center was opened in 2021 to further improve these renewable energy technologies. The center currently employs 17staff, including two who hold doctorate degrees. Staff cover the full range of renewable energy development from basic research through to applications of technology supported by experimentation and large-scale pilot projects. The company is also aggressively pursuing collaborations with university researchers. This combination of research with prompt real-world deployment pursued by afterFIT is rarely found in industry majors.
In the future, large-scale capital investment will also be required for the firm's planned wind power generation in Hokkaido and the laying of submarine cables to send electricity to Honshu. The key to success will be overcoming the challenges of securing profitability and the needed funds in what is an increasingly competitive environment.
In the meantime, the enterprise continues forging ahead, accepting risk as a part of the discovery of emerging client needs before their competition, and then developing new services to address those needs in order to earn the trust of both users and investors.
Leading the Pack With Electricity Networking Tech, Undersea Cables, Bold New Ideas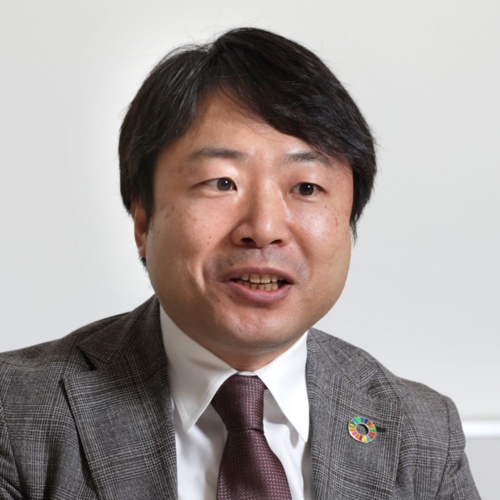 Kanzo Tanimoto, CEO
The Green Revolution -- shrugging off the dependence on fossil fuels such as coal and petroleum -- is now picking up speed globally. This momentum was driven into the mainstream by the U.S. election of the Joe Biden administration. Textbooks a century from now will no doubt state that 2021 was the first year of the Green Revolution.
A larger underlying driver, forming the background to this situation, is the anger of the people. Governments and businesses in every country are taking action in response to social pressure, but the differences in the speeds of those responses are vast. While the U.S., European nations, China, and a few others are moving fairly quickly as they recognize the opportunities this moment presents for business, Japan remains sluggish. I'm worried about whether it can win against this international competition.
Hokkaido is very important for the push to significantly boost renewable energy use in Japan. It offers the wide-open spaces needed for solar panel installations, as well as sites with powerful winds perfect for wind farms. We plan to construct renewable energy facilities in Hokkaido, using undersea cables to increase the amount of electricity transmitted to Honshu. Undersea cables are significantly cheaper and easier than land cables due to the time and money saved by avoiding the need for negotiations with property owners and local governments.
Wind and solar power are often said to provide unstable supplies, and while this is undeniable, the use of technology to predict fluctuating generation patterns for adjustment of supply to meet demand can ensure their use as a regulated power supply. We are developing high-precision, real-time solar radiation prediction technology, and are confident that these energy sources can successfully compete with other forms of power in the electricity market.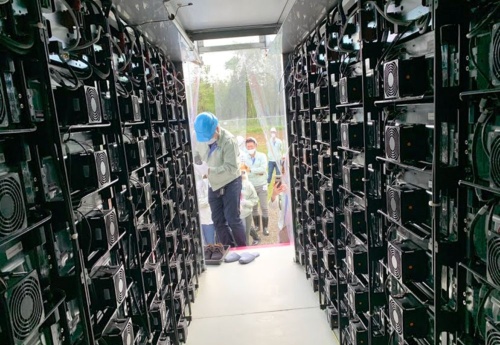 Renewable energy is also not perfectly suited to the idea of local production, local consumption. Solar power generates large amounts of electricity during daylight hours, but zero at night. This output variation is impossible to avoid. However, if time zone differences can be used to provide electric power across national boundaries, this problem can be solved.
One idea we're investigating is networked power between, for example, Japan's Kyushu area, Indonesia, and Vietnam. Just like optical fiber is used for information networks, it should be possible to create a network for electricity. Start-ups like ours can dream up new ideas that major electric utilities simply can't.