Mitsubishi UFJ Financial Group is positioning itself as a leader of the global financial community with the firm's responses to climate change. Financial institutions have an indispensable role to play in the realization of carbon neutrality, which looms as a problem for all of humanity if not achieved in a timely manner. The value of the Group -- the largest in Japan's finance sector -- now depends on its thorough and successful pursuit of these goals for the future.
Sharing a Strong Sense of Crisis, Advancing Finance Sector Unity Toward Success
Mitsubishi UFJ Financial Group, Inc. (MUFG) has been very active. The Group was the first Japanese bank to issue a Carbon Neutrality Declaration in May 2021, pledging to achieve net-zero greenhouse gas emissions by 2050. This goal will be realized through its own investment and finance.
The month after issuing its action statement, MUFG joined an international financial initiative, the Net-Zero Banking Alliance (NZBA). The Group was selected as one of the initiative's 12 core financial institutions, together with U.K.-based HSBC Holdings plc and U.S.-based Citigroup. As Asia's representative, MUFG will take the lead in drawing up rules for disclosure of progress information, researching science-based methods for reducing greenhouse gas emissions, and formulating medium- and long-term targets. Hironori Kamezawa, President & Group CEO of MUFG, who regularly holds online meetings with top executives from American and European banks, reveals, "We share a common sense of crisis, and we feel that we must tackle this problem together with financial institutions around the world."
The Group is also accelerating its own efforts. It has revised its sustainable finance target for 2030 to 35 trillion yen (some $288.9 billion in March 2022) up from the 20 trillion yen (roughly $165.1 billion) decided on three years ago. The change reflects the unexpected pace of progress being made by the firm.
One concrete example is investing in a leading start-up with the largest chain of hydrogen fuel stations in California. The U.S. state is currently the largest market for hydrogen fuel cell vehicles. Positioning hydrogen fuel, which only produces water as exhaust from use in engines, as a next-gen energy source shows that MUFG is shouldering some of the risk through major investments, not just simply granting loans.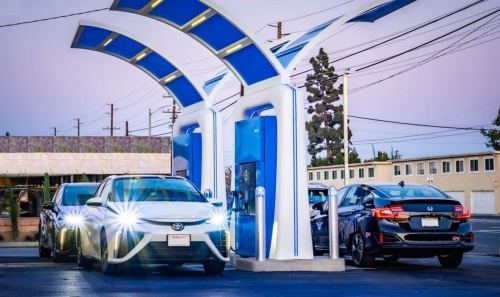 In September 2021, Tokyo-based Z Energy Co., Ltd. was launched by MUFG together with eight other firms including the NTT Group, Osaka Gas, and Mitsubishi Heavy Industries. The new enterprise runs the Renewable Energy Fund, investing in projects that generate renewable energy (solar and wind power, for example), and sells the produced green electricity to shareholders and investors. Junichi Hanzawa, President and CEO of MUFG Bank Ltd., believes that the integrated renewable energy model will grow into the "ultimate renewable energy company" as a one-stop model for renewable energy use. The fund is expected to reach 300 billion yen (roughly $2.47 billion) through the gradual expansion of its network of power clients.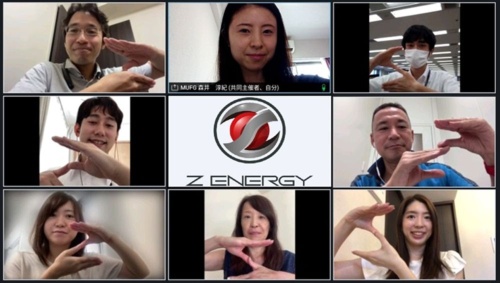 It is also essential to involve the more than 1 million small- and medium-size enterprises that the bank partners with for various operations. The question is, just how much greenhouse gas is emitted by the production processes and along the entire supply chains of these companies? The process of transformation cannot properly begin until this data is quantified. For this, the Group has partnered with Tokyo-based Zeroboard Inc. to draw on its expertise and unique calculation and visualization technologies to answer this question. With these services, the Bank can provide customers with solutions while also offering support with the management of decarbonizing operations.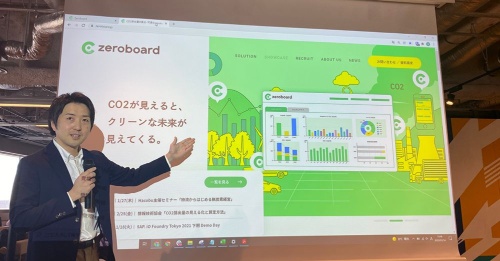 Strengthening SDGs-Aware Management to Help People in a Turbulent World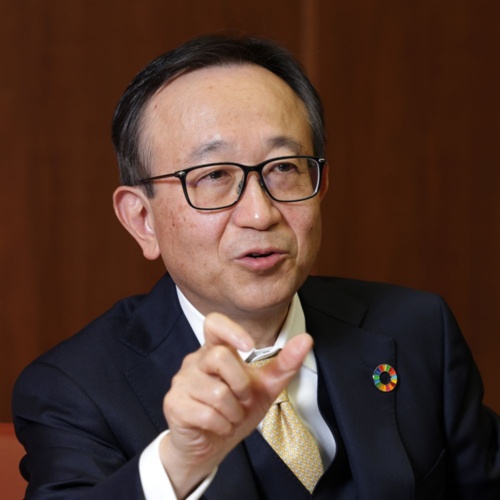 Hironori Kamezawa, President & Group CEO
Today, people around the world are facing enormous challenges, including the COVID-19 pandemic. With this in mind, we want to help all our stakeholders – customers, employees, the environment, society, shareholders, investors, everyone, to move forward. To clearly reflect this, we adopted "Committed to empowering a brighter future." as our company's statement of purpose in 2021.
The vital importance of becoming carbon neutral is now common knowledge, but that by itself is not enough for Japan's leading financial institution.
The United Nations has outlined 17 Sustainable Development Goals (SDGs), which when closely examined, cover over 160 detailed targets. If we map these goals onto MUFG activities, our responsibilities are clear. Japan is facing the issues surrounding an aging society much earlier than most other developed nations, and as a leading Japanese financial institution, our own reading of SDGs would be "S" for senior citizens, "D" for diversity, and "G" for green – representing being environmentally friendly.
We have a responsibility to support people throughout their lives, especially in the era of the 100-year lifespan. This help with life's essential matters includes services that ensure planning for the smooth succession of investments and businesses. The transition of financial services to digitalization is a key point. This is because digitalization is often seen as a problem for the older generation. In fact, it isn't a barrier at all. Depending on how it is done, the elderly can easily use digital technology to get along just fine. We are committed to providing constantly improved financial services to ensure these systems are safe, easy to use, and reliable for everyone, including the elderly.
I have put priority on efforts to improve and promote inclusion and diversity in our organization. Unless MUFG is a place that supports and respects all genders, diversity of sexual orientation, nationalities, and cultures, we cannot survive successfully as a global financial institution, let alone become stronger. This is exactly why we adopted the aforementioned statement of purpose, "Committed to empowering a brighter future." throughout the extended MUFG Group.