Japan has a saying that water and safety are free, an expression indicating this nation's assumptions about the neverending nature of both, and a number of tourist destinations here even claim to be "water capitals." There are also numerous phrases that draw on water imagery. All this demonstrates just how intimately the substance is linked to our daily existence. But it is sometimes precisely because water is such a fundamental element of life that many overlook how critical it is. Our bodies are roughly 60% water, and the future of humanity depends on how effectively we reconsider our use of this resource. We cannot afford to fail.
An Unimaginably Rich Bounty, Natural Water
There is a term that specifically refers to the problems caused by insufficient water - water stress. According to a United Nations report, over 2 billion people worldwide are suffering from the effects of this problem. Demand for fresh water is continuing to increase steadily due to population growth, droughts caused by abnormal weather and the further spread of industrialization around the world, as well as other pressures. These concerns together with other factors are leading some experts to predict that water supplies will fall about 40% short of global needs by 2050. This projection would translate into some 5 billion people lacking access to adequate supplies of water.
Advances in technological innovation and surging global interest are ensuring that carbon-neutral operations-- those balancing carbon dioxide emissions with countermeasures for reduction -- are becoming increasingly common, however, a clear strategy for water remains absent. Water stress cannot be overcome unless we consume less than the amount nature produces, but unfortunately Japan is still showing very little interest in this issue.
Water is part of our natural capital. Rain falls on the mountains, soaking deep inside them to begin its long journey through the earth. It may take decades for newly mineral-enriched water to spring up through layers of rock and soil to the surface once again. It is important to remember that delicious water is born from mountains and forests, not reconstituted by using more energy as part of some industrial process. A better understanding of forests and mountains is essential for yielding bountiful results.
Suntory Holdings Limited works with local governments to survey mountains, forests, and drainage basins around all the Group's domestic plants. These cooperative studies are used to develop scientific models that detail local groundwater flows. Based on these results, the firm has launched reforestation initiatives designed to boost groundwater recharge. A 2003 corporate plan called for doubling the amount of groundwater available for pumping at the Group's domestic plants by 2020, but the goal was achieved one year earlier, in 2019.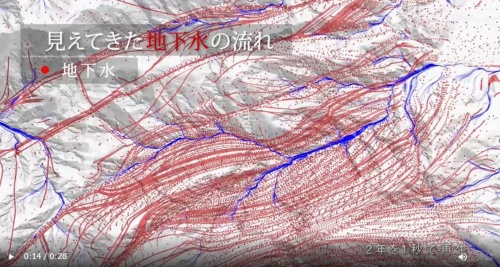 Thanks to the steady, ongoing undertaking of these and other low-profile activities, the company is the only one in Japan to have three plants certified by the International Water Stewardship Standard of the Alliance for Water Stewardship (AWS). Suntory is vitalized by water while efficiently managing its water use and resources. To this end, the firm has developed a corporate stance based on understanding the water cycle, using water wisely, protecting water resources, and working together with local communities.
Only number six of the seventeen United Nations Sustainable Development Goals (SDGs), "Clean water and sanitation," explicitly mentions water, but on closer inspection, it is clear that most of these targets also depend on water to achieve their objectives. This demonstrates precisely how crucial water is for the future, life, and for peace.
"Decrease carbon dioxide, increase water." The Earth is depending on us.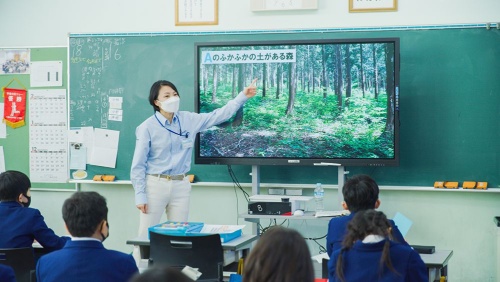 Influencing Boosts in Global Water Creation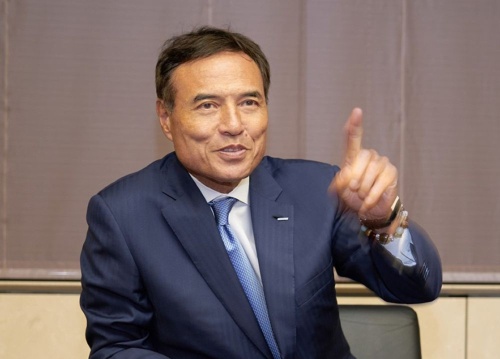 Takeshi Niinami, Chief Executive Officer
Economic growth and the global environment -- there is a tendency to trade-off between the two, but they should actually be nurtured to bolster each other. Suntory's livelihood depends on water, and we want to return the favor by strengthening this complementary relationship through helping to regenerate the water that has contributed so much to our growth.
In today's world, we are expected to consider the long-term perspective for the future of our society, incorporating this vision together with environmental initiatives into our daily business. Up until about a decade ago, Suntory was a domestic business in Japan, but we have since grown into a global operation now active in over 120 countries and regions worldwide. It's only natural that our working definition of "society" has expanded from Japan to include the entire world.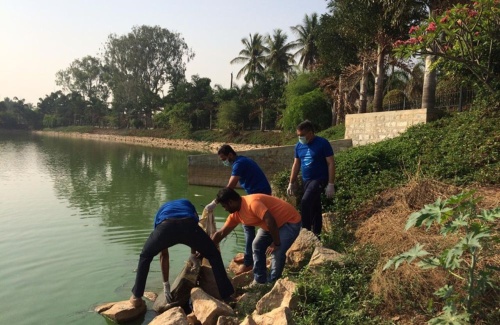 Water is indispensable for our health and involved in every aspect of our lives. If water becomes scarce at the global level, then Suntory will act as an influencer, playing the role of an ambassador, to take action to protect this precious resource. Part of this effort is ensuring that research institutes, local governments, and non-profit organizations (NPOs) further their scientific knowledge about recharging groundwater. We must also stimulate interest in water by producing even more water through nurturing nature's processes.
An ancient Chinese proverb tells us that "secret acts of charity will one day be openly rewarded," which is to say that "if you do good deeds that remain unknown to everyone, you will in time receive some kind of tangible reward or Yotoku." But these days, it is now also necessary to inspire society into action with unmistakable examples of positive, virtuous, acts. Actually, "Yotoku" also means the virtue of the universe that nurtures all things, and in this spirit, the same idea also leads us directly to Suntory's "Sustainable Water Philosophy."
Suntory's initiatives are certainly worthwhile, but we are only a single Group. I think we need to help push society to promptly pursue stronger courses of action on environmental preservation. At heart, this is the same philosophy as Suntory's own "Mizu to Ikiru" (Living with Water).
We always emphasize the importance of water in everyone's life, positioning it as a promise to human society, and we are implementing a range of initiatives to protect our water resources. We are not only showing the world the indispensable importance of water as a kind of natural capital, but are also harnessing the power of the whole Suntory Group to boost nature's capacity to produce more of it.