The United Nations Sustainable Development Goals (SDGs) related to diversity remain a high hurdle for Japanese society. This is because traditional customs and values channeled toward homogeneity remain deeply rooted and it takes time to shift from this way of thinking. If the real estate industry, which is responsible on many levels for shaping infrastructure, through community development, can advance gender equality as the first step in achieving greater diversity, then new opportunities will also be created to further innovation and sustainability.
Valuing Women's Opinions to Lift Shopper Satisfaction
In November 2021, major property manager and developer Mitsui Fudosan Co., Ltd. formulated its Diversity & Inclusion Declaration. In this statement, the company positions the active advancement of women as a critical management policy and plans to boost the number of women in management positions from 5.7% in 2021 to 20% by 2030. Other quantitative Group-wide targets set also include increasing the rate of return for employees taking parental leave for childbirth and childcare to 100%.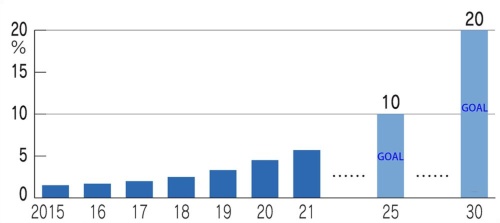 Changing ratio for women in management positions
In Japan, old-fashioned views long held that women were not suited for work in the real estate sector due to the difficulty of negotiating land transactions. And as a result, the number of women in the industry remains low. Even after the enactment of the Act on Securing Equal Opportunity and Treatment of Men and Women in Employment few women are hired, and the numbers for management positions are also very low. However, now that Japan's values are slowly diversifying, the real estate industry must grow as well.
The sensibility of women is especially important when it comes to commercial facilities. Mitsui Fudosan surveyed mothers of young children about what sort of shopping centers they wanted in its "Mama with LaLaport" program, a system where the women concerned could draft their own malls. The company is now applying these results to its facility designs.
Suggestions included making aisles wide enough for baby strollers heading in opposite directions to pass each other safely, and that the ground be flat enough to prevent strollers from rolling away when left momentarily. Results also indicated that nursing rooms should be spacious and pleasant enough to allow mothers to talk while breast-feeding instead of nursing alone in silence.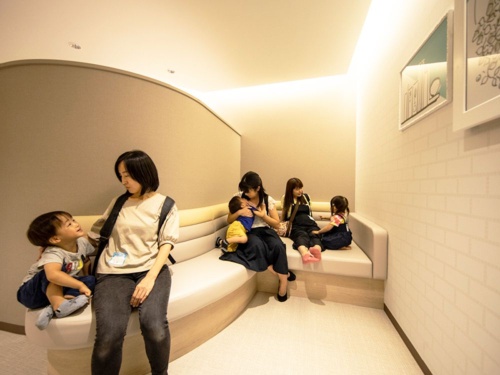 But the ultimate drawing factor was the restroom. When asked about deciding between visiting one of two similar shopping centers in the same area, it turns out that the factor with the largest swaying power for women was the issue of toilets. An additional lock on toilet stalls high enough to be out of reach for small children was needed. This would allow mothers peace of mind knowing their small children could not suddenly leave the stall when inside together. Interior design was also a factor. They listed points few male designers would think necessary. And this is exactly the point, these were the issues that women themselves considered most important, and therefore cannot be discarded.
To further active roles and advancement for women, the company also implemented various training programs and internal systems. There are two pillars. The first is creating an environment where people want to work long-term, which means a place where everyone respects each other's values and lifestyles, including caring for children or families, regardless of the carer's gender. The second major focus is promoting overall participation of women in order to increase awareness about gender issues within the organization while also boosting the motivation of women staff and supporting the advancement of their careers.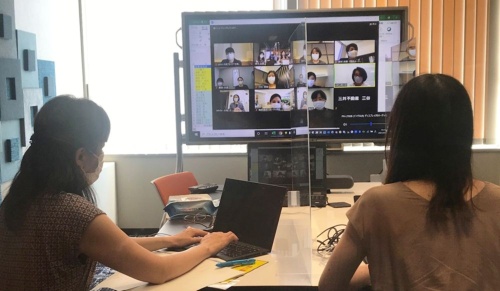 Mitsui Fudosan has now been selected for its fourth consecutive year as a constituent brand for the MSCI Japan Empowering Women Select Index (WIN) in recognition of its successful promotion of gender equality. If this position on diversity and equality can be bound to corporate value through market evaluation mechanisms, then these values could also prove to be a major force for achieving greater diversity at other real estate companies too.
Towards a Society Where Everyone Can Work While Raising Children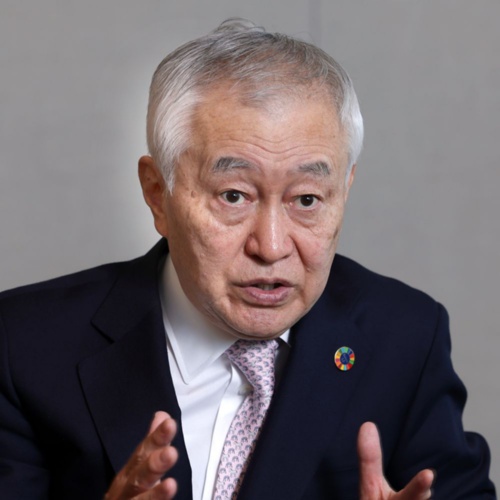 Masanobu Komoda, President
As society matures and its overall needs diverge, service companies that fail to diversify their values will no longer continue to satisfy their customers. An organization mired in monoculture is unable to see the changes in society, and will miss out on opportunities for innovation. Diversity begins with the very realization that a company must pursue diversification within its own ranks before it can begin to create a better community.
Knowledge of the real estate industry alone is not enough to provide the wider perspectives essential for creating communities that satisfy consumers. Expertise from many fields is essential to achieve this, considerations include healthy living, eco-friendly lifestyles, sports, and entertainment, among many others. We are addressing these needs by welcoming new mid-career employees from a variety of backgrounds into the company. In this way, we gain the benefits of their perspectives and experiences from a range of different industries.
Diversity is a concept that relates to many different groups of people, but the first step for us is to promote the active participation and advancement of women in our workplace. In the early 2000s, I realized that over 70% of our customers were women. The world changes when you incorporate the perspectives of women. The impact on design brought about by these points of view can be seen in the changes we've made to shopping center restrooms, which now resemble those found in a luxury hotel.
In order for women to fully contribute, it is crucial that the environment provides employees with the chance to excel even if they have time constraints on their working hours. To this end, we are striving to improve the workplace atmosphere, including the attitudes of male staff, through a variety of training programs. One goal is that all parents, regardless of gender, take the available childcare leave.
When I was younger, I had almost no experience of doing any housework, and I now often reflect on this point. Partially because of this background, when I attend research and training events, I always stress the necessity to create a culture where it is perfectly natural for men to share the responsibilities of childcare and housework.
One important element in boosting the birthrate in Japan is creating a society where parents can raise children while continuing their work. For that, we are committed to improving diversity within our company and be pioneers in achieving this goal.